Choosing an Incase iPad Case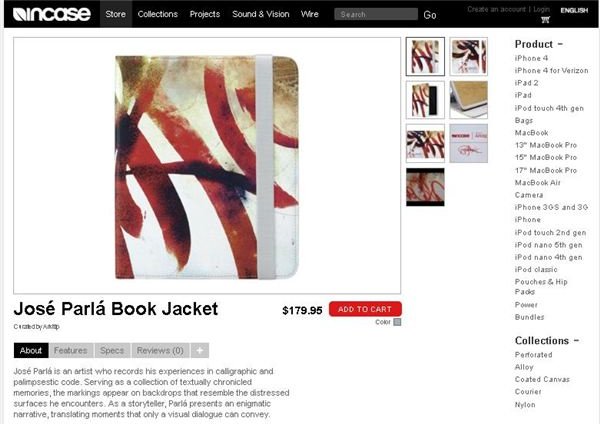 Incase iPad Case Solutions for the Apple iPad
You invested a lot in your Apple iPad, so you should protect it from the routine mishaps. Incase has a great reputation for high quality cases for electronics that protect your devices from moisture and impact, making the company's products a reliable partner for keeping your iPad safe.
The following round up presents the Incase iPad case options that are currently available.
Book jackets
Incase offers two choices of iPad book jacket cases for the iPad original. The first one is the José Parlá Book Jacket features brilliant artwork from the famous artist on a high quality bubble leather case. When opened, the book jacket turns into an iPad stand with adjustable viewing angles. This beautiful item sells for $179.95 on the Incase website.
Two other book jacket cases for the Apple iPad are the standard book jacket and the convertible book jacket. The convertible book jacket opens into an iPad stand and sells for $59.95 and comes in black, white, charcoal and deep violet. All features of the iPad are accessible without removing the device from the case.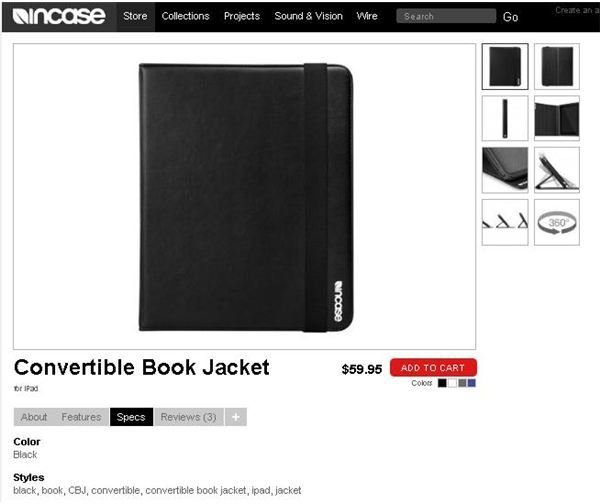 The standard book jacket costs just $49.95 and provides a secure method for handling your iPad via a strong faux-leather exterior. This Incase iPad case is available only in black.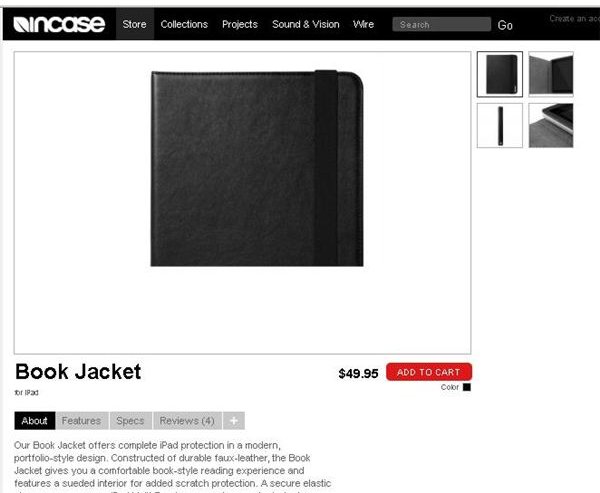 Snap cases
Incase snap cases for the Apple iPad actually snap on to the iPad, forming a protective shell that keeps the device safe from scratches and impact. Incase has two models available, both for $39.95, that provide access to all the iPad's features as well as a stylish accent for your iPad. Both the perforated snap case and the standard model are available in white or black.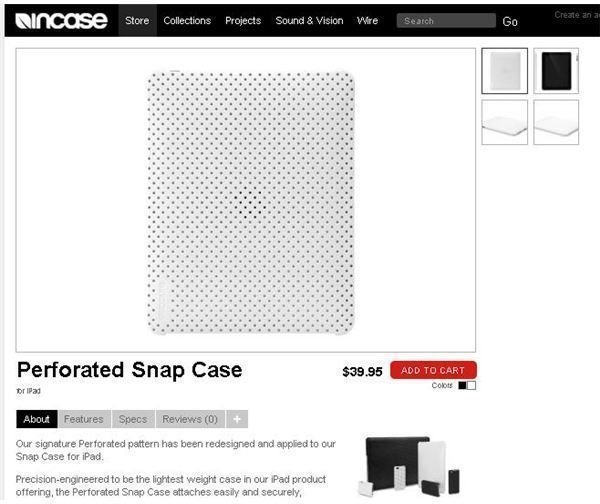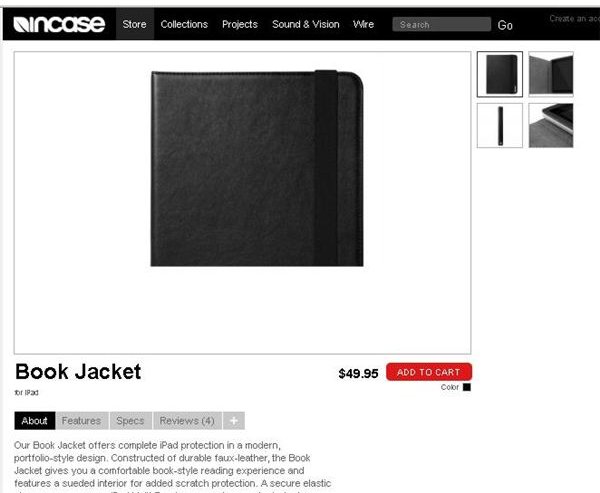 Sleeves
The Apple iPad slips into Incase iPad sleeves allowing for convenient protection from a variety of daily hazards. With the iPad inside, the sleeves open into an iPad stand, making it a versatile device that adds productivity and value to your tablet.
When shopping Incase sleeves, you can choose from the Origami Sleeve (available in fuchsia or black for $34.95), the Nylon sleeve with Handles (available in red or black for $39.95), and two form-fitting neoprene models (one available in black or gray and the other in black, green or magenta) for $39.95.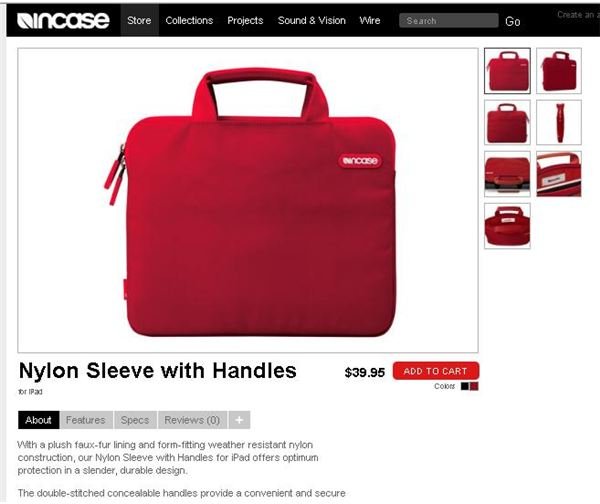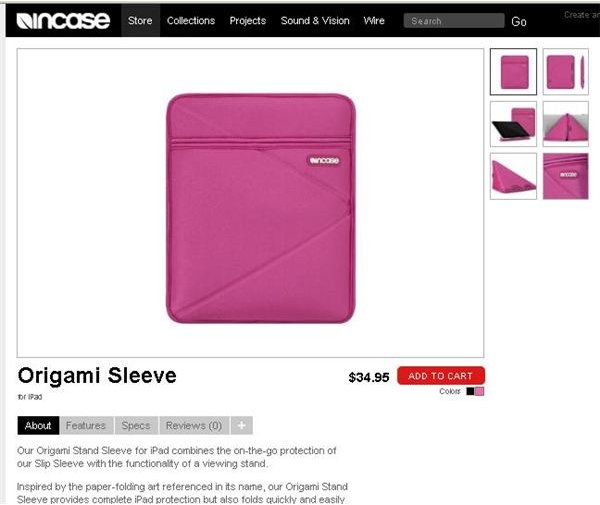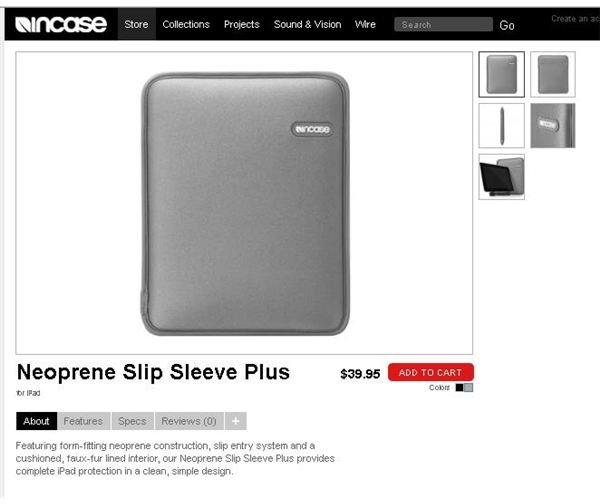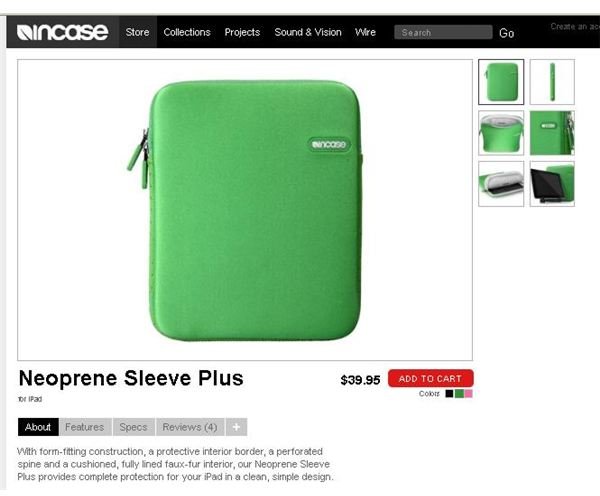 Protective covers
The standard Incase protective cover features "flex-fit" construction that automatically adjusts to the shape of the Apple iPad. It applies to the rear of the iPad and also comes with an iPad stand. The colors available for this model are black, green, magenta and purple.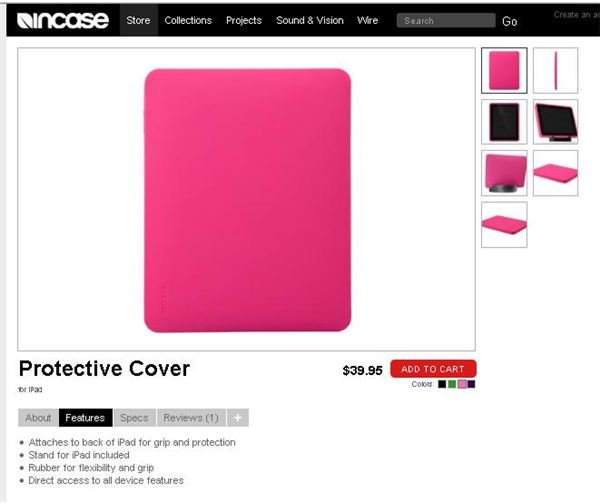 Incase's grip protective cover features enhanced contours for easier gripping. Its flexible rubber fits easily over the back of the iPad while offering enhanced protection against impact. It comes in raspberry, black, blueberry, magenta and purple.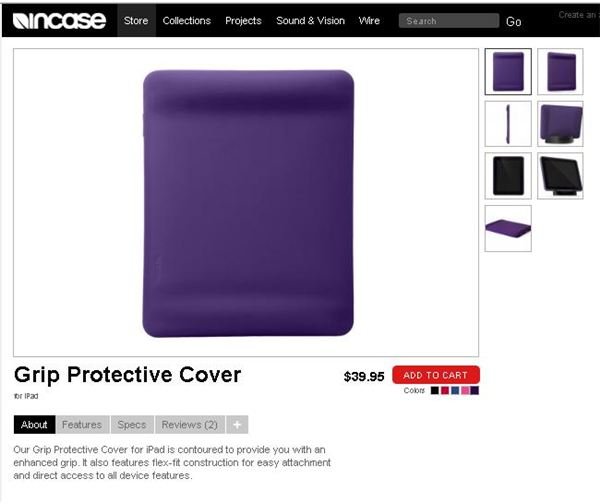 Other Incase iPad case options
A few other Incase designs are one-of-a-kind items in the Incase product lineup. These include the Field Bag, a canvass carry case with a sling strap that makes hands-free carrying of your iPad easy while preserving its accessibility. The bag is available in either black or taupe and sells for $69.95.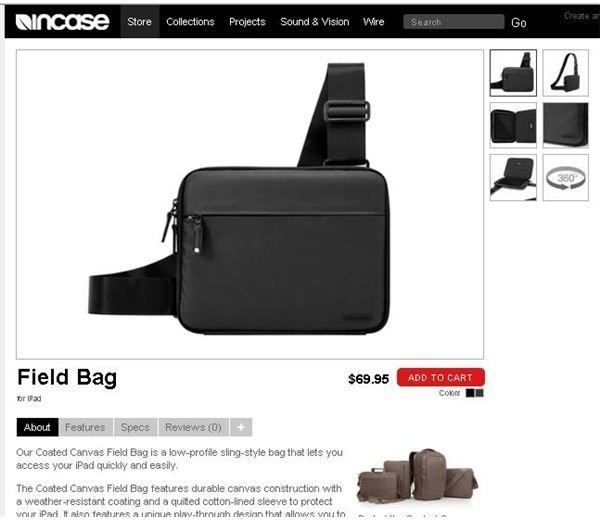 Another product, the Convertible Magazine Jacket, is a hard-shell iPad case with a fold out flap that serves as a stand with two viewing angles. It is the most space efficient case available for the iPad from Incase. It is available only in black for a cost of $49.95.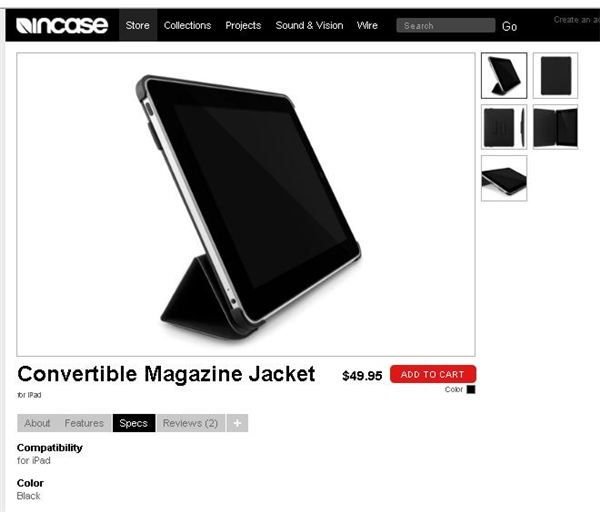 Finally, the Incase Origami Workstation provides protection for the Apple wireless keyboard when used with the Apple iPad, making it a perfect solution for a portable productivity unit. What makes this product unique is that it works in conjunction with most iPad cases so you can easily leave your keyboard home when you don't need it. This device costs $29.95 and is available in black.
Case Closed
With so many options for protecting your Apple iPad, you are sure to find an Incase solution that you like. Incase also has some of the iPad cases listed above avaialble for the new Apple iPad 2. Pick your style, your color, and your price and place your order today.
References
"iPad 2 Incase Product", https://www.goincase.com/products/category/iPad+2
"iPad Incase Product", https://www.goincase.com/products/category/iPad
All screenshots and references from https://www/goincase.com and are by the writer.