An In-Depth Look at the GoToMyPC iPad App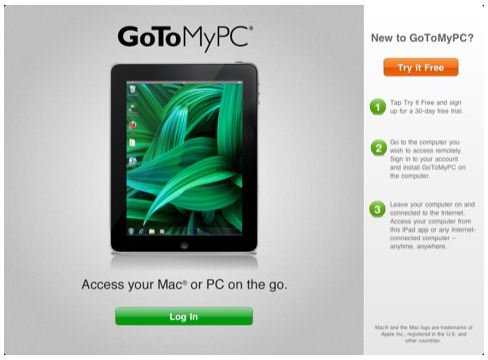 The GoToMyPC iPad Application is a free extension of the Citirx Online company's subscription service for remotely accessing home and work computers. The GoToMyPc iPad app allows a user to have complete computer access from an iPad.
Features (5 out of 5)
The GoToMyPC app allows the instant access to files, programs or networks that you already use at home or work every day. The intuitive controls, including a green border screen on all remotely accessed materials, make it a very simple interface to use. It offers a fully functional keyboard with preview mode so that you can type quickly without making mistakes.
If you don't want anyone in the office or at home seeing what you are doing there is a remote screen lock and screen blank option. Of course you can just log in and watch what is going on as well, a nice feature for bosses who are on the go.
The 128-bit AES encryption and dual passwords feature work with an end-to-end user authentication so no one accesses your files without your approval. Another security measure included is a session timeout that can be set on your PC so if you fall asleep or get distracted your access will be terminated after a set period of time.
Functionality (5 out of 5)
The GoToMyPC app works with both your Mac and PC desktop and any application or file held therein. Having this app on your iPad allows you the freedom to leave your laptop behind so you can attend luncheons, dinner meetings or just work from a more creative environment.
It does require a GoToMyPC subscription and only works on iOS 4.2 or later
Your computer must be in "Always on" Internet connection mode and run either Windows 2000 or newer or Mac OS X v10.5 (Leopard) or newer.
The only major drawback at this time is that there is no audio capability for the iPad GoToMyPC app. So if you were hoping to use this to remotely view movies you are out of luck.
Cost (3 out of 5)
Although the GoToMyPC iPad app is available for free you still must have the subscription service for it to work. This service runs $9.95 a month per computer or $99 a year per computer (saves $20.40 a year per computer) but Citrix does offer a 30 day free trial period. There are far cheaper options out there but they don't have the intuitive interface that GoToMyPC has.
Overall (4 out of 5)
With its ease of use, ability to be used anywhere you can get internet, and fully functional and compatible interface the GoToMyPC iPad app lives up to its billing. There are some other remote pc programs out there but none that translate between formats so cleanly. This app gets four and a half out of five.
References
Image courtesy of the Apple iStore
https://www.gotomypc.com/remote_access/gotomypc_pricing?prod=pers
https://itunes.apple.com/us/app/gotomypc-remote-desktop/id417742726#