Buying Guide: The Best Android Tablet With GPS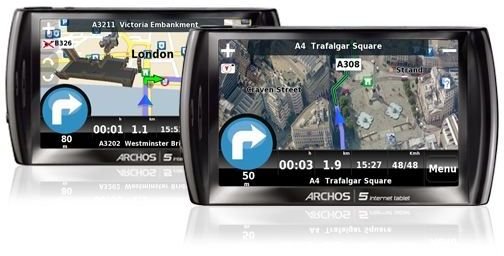 The handy dimensions of the more recently released Android Tablets not only make them wonderful entertainment devices but helpful navigational aids as well. Whether you would like to mount a Tablet in a cradle or use is as a handheld navigation device Android tablets certainly make competent and feature rich alternatives to built-in automobile navigation units such as those sold by Garmin.
An advantage that Android GPS tablets have over integrated navigation units is the fact that they can be removed from the vehicle whenever there is need to do so. In essence, Tablets are multipurpose devices that can replace several devices that you already have, including portable media players, ultra-portable laptops and navigational devices. There are cheap Chinese Android GPS Tablets such as the Flytouch 2 and Infortm X220 that are available online, but we opted to cover only models from major manufacturers. Here are some Android tablets with GPS that are available right now.
Archos 5 (from $229)
The Archos 5 plays 720p videos and supports a large number of video standards including WMW HD, MPEG4 and MPEG-2 files. The 5" display is also one of the best you will find on any mobile media player, which makes the Archos 5 a competent mobile entertainment unit as well.
The Archos 5 has WiFi and bluetooth so you can surf the Internet or transfer files from, and to, other compatible devices. Or, you can broadcast music from the built-in radio transmitter to your vehicle's radio. The navigation system includes maps for Western Europe and North America but you will have to purchase the license and maps for the continent and countries you want. If you already have the Archos 5 there is a 7-day trial period you can use to evaluate if the navigation service will meet your needs before purchasing the maps and license.
Other features of the Archos 5 include:
Flash video and game compatibility
PDF reader
Mac and PC compatibility
Built-in speaker
GPS
3G capabilities
5" high-resolution touch-screen display
Wi-Fi
Integrated kickstand
Motorola Xoom (from $599)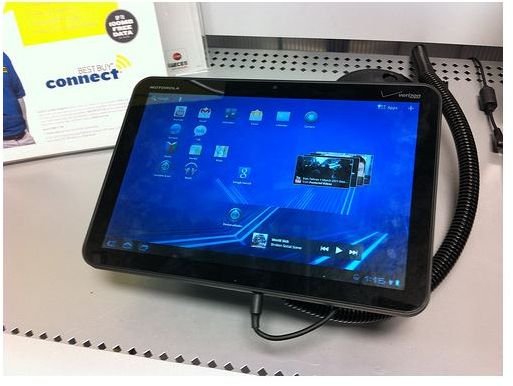 You will have little trouble navigating maps on a Motorola Xoom Tablet, and with the constant improvements that are being made to Google Maps, you wont have to pay for maps or navigation licenses either (at least not for now). The Xoom is one of the few Android Tablets that can compete against the iPad in terms of features and overall capabilities, but while the Apple competitor maintains the edge in terms of user experience, the still has a Motorola Xoom has an impressive array of features that make it a standout among Tablet PCs.
The device runs Android 3.0, which was specifically designed for tablets. It also has a relatively generous 10.1" display and a dual core processor to handle all your on the road entertainment and computing needs. The mobile connectivity features are equally impressive. While it comes with 3G support the Xoom is 4G compatible as well; all you need to do is get a 4G SIM card and signup for 4G service to use the faster service.
If your scenic road trip takes you by some fabulous vistas you can use the 5MP camera to take some photos or use the front facing camera to chat with your friends while you are on tour. They will be impressed with the high quality photos and 720p videos. The standout features include:
Dual LED flash
720p video playback and video capture
Compatible with many video formats (AAC, H.263, H.264, MP3, MPEG-4, ACC+ Enhanced, OGG, MIDI, AMR NB, AAC+)
WiFi
Up to 32 GB on board memory
1GHz Dual Core processor accelerometer
CDMA 800 /1900 LTE 700,
Proximity, ambient light, barometer and gyroscope sensors
Reference:
Archos 5 Internet Tablet, https://www.archos.com/products/ta/archos_5it/index.html?country=jm&lang=en
Motorola Xoom, https://www.motorola.com/Consumers/US-EN/Consumer-Product-and-Services/Tablets/ci.MOTOROLA-XOOM-US-EN.overview
Image Credits:
Motorola Xoom - Android Tablet with GPS, sekimura
"Archos 5 Android GPS Tablet," Archos.com