Microsoft Wireless Keyboard Backlit Review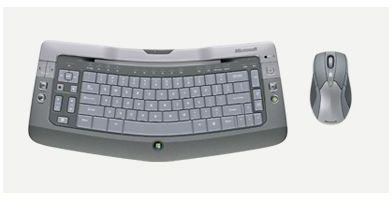 Microsoft Wireless Entertainment Desktop 8000 (5 out of 5)
This package consists of a wireless backlit keyboard and wireless mouse. The Microsoft Wireless Entertainment Desktop 8000 is one of the most expensive wireless backlit keyboards available, selling for $379 USD on Amazing at the time of this article. It has the standard alphanumeric typepad, but does not include a numberpad, and is bent slightly in a V shape to fit a typist's hands a little better.
The keyboard is rechargeable, and runs on 4 AA batteries, which are included with the package, and both mouse and keyboard have a built in LED indicator that will alert the user if the batteries are running low. It features a wireless range of up to 33 feet, and has four built in USB ports that can be used to connect various devices to the computer.
This wireless backlit keyboard has various hotkeys and buttons that allow the user to quickly and easily access certain features on their computer. For example, if the PC that the wireless keyboard is attached to is running Windows Vista, a built in button can access the start menu, and another can call up the contacts list on the linked MSN Messenger account.
This wireless keyboard possesses customizable hot keys that can access applications or documents that are constantly used, as well as having built in media keys that can skip forward and backwards in playlists and control the volume as well. The light up feature in this wireless backlit keyboard only turns on in dim light, and only when the keyboard is being used in order to optimize battery life.
The bundled mouse in this wireless desktop bundle runs on two AA batteries, and features four way scrolling, which allows users to scroll both up and down as well as left and right. It works with laser tracking technology, meaning that it is super accurate and reliable when tracking movements.
Lastly, the wireless mouse has two built in features that are designed to make using the computer much more convenient. The built in magnifier is designed to zoom in on items on screen, allowing small text to be enlarged with the click of a button. The instant viewer allows users to see every window they have open at once with a click of the scroll wheel, allowing users to keep the screen of their computer uncluttered. Lastly, the mouse is rechargeable and runs on one AA battery.
Image Source: microsoft.com
Microsoft Wireless Entertainment Desktop 8000 Pros and Cons
Pros
Built in hot keys for a variety of functions.
Illuminated keys that are optimized for power saving.
Runs on rechargeable batteries.
Long wireless range.
Four built in USB ports.
Easy access to media and computer menus.
Built in magnification tool and instant viewer for added convenience.
Cons
Very expensive (selling for $379 USD).
No numberpad.
Not ideal for work or business use.
Resources and Related Articles
Microsoft, https://www.microsoft.com/canada/hardware/mouseandkeyboard/ProductDetails.aspx?pid=080&active_tab=systemRequirements
Related Articles:
Illuminated Wireless Keyboard and Mouse Combo Round Up
Microsoft Wireless Keyboard Backlit Review