Dell Latitude D610 Keyboard Locked? Here's What to Do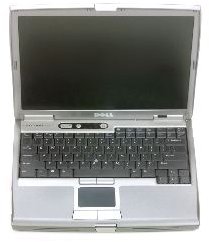 Dell Latitude D610: A Popular Notebook
The Dell Latitude D610 is a useful, compact and versatile business notebook that can be regularly found under the arms of voluntary and public sector organization users at conferences and seminars around the world.
Although an older device (they were released in 2005) the D610 comes equipped with an optical drive, mobile Pentium processor, graphics processor and enough hard disk space and RAM to perform standard business tasks as well as various audio and video routines. However these models were likely to freeze, with various crashes caused by the common problems of USB devices, BIOS issues and even motherboard fractures.
If you find that you Dell Latitude D610 keyboard is locked up, there are a couple of fixes that you can apply to resolve the problem.
Image credit: https://www.dell.com/us/en/dfb/nb_scrn_14more/latit_d610/pd.aspx
Correctly Configure the BIOS
A common configuration for the Dell Latitude D610 is to use it with a docking station into which a keyboard, mouse and monitor will be connected. The beauty of this is that you get to use the notebook in the same way as you would use a PC while in the office.
Unfortunately, certain USB keyboards are unsuitable for this, such as the Microsoft Natural Ergonomic Keyboard, the use of which might be a cause for your notebook locking up.
To resolve this problem, you can access the system BIOS (press F2 when the computer is first switched on) and find the Setup screen. Here, find POST Behavior and change the Fast Boot setting to Minimal. Remember to save the changes as you exit the BIOS.
Uninstall and Reinstall the Keyboard
If the above fails to work, the issue might be resolved by downloading the most up-to-date device drivers for the computer. If you're using Windows XP or Windows Vista, this should be possible via Windows Update (indeed, if Windows Update is enabled it should have happened already).
To check Windows Update, go to Start > Control Panel > Automatic Updates and check for updates. This will reveal any available updates that you can install – you should read through the list for any suitable drivers, and add these to the update.
Alternatively, visit support.dell.com to find the most up-to-date drivers.
Dell Latitude D610 Keyboard Locked? Motherboard Fractures!
One of the key issues surround the Dell Latitude D610 is fractures that occur on the motherboard. These can occur due to excessive heat within the chassis, but are mainly caused by poor engineering and a below-standard motherboard component.
It might seem a rather extreme measure, but by putting pressure on the laptop chassis you can force your Dell Latitude D610 motherboard to overcome these fractures.
However no one wants to make a bad problem even worse. If you suspect that motherboard issues are causing the D610 to lockup and you experience frequent BSOD ("blue screen of death") errors, then you should contact Dell or a local, approved computer repair technician for assistance.
References
Author's own experience
Dell Laptop Support Forum, https://en.community.dell.com/support-forums/laptop/f/3518/t/17792121.aspx