GE Intelligent Wireless Keyboard and Mouse Bundle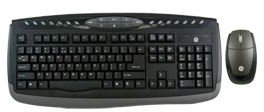 GE Intelligent Wireless Keyboard (3 out of 5)
General Electric's Wireless Keyboard is a midrange keyboard designed to meet the basic needs that crop up while using a computer for either work or home use. It is designed with the standard 104 key layout, and operates via a single USB port, sharing the receiver with the bundled wireless mouse. While this means that both mouse and keyboard will only take up a single USB slot, it means that older computers relying on PS2 ports for keyboards could have to free up a USB port to use this keyboard and mouse.
This keyboard features Internet, multimedia and Windows hot keys, though it is fairly basic in design, appearing flat and squarelike. These can be used to change the volume of the computer, access 'My Computer' calculator, and sleep modes, as well as buttons to skip music tracks and refresh web pages available at the push of a key. The Internet hot keys can also be reprogrammed to perform other basic functions. The keyboard is built with a wrist rest for added comfort, that can be removed when needed so that the keyboard takes up less desk space.
The drivers for this keyboard and mouse bundle work on Windows 2000, XP, or Vista, and require a minimum of 128 MB of RAM. It is moderately priced, selling from $33.75 to $54.99 USD for the bundle of mouse and keyboard, and is available from General Electric's website, jascoproducts.com.
Image Source: jascoprooducts.com
General Electric Wireless Keyboard Pros and Cons
Pros
Shares USB wireless receiver with bundled wireless mouse.
Works on most Windows computers.
Possesses multimedia, Internet, command and e-mail hot keys.
Moderately priced for a wireless keyboard and mouse bundle.
Removable wrist rest.
Cons
Does not work on older Windows computers or Macintosh based computers.
Basic in design.
No PS2 port for older towers.
General Electric Wireless Mouse (4 out of 5)
The General Electric wireless mouse is very simplisitc in design, to the point where it is almost too basic. It is gray, and shaped like a regular mouse, but works wirelessly. Besides the two mouse buttons and the scroll wheel, it has no other features and has nothing to set it apart from other wireless mice besides the fact that it is fairly inexpensive for a wireless mouse.
While it is very basic, it is ideal for home and work use as it is a no frills, inexpensive, wireless mouse that can help clear up desktop space and comes bundled with a wireless keyboard, which it shares the receiver with.
General Electric Wireless Mouse Pros and Cons
Pros
Shares receiver with wireless keyboard.
Inexpensive.
No frills.
Cons
No real features besides wireless connectivity.
Basic design.
References and Related Articles
Related Articles:
Review of Microsoft Ergonomic Backlit Wireless Keyboard
Which is the Most Stunning Keyboard? The Logitech diNovo Edge
Microsoft Wireless Desktop Elite - Keyboard and Mouse Review