Dell Axim Keyboard Review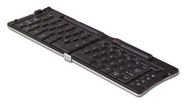 Dell Axim Keyboard (2 out of 5)
The Dell Axim Keyboard is a great solution for typing up e-mails or documents while on the go. It is a more than adequate keyboard for a handheld device, folding lengthwise so that it can be easily carried, yet heavy enough to resist falls and bumps and stay in place while typing. It is designed to work with Dell Axim X50 and X51 PDA models. However, the keyboard needs to be supported by a stand in order to work effectively, and as such often requires a desk or table to type with.
The wireless keyboard comes with drivers so that it can work with the Axim PDA. However, there are no drivers for Windows Mobile 5.0. requiring users to upgrade to the 2002 version for it to work properly. The keyboard works via the infrared receiver at the top of the Axim PDA, and comes with a mirror that allows the infrared beam sent from the keyboard to be reflected to the receiver. However, this is very inconvenient, and makes it impossible to use the keyboard without the mirror, basically making it impossible to type while standing up or sitting down without a table. Additionally, it is difficult to set up the mirror correctly so that a link can be established, which makes moving the mirror a frustrating thing to do.
However, the use of this wireless keyboard will make your Dell Axim PDA more like a laptop, making the typing up of appointments, word documents, and e-mails much easier and faster. It operates on triple A batteries, which are easily found at most stores. This product is not sold directly from Dell any longer, and is not offered by Belkin Components either. Used products may be found online, but prices will vary depending on condition and retailer.
Image Source: www.dell.com
Pros and Cons of the Dell Axim Keyboard
Pros
Makes typing up documents and e-mails on the Axim X50 or X51 PDA much easier.
Wireless, and does not clutter desk space with wiring.
Folds in half and is easily carried.
Heavy enough to stay put while typing, and can resist minor falls and bumps.
Uses AAA batteries, which can be found very easily.
Cons
Uses infrared signals to operate, and requires a stand and mirror to operate properly, making it less mobile than it could be.
Not available from either Dell or Belkin Components, and used models could be unreliable.
The infrared mirror is very finicky and connections can be somewhat unreliable.
Does not work with Windows Mobile 5, and requires an operating system upgrade to function.
Only works on Dell Axim X50 and X51 models.
References and Related Articles
www.dell.com, https://accessories.dell.com/sna/productdetail.aspx?c=us&l=en&s=corp&sku=a0100639
Related articles:
Microsoft Wireless Desktop Elite - Keyboard and Mouse Review
Desktop Computers Cost vs. Quality