Finding The Best Comic Reader for iPad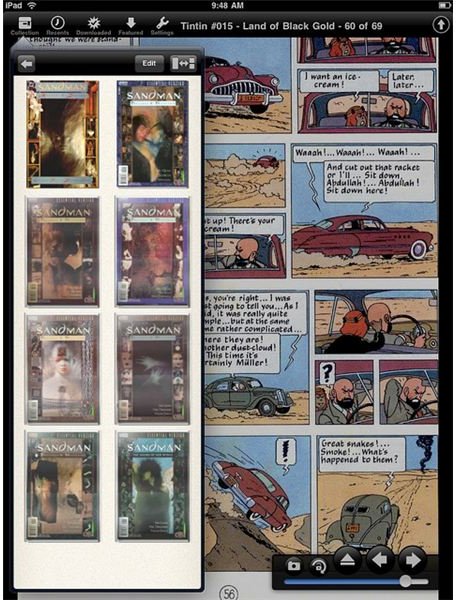 The iPad has a lot of choices for comic readers, and this article we're going to compare the available comic book apps to find the best overall. I did not include among my top 3 apps those that are tied up with publishers like Marvel and dedicated comic apps like Transformer Comics, GI Joe Comics, and Star Trek Comics, as they do not allow you to upload your own comics. In other words, we're looking at comic book readers, not ebook versions of specific comics.
The Choices
Stanza
Stanza has long been a great iPhone e-book reader app, and when it was updated to work on the iPad, it became even better. The layout of the library is the same with the comics just stacked beside books but certainly you can create a different category for just comic books. You read the comics the same way you would with the books, but obviously can't change fonts or the background. The ability to change the brightness of the screen by swiping up or down is even better for comic books so you can brighten up those darkly scanned copies. It's also free so that is always good.
Comic Zeal
This is one of the best looking comic book readers on the iPad with a very polished presentation. Transfer is via iTunes but afterwards the app still has to do some processing and it takes a few minutes before the app is fully loaded.
Comic Zeal allows for swiping but also has a next page button. Swiping is a bit awkward and stutters a bit. If you do not swipe it most of the way, it just pops back to the same page. The next page button works better. This might be fixed in future updates. This comic book reader is priced at 8 bucks.
Comic Reader Mobi (CRM)
Comic Reader Mobi has some neat features. It can auto-detect spreads (two-page layouts) and automatically place the view in landscape mode. You can also zoom into the text bubbles, a very useful trick especially if the text happens to be small. Scrolling forward via swiping or the forward button is smooth, but going back a page causes the app to reload that page causing some delay.
This has neat functions and supports many common formats like RAR, ZIP, CBR, CBZ, and PDF. However, the UI leaves a lot to be desired and the $15 price is high. You get the iPhone and iPod Touch versions for free at least.
The Best Comic Reader for the iPad
For me, Comic Reader Mobi is the best in this bunch despite its undesirable UI because of its unique functions and support for various formats. I suggest turning off the auto fit function, though, as it can be annoying at times depending on the comic book you are viewing. Even with the $15 price tag, I would still get Comic Reader Mobi. I find that the speech bubble zoom function is worth it alone.
Recommended Alternatives
Now if you want a free solution, you can try Stanza. I highly recommend this one as a free comic book reader option, as its e-book delivery and comic book displaying prowess both deliver a good experience.
You could also try IDW Comics and comiXology which offer comics from different publishers. If you are a fan of the Marvel Universe then try their official Marvel Comics app (it's just comiXology, modified and locked to Marvel) which is free, but you can only buy Marvel comics.
Sources
Sources:
Author's Experience
Wired, https://www.wired.com/gadgetlab/2010/06/top-five-ipad-comic-book-apps-reviewed/
Make Use of, https://www.makeuseof.com/tag/8-free-comic-readers-ipad-mac/
Image Credit: Flickr/raheel