Top Magnetic ID Card Printers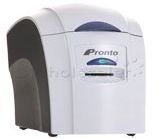 Magnetic ID cards and security card printing need not be outsourced to external makers; this may lessen security as you have to give the codes to the printer for them to encode the cards. This code could be copied and fake cards made which allow access to your secured system. Potentially, giving them your card designs could allow malicious individuals to steal them and use them for access to your systems.
It is best to make ID cards and security cards in-house when possible. Here are my top 3 picks for the best magnetic ID card printers around.
Top 3 Magnetic ID Card Printer Picks
Fargo DTC4500 Duplex ID Card Printer
The DTC4500 is capable of single side and duplex printing with color or monochrome. It is also capable of monochrome rewritable printing. Printing speeds range from 7 seconds with single-sided monochrome to 35 seconds for dual-sided color printing. It has dual input card hoppers of 100 cards totaling to 200 cards, which means you could just leave it to print and do something else. It accepts the standard credit card size, from 9-40mil thickness.
Adding magnetic stripe function is an option and field installable, so you just have to contact support. This ID card printer is well suited to organizations that do a high volume of ID card printing, like schools or printing businesses. It also easily tops our price meter at $5699, but you can get this at discounted price also. Available at ID Wholesaler.
Magicard Tango 2e
The Magicard Tango 2e magnetic ID card printer offers high throughput and high security. It prints high quality images at 300dpi and offers a fully customizable HoloKote watermark for added security and protection. There are options for magnetic stripes, proximity, and contact chip encoding.
It can print a full color, edge-to-edge image on the front of the card, plus monochrome for the back, all in 28 seconds. It has a 100 card feed hopper and 50 card output stacker. It uses USB and Ethernet as connectivity standards and is fully compatible with Windows 2000, 2003, XP, Vista, and Windows 7. It accepts card thicknesses ranging from 0.51mm to 1.6mm (20 – 63 mil).
For visual security, the user can print an anti-counterfeiting watermark that Magicard calls HoloKote. It is printed over the card image and when used with HoloPatch cards, a single are of the card can be highlighted so that it is visible from a distance.
This is still good for organizations that want to print a lot of cards. You have to watch out for the output stacker becoming full and remove the cards when printing more than 50. This will set you back $3995, but again, you can find sellers that give discounts. You can buy the YMCKO ribbon at about $100 and the KO dye film at about $80 which works pretty much across most Magicard ID printers. Available from many online stores like Buy-Magicard-Printers.com.
Magicard Pronto
Magicard's Pronto ID card printer is the light weight contender in the Top 3. This is meant for small businesses or organizations that have lesser demand for making ID cards but need a good printer to make cards as needed.
Like the Tango 2e, the Pronto is able to print HoloKote watermarks over the printed card for visual identification and anti-counterfeit measures. This printer uses dye-sublimation for printing, which differs from the usual CMYK printing by dropping the black for an overcoating, known as CMYO. The overcoating is a thin laminate which is stored in a ribbon. When applied to the card it acts as a great protector from discoloration by offering UV protection and is waterproof at the same time.
The Pronto prints edge-to-edge but is single feed. If you need to have 2 side printing then you must re-feed the card and turn it over. The speed ranges from 7 seconds for monochrome to 35 seconds for color. It's one of the best magnetic ID card printers for budget conscious buyers.
The regular retail price is $2000 but I found them being sold from about $800 to $1200. So that's a great discount all around. Also available from Buy-Magicard-Printers.com
Here is a review of budget ID car printers if you are looking for more alternatives.
Magnetic ID Card Supplies
You can find a lot of supplies for these printers on the internet. I found some blank Magnetic ID cards at about $0.25 per piece here and here.
Sources
Magicard, https://www.ultramagicard.com/product/pronto/
ID Wholesaler, https://www.idwholesaler.com/49500.html
Image Credit: ID Wholesaler, https://www.idwholesaler.com/images/product_images/150/3649-0001.jpg