Micro Innovations Ergonomic Keyboard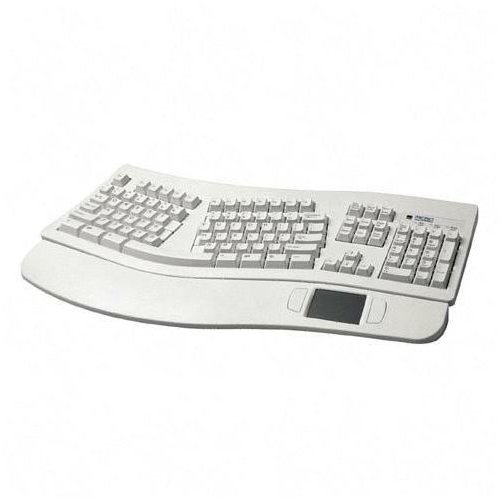 Micro Innovations Ergonomic Keyboard (3 out of 5)
The Micro Innovations Ergonomic Keyboard is a well designed and efficient keyboard for data entry at work or at home. It is designed with the standard 104 key layout, and features a built in touch pad that works as a mouse, effectively making the keyboard a mouse and keyboard bundle. It attaches to the computer via a USB plug, and works through a wired connection.
This keyboard is designed to be spill and shock resistant, so that it is not damaged or rendered useless immediately if something is dropped or spilled onto it. This keyboard only comes in one color, white, which is not really a downside unless aesthetics are a necessary quality for a keyboard. The keyboard is not sold directly from the Micro Innovations website, and as such varies in price depending on the seller. On average, the keyboard sells for around $15.00 USD to $19.00 USD.
Additionally, the Micro Innovations Ergnomic Keyboard features LED lights to indicate whether Caps lock, Num lock, or Scroll lock are turned on, and contains twelve function keys that allow users to maximize their productivity. However, this keyboard has no real outstanding features besides the built in touch pad that allows the keyboard to double as a mouse. The touchpad is located underneath the arrow keys, built into the palm rest of the keyboard.
Image credit: www.buy.com
Pros and Cons
Pros
Built in touchpad allows for the keyboard to act as both a mouse and keyboard.
Designed to resist spills and minor shocks.
Connects via USB, making it compatible with almost every computer.
Inexpensive for both a mouse and keyboard.
Basic and easy to use for both home and office use, with no frills.
Cons
White color will show stains and junk trapped in the keyboard.
Basic features, besides the touchpad has no redeeming qualities.
Not sold directly from manufacturer any longer.
Wired connection could clutter desktops and get in the way.
Very basic in design and function.
No multimedia or Internet hot keys for added convenience.
This is a very basic keyboard, and while it is designed to bundle together a mouse and keyboard for users, it does not have many features which make using the computer much easier. Hot keys are a great benefit for using e-mail or Internet applications, and wireless capabilities are great for keeping desk space clear. However, for a basic keyboard and as a package of both a keyboard and mouse, this keyboard is a great, inexpensive option for fulfilling basic needs while using a computer.
References and Related Articles
Alatest Reviews, https://alatest.com/reviews/keyboard-reviews/micro-innovations-ergonomic-keyboard-white/po3-113562,90/
Buy.com, https://www.buy.com/prod/micro-innovations-104-key-ergonomic-keyboard-ps-2-qwerty-104-keys/q/loc/101/10105403.html
Related Articles: