The Toshiba Tablet PC Lineup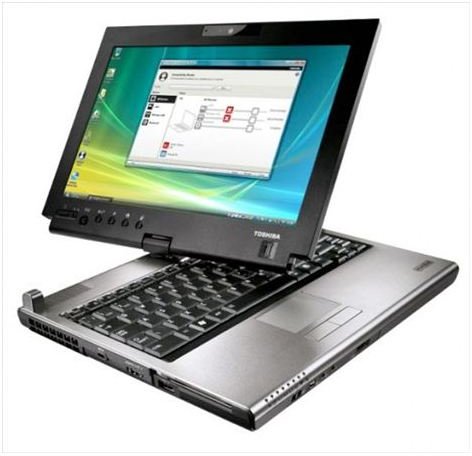 Overview
Introduced a year ago this month, the Portege M780 line of convertible tablet PCs represent Toshiba's remaining share in the tablet PC
field, nine years after Toshiba introduced the first convertible tablet PC, the Portege 3500, to the market.
These Windows 7 powered machines feature a swiveling 12.1-inch 1280x800 pixel display that converts from a laptop to a tablet and back with a twist of the screen, combining flat touchscreen computing with conventional laptop productivity. Boasting increased computing power provided by Intel's line of mobile core i3/i5/i7 processors, the M780 features a host of customizable options, inputs and features in the disappearing field of convertible tablet PCs.
Power and Performance
Through Toshiba's own website consumers can customize their M780 with the right balance of budget and speed.
At the bottom of the lineup is the Intel core i3-330M dual core processor. This budget CPU clocks in at 2.13 GHz and boasts integrated Intel HD graphics and hyper-threading. Next up is the "better" option in the middle of the Toshiba tablet PC lineup: Intel's dual core i5-520M which relies on variable overclocking on demand – called Intel's TurboBoost Technology – to reach speeds of up to 2.93 Ghz. This processor also features Intel integrated HD graphics and 64-bit computing.
The "best" offering from Toshiba is the Intel Core i7-620M dual core processor that ups the ante with variable clock speeds in the range of between 2.66 and 3.33 GHz with an extra megabyte of L3 cache on top of the included features of the cheaper processors.
The memory options are vast for the M780. Consumers can choose from varying combinations of two, three, four, six and eight GBs of DDR3 1066 MHz SDRAM.
High-speed storage is also an option on the M780 with three serial ATA (SATA) hard drives available: a 250 GB, 5,400 RPM HDD; a 320 GB, 7,200 RPM HDD; and a 128GB solid state disk.
Unique Features
Toshiba's convertible M780 allows users to interface with a standard pen stylus, or consumers can upgrade to touch screen input for an extra $100. The M780 is also one of the few machines offering optional eSATA which allows for external hard drives to be accessed at the high-speed rate of SATA, normally only used internally.
Firewire, PC Express, USB and audio inputs come standard, and an integrated modem is optional, supplementing standard wi-fi and bluetooth connectivity. Unfortunately, like most of its market competitors, 3G accessibility is not offered on the M780, a drawback for convertible table PCs.
The Big Picture
Based on convertible tablet PC comparisons, like this one from Top Ten Reviews, Toshiba's Portege M780 holds down the middle of the convertible tablet PC field for its ease of use. At 4.63-lbs, the Portege M780 is also one of the heavier convertible tablet PCs available.
However, Intel Atom-based laptops like the Viliv S10 will continue to challenge this field with increased battery life and lower weight at increasingly limited cost in terms of computing power tradeoffs.
The future of the Toshiba tablet pc lineup is also now in question with the unveiling at the 2011 Consumer Electronics Show of the Android Honeycomb-powered Toshiba tablet that is scheduled to hit store shelves this spring. Set to directly compete with the just-released Motorola Xoom and Apple's iPad, the as-yet unnamed Toshiba tablet is a tacet admission from the long time twisting screen laptop/tablet manufacturer that keyboard free, iPad style tablets threatens to eliminate the aging convertible tablet platform with their maximum mobility and extreme power efficiency.