Tips and Tricks – How to Use a Microsoft Wireless Comfort Keyboard 1.0a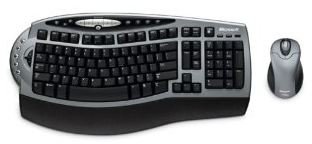 Installation
Before you can use your Microsoft Wireless Comfort Keyboard 1.0a, you must install the software. If the software isn't included with your keyboard, you can download the software for your keyboard free from Microsoft. Select either Keyboard or Desktop Set as your product. Choose your product name and operating system. Press Go to view all software downloads.
Either insert the software installation disk or double-click the downloaded software to start the software installation process. When prompted, connect the wireless USB adapter to an available port on your computer. For best results, a line of sight connection is best. Turn on the keyboard by pressing the small power button. It may take a few minutes for your system to recognize and finish installing the keyboard.
If you have any problems with your system recognizing the Microsoft keyboard immediately after installation, restart your computer with the keyboard still on. This will refresh your system.
Image Credits: Microsoft Wireless Comfort Desktop Set / Microsoft.com
Program Keys
Part of the appeal of Microsoft's ergonomic keyboard is the ability to program the hot keys to open the programs of your choice with the press of a button. In order to program the keys at the top of the comfort keyboard, you need to use the software you installed earlier.
Go to Start. Type the word keyboard in the search box. Select Keyboard from the list of results. In some instances, this may also display as Microsoft Keyboard. If you use Windows XP, go to Start and select Run. Type Control keyboard and press OK to open the keyboard software.
Select the Key Settings tab. Choose the key you want to change. A full list of available hot keys are listed. Press Configure to choose the key's function, which can be opening an application, running a macro or providing a media function. Depending on the function you choose, you may be required to select additional options. Follow any prompts to complete programming the keys. Make a note of the functions of each key you change.
Troubleshooting
Though rare, you may encounter problems. The easiest method to solve most problems is simply to restart your computer to reset the connection. If the keyboard suddenly stops working and will not turn back on, the most likely culprit is the battery. Turn the Microsoft keyboard over, open the battery compartment and insert one new AA battery.
The best way to prevent issues with your wireless comfort keyboard is by properly taking care of it. There are a few things to remember to get the most out of the keyboard. First, always turn the keyboard off when not in use to preserve battery life. Also, never place items directly in front of the USB adapter. If the keyboard cannot send and receive signals from the adapter, the keyboard will not work properly.
References
Microsoft - https://support.microsoft.com/kb/237179
Microsoft Hardware - https://www.microsoft.com/hardware/mouseandkeyboard/ProductDetails.aspx?pid=117&active_tab=overview