Should High Schools Use iPads?: A Review of 5 Educational Apps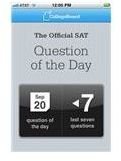 Using the iPad in High School
For students fortunate enough to own an iPad, there are a number of ways the device can be used for educational purposes. Self-study and self-directed learning during one's free time is one of the best ways to use the iPad since you will not need to worry about breaking school rules. Some progressive schools may encourage students to bring their iPad into the classroom for certain lessons or subjects. Before you bring your iPad into high school, check with your teacher first. Teachers are likely to be more open to the idea if you can suggest specific high school uses for the iPad. This article introduces some of the apps you can use to further your education using the iPad.
Using the iPad to Improve Your English Skills
Whether you are motivated to study for a high score on the SAT, simply learn more words, or raise your English grades, these apps are well worth considering.
The Official SAT Question of the Day (College Board): Studying for the SAT can be difficult but this free app makes the process easier by providing one question a day for you. The app alternates between writing and math questions so that you can develop your skills in both areas. The app loads seven days worth of questions at a time. To be successful, students should supplement their SAT studying with books and other methods.
Merriam-Webster's Collegiate Dictionary: The digital version of this classic American dictionary has a library of more than 200,000 words for students to consult. One of the best ways to expand your English vocabulary is to read widely and look up words you don't know in a dictionary. At the time of this writing, the app sells for $24.99.
Shakespeare In Bits: Romeo & Juliet iPad Edition: This paid app ($14.99) provides students with an engaging way to learn about one of William Shakespeare's most popular plays, Romeo & Juliet. The app breaks the play down into smaller sections and has the capability of reading the play to you. This app may be particularly helpful for students in literature classes or those who have to memorize sections of the play.
Using the iPad to Learn Math and Science
You can also use the iPad to learn science and mathematics and there are many apps available for students. Some science apps for the iPad are simply reference materials but other apps provide test questions for students.
Fractions Math: Created by Esa Helttula, this paid app ($3.99) lets students work through fractions. While some of the graphics are designed for younger students, the app is still a great way to practice this fundamental math skillset.
Periodic Table of the Elements: This free reference app is essential for students learning basic chemistry and the role of the periodic table of elements in science. In addition to the table itself, the app provides detailed information (e.g. boiling point, melting point, and atomic weight) on each element.
There are many ways high schools can use iPad for student learning. Teachers and students have a variety of options available to use technology in high school. Use the iPad to learn English, learn Spanish, do fractions, prepare for the SAT and read books.
References