This Day in Computer History: October 12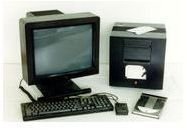 This Day in Computer History
1958
Texas Instruments engineers first demonstrated working Integrated Circuits, the foundation of all modern electronics, to Thomas J. Watson, Jr., president of IBM.
1981
Processor manufacturers Advanced Micro Devices and Intel entered into a ten year agreement under which the two companies will exchange technology, beginning with Intel's x86 architecture.
1988
At the Davies Symphony Hall in San Francisco, NeXT unveiled its NeXT Computer, featuring a 25 MHz Motorola 68030 microprocessor, a math co-processor, 8 MB RAM, a 250 MB optical disk (CD-ROM) drive, a fax modem, and a 17-inch monitor. The system will be a flop, but it introduces several important new industry standards, including the optical storage drive and built-in digital signal processor for voice recognition. The system runs on the NEXTSTEP Unix-based operating system, which features a Postscript-based GUI that many consider to be ahead of its time, the Objective-C native programming language, and the NeXT Interface Builder. Apple's latest Mac computer line performs at only half the speed and costs over a thousand dollars more.
Yahoo! acquired Yoyodyne Entertainment, which was the first Internet-based direct marketer in history, for $29.65 million in stock.
1998
WinBook released the WinBook XL computer, featuring a 233 MHz Pentium processor, a 256KB Level-2 cache, 16 MB RAM, a 20x CD-ROM drive, a floppy drive, a 12.1-inch dual scan display, a 2 MB PCI graphics accelerator, and a 1.6 GB hard drive. Price: $999
1999
After Barnes and Noble's announcement of plans to acquire Babbages, its shareholders file a lawsuit alleging that the acquisition would be not be financially prudent, violating the fundamental responsibilities of the company to its shareholders. The suit requests that the courts hold profits obtained by the CEO of Barnes and Noble, Inc. in trust.
2002
Webmasters across Spain take their websites offline to protest of a new federal law requiring every commercial websites hosted in the country to register with government agencies.
2004
Apple Computer announced that, over the last three months, 2,000,000 iPods had been sold, accounting for 82% of digital music player sales and 92% of hard drive based digital music player sales while iTunes had sold over 100,000,000 songs to date at a rate of four million a week.
2005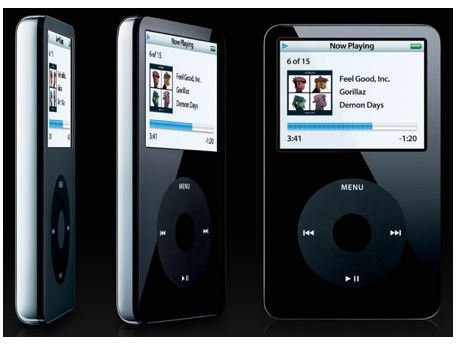 Apple Computer released the fifth generation iPod, which introduced video playback capabilities to the line. The devices were significantly thinner than their predecessors and offered a search feature, re-designed earphones, gapless playback, and brighter, larger screens for the exact same price as the fourth generation players. They also features 80GB capacities, expanded from 60GB.
Apple Computer launched video sales on its iTunes music service. In the United States, each video costs $1.99, and in the United Kingdom, each video costs £1.89. Within the month, iTunesOver sold over one million videos.
A javascript began circulating online that forced Microsoft's website to validate a Window installation, circumventing Microsoft's Windows Genuine Advantage system.
Disney's CEO officially announced the availability of ABC television network programming through Apple Computer's iTunes service. Episodes of select series would be available just one day after its broadcast.
This post is part of the series: A Chronology of Computer History for the Month of October: This Day in Computer History
This series provides a daily account of what happened on this day in the history of computing and technology. It discusses developments, breaking news, new releases and global implications that occurred as a result of these ground breaking events.