Targus Tablet PC and Notebook Stand: A Review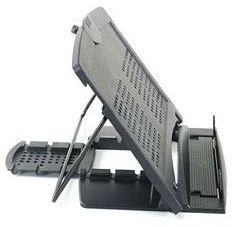 Thoughts
Laptops are portable computers that you can take anywhere even to places with no tables because as its name suggests, it can sit comfortably on your lap… yeah, right!
No matter how portable laptops are, they never are comfortable on your lap. Placing a laptop on your lap is awkward and you will get back and neck pains, not to mention there isn't any place for your mouse. Good luck on being productive with that touch pad. Plus, as laptops are becoming more powerful, they are also becoming hotter. Try putting a 3-pound chunk of burning plastic –and it does burn if you leave it on there too long – on your lap and feel it turn into a piece of ham. There are of course exceptions, but the previous statement stands for most laptop models currently on the market.
For purposes of furthering ergonomics, Targus released the Tablet PC & Notebook Stand. The stand allows tablet PCs to be placed in portrait or landscape positions depending on your preference so you can use a keyboard with it. If you are doing some writing with a keyboard, it is recommended to put the tablet in a portrait position so you can have a lot of vertical screen real estate and even has a notes holder. If you are watching a movie, landscape is the ideal position.
The Targus Tablet PC & Notebook Stand has six different tilt positions that you can choose from giving you more choices on laptop positions. This can greatly help with typing comfort and also help position the laptop to get the optimal screen viewing angle. The plate has air holes which help dissipate heat from your notebook as opposed to having it sit on a table with all the exhaust ports blocked.
It is made of ABS plastic which is quite strong with a lot of impact resistance. This is the most common plastic used in electronic devices. At 482 grams it is not that heavy by itself, but that's a half kilo more weight on your laptop bag, which can be quite heavy already. At 29.8 x 30.5 x 3.8 cm when folded, it is not small either so if you have a small laptop or netbook and therefore have a smaller bag, this stand is not for you. It is portable in a sense that you can carry it to another place where it would stay for a while, not lug it around everywhere you go. But if you tend to work more or less in one place with your notebook or tablet PC, then the Targus Tablet PC & Notebook Stand should be right for you.
Subtract $50 bucks (more or less depending on where you are buying) from your wallet if you want this product.
Product Summary
Features:
Accommodates notebooks or tablet PCs in portrait or landscape position
Has 6 tilt positions
Includes a note holder clip
Perforated back plate for heat dissipation
Made of strong ABS plastic
Dimensions:
Unfolded: 29.8 x 24.1 x 3.8 cm
Folded: 29.8 x 30.5 x 3.8 cm
Weight: 482 grams
References
Targus, https://www.targus.com/pdfviewer/temp/PA247U_10.pdf
Image Credit: [Targus Image Directory](/tools/Targus, http:/www.targus.com/pdfviewer/temp/PA247U_10.pdf)