iPad Sized Accessories for Safety and Productivity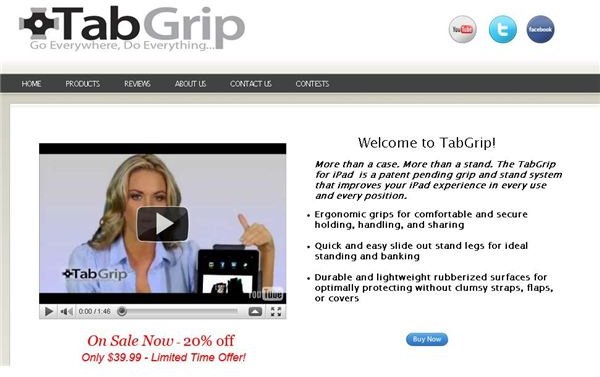 TabGrip
The TabGrip is a must have stand and case system that goes beyond virtually every other product on the market today to keep Apple iPads
safe, secure, and positioned for maximum productivity and enjoyment.
Featuring ergonomic grips for easy, secure handling, the TabGrip also has fold-out legs to position the iPad for convenient viewing angles for personal or group viewing. Other settings can set the iPad at the perfect angle for typing while using the iPad as a word processor.
Made without flaps, straps, and covers, the Tab Grip provides a sturdy, clutter-free, versatile framework designed to help every user get the most out of their Apple iPad.
At the time of this writing, the Tab Grip for the Apple iPad is available from the product's website for a special price of $39.99, which is 20% off its regular price. Price and availability can change at any time.
FreeOneHand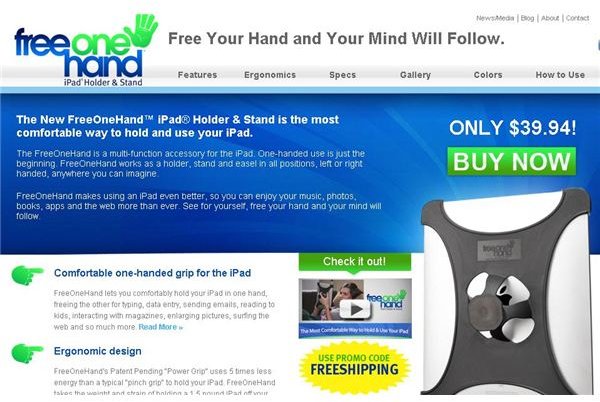 The next of the iPad sized accessories that is a must-have for many users is the FreeOnehand. This innovative accessory for the Apple iPad is designed to let users hold their tablet with one hand, leaving their other hand free for typing, drawing, and navigating on the touchscreen display.
FreeOneHand makes it easier to use the iPad while mobile (no more balancing on knees) and then converts to a handy easel stand when users are using their iPad at a desk or table.
At the time of this writing, the FreeOneHand accessory is available for just under $40 from the product's website. At least for a while, the FreeOneHand can be purchased with free shipping, but prices and special offers may end at any time without notice.
ZAGGmate Keyboard Case for iPad
The ZAGGmate protects the Apple iPad with an attractive, rugged military grade aluminum outer shell that complements the iPad's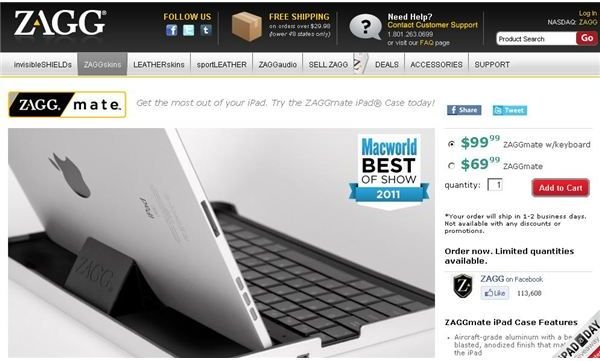 own enclosure and helps eliminate the risk of damage from routine mishaps. Additionally, this case has an integrated iPad stand that holds the iPad at a convenient viewing angle (choose from 10 viewing positions) while iPad users can type on the built-in Bluetooth keyboard. In short, the ZAGGmate converts the Apple iPad into a stylish mobile computer workstation while protecting users' investment from physical damage.
Perhaps the best part about the ZAGGmate is that all this protection and utility adds only 1/8" to the dimensions of the iPad, meaning that users don't have to sacrifice style for the convenience and protection provided by this accessory.
the ZAGGmate keyboard case can is available at this time from the product's website for $99.99. Another version of ZAGGmate is available without the keyboard for $69.99.
Conclusion
The iPad sized accessories listed here represent some of the powerful ways the functionality, accessibility and security of the Apple iPad can be enhanced to make the iPad experience better than ever.
References
Screenshots provided by writer
Tab Grip, https://www.tabgrip.com/
FreeOneHand, https://www.freeonehand.com/
ZAGGmate, https://www.zagg.com/accessories/zaggmate-ipad-case