Learn How to Enable Private Browsing on an iPad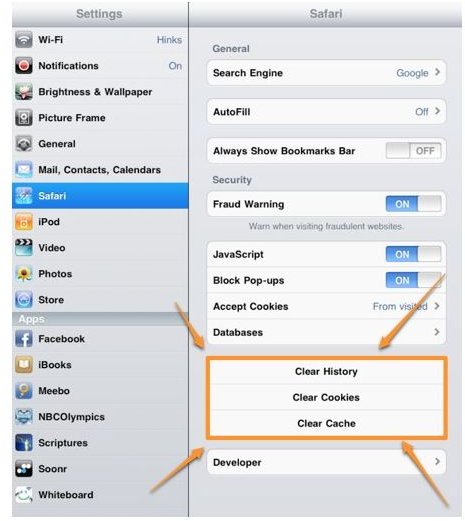 Out of the Box Privacy
First, it's important to note that while there are ways of covering your online tracks on your iPad, your ISP or network administrator will
always be able to see what you've done and where you've been online. So don't plan on trying to hide every website you visit.
Just like its smaller counterparts, the iPhone and iPod touch, the iPad comes standard with Apple's stripped-down mobile web browser, Safari, which unlike the PC and Mac versions offers no private browsing mode.This means Safari records a history of all in-app Google searches, web sites visited and cookies, and removing that information requires a complicated round-about method of deletion.
To do so, open the settings application on your iPad, select the Safari tab and locate and click each of the buttons labeled "Clear History," "Clear Cookies," and "Clear Cache." To clear saved names and passwords, select the "Autofill" button and click "Clear All."
If this seems needlessly complex, especially for an Apple product, you are not alone. There is a large contingency of app developers that agree, and they're making private browsing on an iPad a priority with browsers of their own.
Alternative Browsers
The Atomic Web Browser from RichTech is one of the most popular alternative web browers. This feature-rich Safari alternative is available in the iTunes store for $0.99, and the lite version is free. Both versions include a private browsing mode that doesn't store web history and deletes cookies on exit. Note that private mode is off by default, so it needs to be activated by the user.
Private, a privacy-focused browser from Acceleroto, automatically clears web history and cookies on exit and on the next launch – just to make sure. It's free in the app store.
Although designed for the iPhone and iPod touch, Aquari from Smash Software, a free app self-described as "the most advanced and fully featured secured browser on the iPhone," is compatible with the iPad. Aquari features automatic cookie deletion, no web or search history and even a passcode to keep prying eyes away from your browser.
For Jailbroken iPads
It goes without saying that users of jailbroken iPads have a lot of options when it comes to private browsing, but the Safari add-on from jailbroken app developer Chpwn may be the most nimble.
Chpwn released Covert in September as an alternative to alternative Safari browsers. Instead of an entirely separate app for private browsing, Covert adds private browsing functionality right into Safari with a one-touch button to switch on privacy mode right at the bottom of the browser screen.
Of course, it has to be noted that jailbreaking your iPad in order to use add-ons like Covert will completely void your warranty, and is therefore not recommended.