Dell SK 3205 Smart Card Reader Keyboard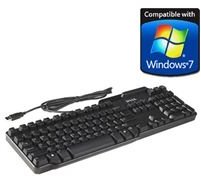 The Dell SK Smart Card Reader Keyboard is a fairly expensive keyboard from Dell that contains a smart card reader. Now, a smart card is not the same thing as a USB key or portable storage device: instead, it is used to encrypt data. Some credit and debit cards have a smart card built into them, so that payments can be used without swiping the card. Smart cards are a security standard in Europe, preventing theft and fraud on debit and credit cards, and the smart card reader built into this keyboard allows for banking transactions, ID systems, secure logons, or other similar functions.
This keyboard is great if smart cards are a necessity for the computing jobs that the computer it is attached to performs. However, besides the smart card reader, it has no other added features that enhance its performance. In essence, the main selling point for this keyboard is the smart card reader.
Pros and Cons of the Dell SK 3205 Smart Card Reader Keyboard
The keyboard itself is very heavy compared to keyboards of similar sizes, meaning that it doesn't move around while typing. However, this can also make the keyboard feel very clunky. The keyboard layout is the standard 104 key American keyboard layout, and the smart card reader is located in the top right corner of the keyboard, just above the number pad.
The keys themselves are bulky, and require a lot of effort to type on. The design and aesthetics of the keyboard are very basic, making it look quite boring and unimpressive. It only connects to computers via a USB port, so old computers relying on PS2 ports for their keyboards will have to free up a USB slot to use this keyboard.
On the plus side, the smart card reader works very well for a built in feature. It does exactly what it is supposed to do very well, but unless smart card capabilities are needed, this keyboard is not necessary. It is available from Dell for $55.99 USD, making it one of the more expensive keyboards from Dell, but also one of the most specialized, as it performs a function that most other keyboards can't perform.
Pros
Reads smart cards very well.
Heavy, and won't move around while typing.
Compact format and easily accessible smart card reader.
No wasted space.
Works on both PC and Macintosh computers (USB plug in).
Cons
Keys are bulky and require a lot of effort to type on.
Expensive for a keyboard that only has one significant feature.
No PS2 plug for older computers relying on PS2 inputs for keyboards.
Very basic design, looks boring aesthetically.
References and Related Articles
References Used: Dell - Smart Card USB Keyboard
Photo Credits: Dell SK 3205 Smart Card Reader Keyboard
Related Articles on Keyboards:
Feel Like a Different Dell Keyboard? Top Dell Keyboard Upgrade Options