Ruggedized PC Tablet Roundup: Durable and On the Go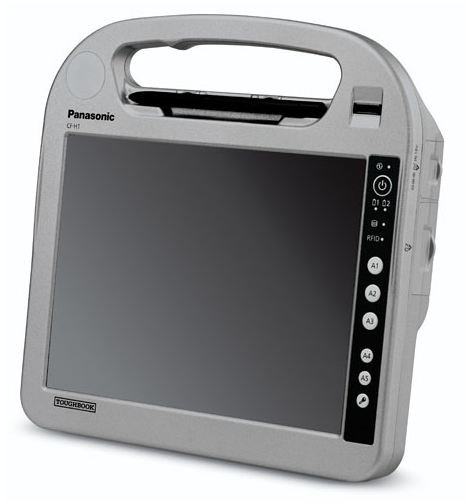 Durability Goes a Long Way
PC tablets are not just for entertainment. Touchscreens make it possible to use a computer in unconventional ways, such as while standing and moving about a space. Businesses can use these devices as a means of taking inventory, communicating while on the move, or presenting documents and information to customers on the sales floor.
However, standard consumer devices don't always get the job done in these environments. Your typical consumer tablet is designed for use a few hours a day. A PC tablet in a business, however, might be used ten or twelve hours a day. That's where ruggedized PC tablets come in. These products offer a Windows operating system, a touchscreen and a keyboard, but they're capable of enduring more abuse.
Let's take a look at a few of the better options.
Toughbook H1 Field
If you're looking for a fully rugged computer, Panasonic's Toughbook line usually has something to offer, and tablet PCs are no different. There are several models available, but one of the most well rounded is the Toughbok H1 Field, a 10 inch tablet capable of running Windows.
Inside the H1 Field you'll find an Intel Atom processor and 2GB of RAM. The touchscreen is capable of accepting two inputs at once. The hardware isn't the real reason to buy this tablet, however. The best features of the H1 Field include things such as a hot-swappable battery, sealed and fanless design, and magnesium alloy chassis.
If you're looking for a smooth and intuitive experience, look elsewhere. But if you're looking for a basic and very rugged PC tablet that can be used in almost any environment, the H1 Field is it. It'll cost you, though - this product starts at just over $3000.
Toughbook C1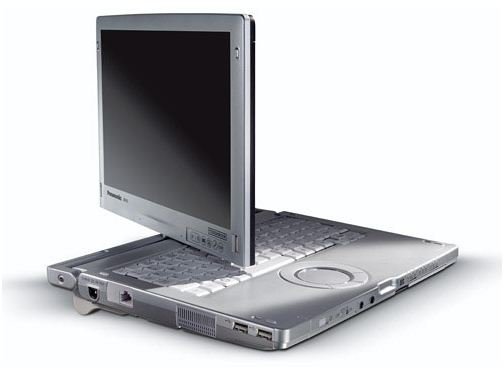 Hey, look at that! Another Toughbook. The C1, however, is not a pure tablet. Instead it is a convertible tablet, which means that it has a display that can be swung around for use as a tablet, or can be locked into place for use as a traditional laptop PC. As convertible tablet the Panasonic Toughbook C1 is one of the world's smallest and lightest. It weight about 3.25 pounds, is 1.2 inches thick and has a 12.1" display.
As a ruggedized PC tablet, the C1 makes some obvious sacrifices compared to the more hardcore H1. The C1 is not fully sealed and fanless and it is not shock resistant. However, the C1 is more usable in many situations because it has a great keyboard, a fully multi-touch display, and is much thinner. The C1 doesn't give up all of the H1's cool features, either; it retains the hot-swappable battery design, for example.
Finally, the Toughbook C1 has impressive hardware. It includes a Core i5-520M, a 250GB hard drive, and 2GB of RAM. This gives it the hardware power to compete with any other product on the market.
Getac V200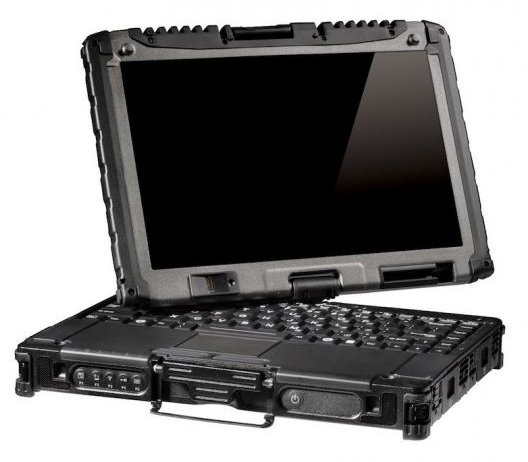 The Toughbook C1 is an extremely nice ruggedized PC tablet, but it's not what is known as "fully rugged." If you're looking for a convertible PC tablet that is even stronger and more durable, consider the Getac V200.
Getac's V200 is built to withstand the harshest environments. The V200 is thick and even more durable than it looks. The magnesium alloy case keeps it protected from damage, and all of the laptop's IO ports have seal caps, which makes the V200 more resistant to dust and moisture.
Best of all, the V200 offers more powerful hardware than you typically find in fully ruggedized PCs. It includes an Intel Core i7 dual-core processor, 2GB of RAM and a 320GB hard drive. The 12.1" display fully supports multi-touch, as well.
The Getac V200 will set you back about $3800.
Conclusion
These are far from the only ruggedized PC tablets available, but they're generally the best. Just keep your eyes open for new products from these companies, as new Sandy Bridge mobile processors are on the horizon.
References:
Image Credits: Panasonic and Getac Technology Corporation