Microsoft Wireless Desktop Elite Keyboard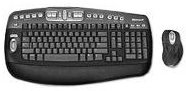 Microsoft Wireless Desktop Elite Keyboard (4 out of 5)
The Microsoft Wireless Desktop Elite Keyboard is a high end keyboard that possesses many different features that make it desirable for both home and business use. It consists of the standard 104-key layout with a variety of extra hot keys for multimedia, music, and Internet use, as well as programmable hot keys that allow you to open up to ten programs and four folders. The built in hot keys include Music, Pictures, and Documents shortcuts, as well as convenient log off and sleep buttons.
The keyboard also comes with a built in palm rest. It is also certified to work on Windows Vista, and will also operate on Windows 2000 professional, Windows XP Home Edition or Professional, as well as MacOS X 10.1 or 10.2. The wireless drivers are small, only taking up 60MB on Windows OS and 30MB on MacOS X.
Microsoft Wireless Desktop Elite Keyboard Design
The overall design of the keyboard was conceived with comfort and "feel" while typing in mind. The keyboard is wireless, and operates up to 6 feet away from the computer. However, many users have said that the receiver is not 100% effective, and sometimes requires a restart to work properly. The receiver works for both the keyboard and the mouse that comes bundled with it, so valuable USB port space is saved when using both in combination. Alternatively, the receiver can be plugged in via a PS2 plug on an older computer to save valuable USB space. However, the keyboard requires 5 AA batteries to function, so a large supply is necessary.
Pros and Cons of the Microsoft Wireless Desktop Elite Keyboard
Pros
Handy shortcuts that can be programmed for any program.
PS2/USB receiver.
Up to 6 feet wireless connectivity.
Comfortable keys that are easy to type with.
Works on both Macintosh and Microsoft computers.
Built in palm rest.
Driver takes up very little memory.
Receiver works for both mouse and keyboard.
Cons
Requires 5 AA batteries.
Receiver is not always reliable.
Does not work with Windows 7 or newer versions of MacOS X.
The keyboard itself is large and bulky in design for a wireless keyboard.
Microsoft Wireless Desktop Elite Mouse
While the mouse that comes packaged with the Microsoft Wireless Desktop Elite Keyboard is not as fancy and does not possess as many features as the keyboard, it is still a fairly decent mouse. It operates on the same receiver as the keyboard, saving space, and works up to 6 feet away from the computer. However, the mouse buttons are extremely sensitive, and even resting your fingers on the button can cause it to click, an annoying feature.
The mouse is an optical mouse, which means it is much more reliable than a ball mouse and will track cursor movement much better. It also has a scroll wheel, which is fortunately not as sensitive as the buttons.
Pros
Wireless.
Operates up to 6 feet away.
Uses the same receiver as the keyboard.
Optical.
Cons
Sensitive buttons.
Receiver is somewhat unreliable.
Further Reading
For more reviews and buying guides for keyboards, please check out these articles:
Review of Logisys Keyboard Models
Review of Microsoft 1045 Wireless Keyboard
References
Image source: Microsoft Wireless Optical Desktop Elite Executive Edition Wireless Keyboard
Research: