Installing an Intel Anypoint Wireless Network Card in a Few Easy Steps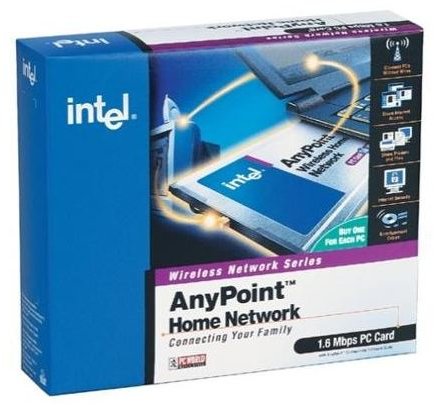 Overview
The Intel AnyPoint wireless network card is a PCMCIA card that allows your laptop to access wireless networks regardless of where you are, whether in your own home, a hotel or a public restaurant that provides Internet access. The card supports up to 11 Mbps of speed to provide fast Internet speeds. As of February, 2011, you can find the Intel AnyPoint Wireless network card for $24.99 in refurbished condition.
Software Specifications
The AnyPoint Connectivity Software Suite includes built-in wireless security to protect your computer from unwanted intruders. It also gives you a unique network ID and encryption up to 128-bit, also known as WEP security. If you're a parent, the benefits of the AnyPoint software are that it has built-in Web Site Filtering for parental controls. You can set the monitoring to be automatic or manual, where you specify the criteria your children are able to view.
The AnyPoint connection manager manages all the connections you connect to. It keeps your connections in order whether you are at home, work, a friend's place, a restaurant or a hotspot location such as an airport or hotel. You'll receive immediate notice when new drivers or printers are available on the network through the dynamic sharing feature.
You can install an Intel AnyPoint wireless network card by following the tutorial below. These instructions will have your Internet network up and running in only moments. Once you have installed according to these instructions you'll have access to all of the features that I have mentioned above.
Step One
Place the installation CD in your laptop's CD or DVD-ROM drive to automatically start the installation wizard.
Step Two
Press "next" on each of the prompts that appear on your screen to progress through the installation process and install with the default options. Click "finish" when the process is complete to end the installation.
Step Three
Shut down your computer completely. Remove the plastic piece on your PCMCIA slot, which is located on either side of your laptop. You can now install you Intel AnyPoint card. As these instructions indicate, installing an Intel AnyPoint wireless network card requires that you insert the card in the computer after installing the software. Do not reverse these steps.
Step Four
Turn your computer back on and allow your operating system to boot. Wait for the install hardware wizard to start up. This may take a few moments due to the fact that other programs may be starting up at the same time. Wait for everything to completely load.
Step Five
Click "install software automatically" and wait for the system to complete the installation to begin using your wireless connection. You should not have to take any further action as you have already installed the software.
References
Wi-Fi Planet: https://www.wi-fiplanet.com/reviews/CD/article.php/1355531/Intel-AnyPoint-Wireless-II-Network-80211b-USB-Model-and-PC-Card.htm
Ixbt Labs: https://ixbtlabs.com/articles/intelanypoint/
PC Liquidations: https://www.pcliquidations.com/p1350-intel-anypoint-wireless-ii