Information About Tablet PCs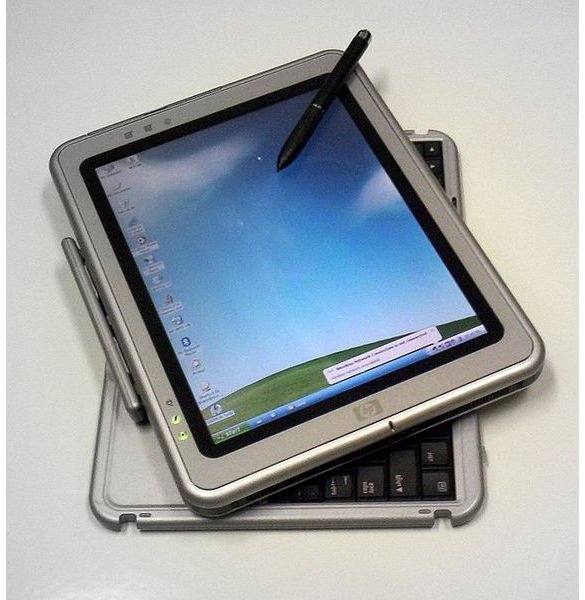 Differences between Tablet PCs and Laptop PCs
The primary difference between a tablet PC and a laptop PC is that a tablet PC is fitted with a touchscreen display and is designed to use it as the computer's primary input device. The concept of the tablet PC was introduced to the world by Microsoft in the early 2000's, with tablet PCs appearing shortly thereafter.
Many tablet PCs are fitted with a laptop-style keyboard and a swivel-mounted display that allows the computer to change quickly from
a laptop to a tablet configuration. Tablet PCs have been widely adopted by medical professionals because their convenient input method makes it easy to carry the computer about from room to room without the need to open and close a folding screen.
Tablet PCs are usually equipped with handwriting recognition software that allows handwriting on the screen to be quickly converted into text that can be edited in word processing software like Microsoft Word.
Many tablet PCs running Windows run a specific version of the Windows operating system designed to make the most out of the touch screen inputs, but since the emergence of Windows Vista, support for tablet PCs has become standard in Windows, eliminating the need for a separate version.
Differences between Tablet PCs and Ultra-Mobile Tablets
Apple transformed the computer industry when it released the Apple iPad, an ultra-mobile, lightweight tablet computer running the same operating system that powers the iPhone. Since then a slew of copycat tablets have been released by PC manufacturers in an effort to compete in the ultra-mobile arena. Although these new tablet devices are computers, they differ from tablet PCs in several ways.
First, the new array of ultra-mobile tablet products usually do not have a physical keyboard. This distinguishes them easily from tablet PC computers that most often come equipped with physical keys.
Second, the highly mobile tablet devices on the market today do not share the same operating systems as their tablet PC counterparts. For example, a tablet PC will probably come equipped with Microsoft Windows, but the new mobile tablet market is filled with devices that run either Apple's iOS, HP-Palm's WebOS, or Google's Android OS.
Coinciding with the different operating systems found on the ultra-mobile tablet devices is an array of different CPUs. The new lightweight devices often come equipped with a so-called "system on a chip" processors such as a Qualcomm Snapdragon, ARM Cortex, or Samsung Hummingbird. These compact chips offer impressive processing and graphics power combined with low power consumption for optimum battery life. Tablet PCs come equipped with mobile processors and batteries that are similar to those of ordinary laptop PCs.
Finally, the most notable difference between tablet PCs and ultra-mobile tablet devices is system resources. Tablet PCs are generally upgradeable in ways similar to traditional notebook computers and come equipped with significant local storage, system memory, and graphics processing capabilities. A noticeable result of the robust system resources of tablet PCs is that they usually are heavier than their ultra-mobile counterparts.
Examples of Tablet PCs
Part of the information about tablet PCs that interests shoppers is their availability. Generally speaking, tablet PCs are not as common as laptop PCs and are usually more expensive that similarly capable laptops.. Here are just a few of the tablet PCs that are on the market right now.
Lenovo ThinkPad X Series X201 Tablet. This tablet PC comes with a 12.1" swivel touchscreen display and is powered by a 2.0 GHz Intel Core i7 CPU. It has 2 GB of system memory, a 320 GB hard drive and Intel graphics. Newegg has this computer for under $1,800.
HP EliteBook 2740p Tablet PC. Powered by Intel's Core i5 mobile CPU running at 2.66 GHz, this computer comes with a 12.1" swivel touchscreen display, has 2 GB of system memory, a 160 GB hard drive, and Intel graphics. It sells for less than $1,500 at Newegg.
Panasonic Toughbook 19 CF-19RJRAG2M Tablet PC. This ultra-rugged tablet computer is designed to withstand the requirements of industrial and outdoor computing environments. It is powered by a 1.2 GHz Intel Core i5 processor and is fitted with a 10.4" swivel touchscreen. It has 2 GB of system memory and 160 GB of hard drive storage. Get this tablet PC at Newegg for less than $3,600.
This information about tablet PCs is provided as a reference only. Shoppers should be mindful that pricing and availability can change without notice so their actual shopping results may vary from the examples listed here.