Microsoft Wireless Keyboard 1045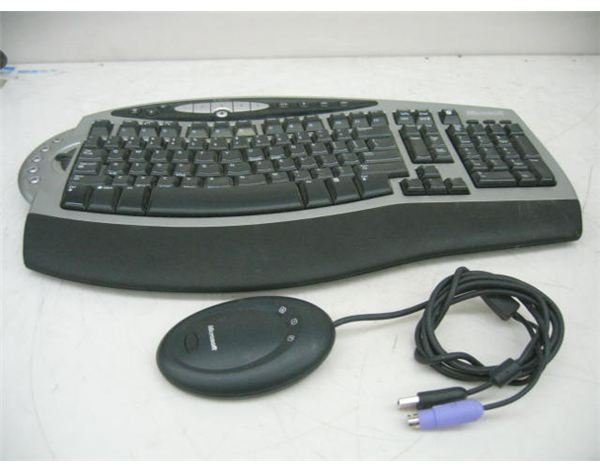 Microsoft 1045 Wireless Keyboard (4 out of 5)
The Microsoft Model 1045 Comfort Wireless Keyboard is an ergonomically designed keyboard that offers many features that make it easy to type for lengthy periods of time. It is shaped to fit the hands of the typist, and possesses an arm rest at the bottom of the keyboard that makes typing much easier on the hands. The keyboard consists of the standard 104 keys, but has the main QWERTY keyboard section curved to fit the typist's hands, and an enlarged spacebar for added convenience when typing. This wireless keyboard also has Internet hot keys that make surfing the web much simpler. The keys are soft touch, which means that they do not require large amounts of effort to type on. This makes the Microsoft 1045 wireless keyboard great for large amounts of word processing or data entry.
The keyboard is wireless, and the receiver connects via USB or PS2 ports to a computer, allowing you to prioritize which plugs to use. The keyboard is compatible with Windows Vista, Windows XP Pro/Pro x64/Home/Media Center/Tablet PC Edition or Windows 2000 service pack 4. The wireless receiver, having a USB plug, does work on Macintosh computers running Mac OS X 10.1-10.4. The keyboard sometimes has problems being recognized on the computer, but this problem is remedied by removing the batteries from the keyboard and waiting 2-3 minutes before restarting. The keyboard operates on double A batteries, which are widely available, so replacing batteries is not a very difficult operation.
The Microsoft 1045 Wireless Keyboard is no longer available directly from Microsoft, but sells for between $18.00 and $30.00 through online retailers. However, many of these keyboards are used, and are not tested for quality, and caution is recommended when buying through online sites as many do not issue refunds.
Pros and Cons of Microsoft Wireless Keyboard: 1045
Pros
No messy wires to set up.
Works on both Macintosh and Microsoft computers.
PS2 and USB plugs saves space when used with Microsoft computers.
Built for comfort while typing.
Soft touch keys and enlarged space bar for added convienence.
Inexpensive.
Operates on AA batteries.
Arm rest for added comfort.
Internet hot keys.
Cons
Wireless receiver is not always reliable.
The wireless driver does not work on the newest versions of Mac OS X or Windows.
The keyboard is rather large, taking up a valuable space despite being wireless.
Not available directly from Microsoft any longer, must be purchased from third party retailers.
Designed mainly with word processing in mind, not suitable for gaming or multimedia use.
Related Articles:
Feel Like a Different Dell Keyboard? Top Dell Keyboard Upgrade Options
Roundup of Laptops with Backlight Keyboards
The Top Ten Gaming Keyboards for the Best Gaming Experience
References
KP Surplus, https://www.kpsurplus.com/microsoft-1045-wireless-comfort-keyboard-56722.html