Shopping for a 140 Key Computer Keyboard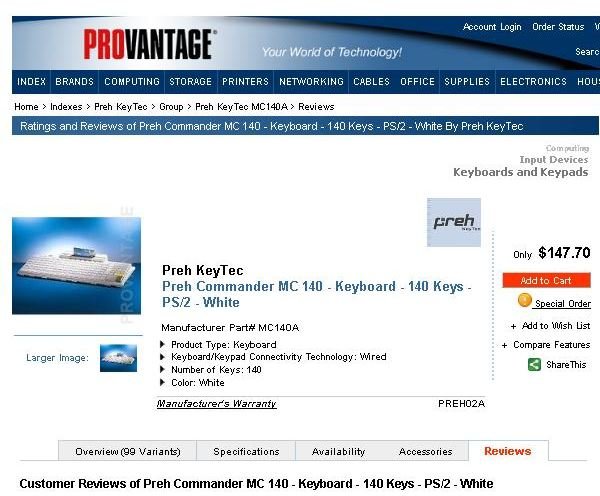 140 Key Computer Keyboards
Shoppers looking for 140 key computer keyboards have their work cut out for them. Almost all major PC hardware vendors seem to say this type of keyboard doesn't exist at all. This means that if you want to set yourself apart from the rest, you're going to have to take some chances, shell out some cash and patiently wait for it to arrive.
140 key computer keyboards are of particular interest for those who wish to use a computer as a point of sale (POS) device and for other financial applications where programmable keys are desired.
As readers will soon discover, there are not many choices available when it comes to selecting a 140 key computer keyboard. In fact, we only have two options available, and they are both made by the same company.
To finish up this shopping guide, users are directed to Cherry, a brand offered by ZF Electronics Corporation that has a wide range of keyboards for POS and other applications with at least one model that comes close to the 140 key count.
Preh MC140AB Keyboard, Keypad
PrehKeyTec, the manufacturer of this 140 key computer keyboard, says nothing about it on its own website, so buyers will have to take a little
bit of a risk when ordering this from places like ProVantage where the item is listed as "special order" and therefore is subject to an uncertain delivery schedule.
This keyboard appears to be designed for point of sale (POS) computers, and comes equipped with a magnetic card reader and a PS/2 style keyboard connector. According to Provantage, the keyboard has programmable keys, but they do not provide any detailed information. The Preh MC 140AB keyboard sells for $147.70.
PrehKeyTec MC 147 Keyboard - MC147B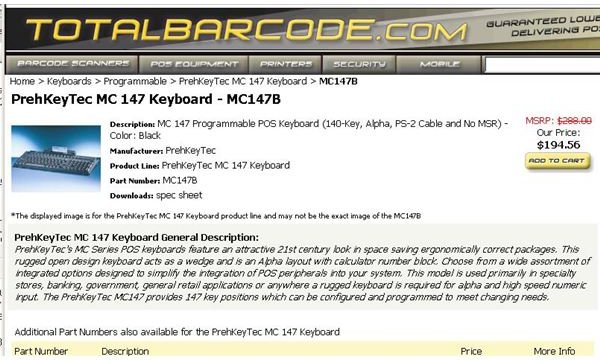 Another product produced by PrehKeyTec is the MC147 keyboard. This keyboard is listed on the PrehKeyTec website and is said to have 140 keys and 147 positions according to TotalBarcode.com where it can be purchased for $194.56. This is a sturdy and durable keyboard where each key position is rated for a lifetime of 30 million key strokes. The MC147B offers legend flexibility and can quickly be re-programmed to adapt to changing requirements.
The MC 147B has 30 programmable key positions making it easy for it to be customized for a particular POS application.
CHERRY G86-61410EUADAA Black USB
A manufacturer named Cherry offers a broad array of programmable POS keyboards, keyboards with integrated biometric security,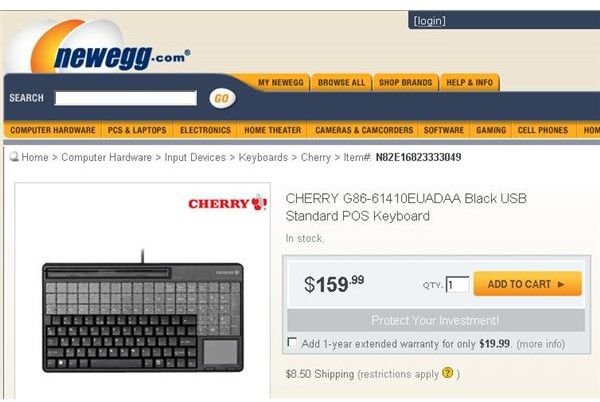 government-rated keyboards, and keyboards designed for health care environments. However, none of the keyboards they offer seem to have 140 keys, although some such as the Cherry LPOS (G86-71400EUADAA) keyboard come close. With 135 key positions, this keyboard comes complete with a touch pad and an optional magnetic card reader. The keys are fully programmable and 54 of them are relegendable.
This keyboard comes with programming software and it is fitted with a USB connector for use with any modern computer. Get this keyboard at NewEgg for about $160.
Wrap-Up
Although a variety of programmable keyboards are available to computer shoppers, those looking for 140 key computer keyboard solutions have limited choices available. Before purchasing, shoppers should check to see if their particular application absolutely must have 140 keys. If not, then a lot more options should become available.
References
Source: author experience.
Image Credits: Screenshots taken by author.