A Review of the Lenovo ThinkPad X200/201 Tablet: Windows 7 Finally Has a Decent Convertible Tablet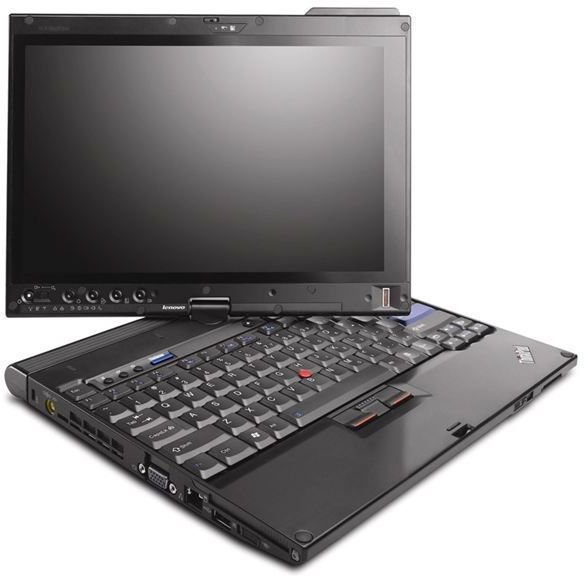 The Lenovo ThinkPad X200 and X201 - Business Grade Convertible Tablets
Convertible tablets have long been the domain of the Lenovo ThinkPad X200. Windows 7 has improved tablet performance, making convertible options such as this more attractive than ever. While ThinkPad convertible tablets of earlier vintages were very popular, they often struggled with the operating system, and with laptop hardware that was inefficient by today's standards.
The combination of modern ultra low voltage processors and Windows 7 makes the potential of a convertible tablet greater than ever. But can the current ThinkPad convertible tablet, the X201, deliver? Let's find out.
Design (4 out of 5)
The Lenovo ThinkPad line of laptops has long been praised for a design focus that rarely wavers from functionality and durability. These two key traits separate ThinkPads from other laptops, and the current X201 doesn't lose sight the brand's traditional strengths.
At first touch, the ThinkPad X201 doesn't feel as sturdy as one might hope. That's because the laptop is small, light and thin. The display size of 12.1 inches, combined with a weight of 3.69 pounds, makes for a package that isn't as brick-like as ThinkPads of yore. Fortunately, a feeling of durability does not necessarily indicate real durability, and the X201 still has all of the features that count. The lid is matte and scratch-resistant, the keyboard is spill-resistant, and the hard drive is shock-resistant. There are other indications of solidarity, as well; for example, the keyboard feels as if it were carved out of stone. There is little to no indication of unwanted keyboard flex.
Aesthetically, the X201 is no beauty queen. The laptop is a little over an inch thick, so it does not inspire a gosh-wow reaction at first glance. The eight-cell battery (which you really must acquire if you want decent battery life) protrudes from the back of the laptop, giving the X201 a bumpy look. And while the matte black plastic is resistant to showing wear and fingerprints, it is quite dull.
Performance (3 out of 5)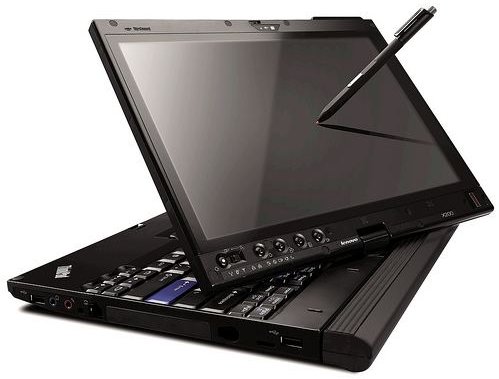 Inside the X201 you will find a powerful Core i5-520UM processor, which can be upgraded to a dual-core Core i7-UM processor if you desire. The basic Core i5 model is more than sufficient, however; clocked at 1.06 GHz and capable of a turbo boost maximum of 1.86 GHz, the base processor offers a lot of horsepower for a 12.1 inche convertible tablet.
But while the processor is fine, other parts of the X201 fail to impress. The standard hard drive is a 5400 RPM model, for example; you can add a solid state drive, but it will cost you a whopping $350 bucks, and even a 7200 RPM drive is a $70 upgrade. The standard X201 only ships with 2 GB of RAM, as well, and upgrading to 4 GB will leave your wallet $80 dollars lighter.
When properly outfitted, the X201 is undoubtedly the fastest convertible tablet around. It is nearly that even in stock form. However, the pricing of the upgrades is a bit much, and selling a high-end laptop with less than 4 GB of RAM is crazy.
Battery Life (3 out of 5)
The stock Lenovo X201 comes equipped with a 4-cell battery that, as you might expect, doesn't provide exciting battery life. Light real-world usage will result in four hours of battery life at most; using WiFi constantly during that time or turning the display's brightness up will quickly cut this figure down to three hours.
There is an 8-cell battery available, as mentioned earlier in this review, and it's a must have. It extends the real-world battery life to somewhere between six and eight hours depending on how much demand you place on the processor and how you use the X201's display and WiFi. However, the battery is an extra $70.
Conclusion (3 out of 5)
The Lenovo Thinkpad X201 convertible tablet has its flaws. Although it bases at a price of $1299, when properly upgraded it can easily end up with a price of $2000 or more. This is not a cheap laptop, and some features that should really be standard aren't. Even the multitouch display isn't a standard feature - and why would anyone ever buy this laptop with a standard display?
However, these very annoying issues aside, the fact remains that the X201 is a unique product. If you want a well built convertible tablet, this is your only reasonable choice. The Dell Latitude XT2 is too expensive, the Panasonic Toughbook variants are extravagantly priced and more rugged than most people need, and the HP TouchSmart tm2t, while a nice laptop in its own right, is built for students rather than travelers. If you want a nice convertible tablet that can handle whatever life throws at it, the X201 remains the best choice.
References: Screenshot and Product Information courtesy of Lenovo.