Finding the USB Powered Ethernet Hub That's Right for You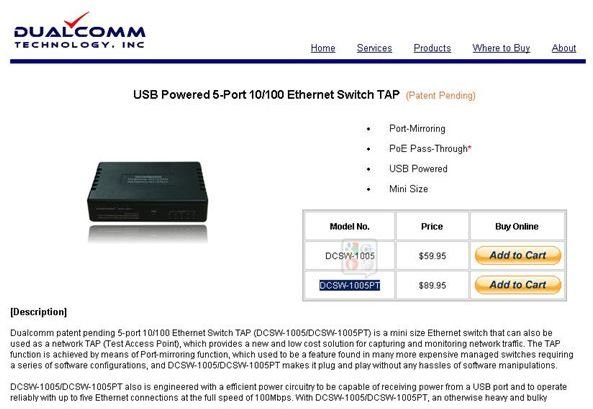 About USB Powered Ethernet Hubs
USB ports have the capacity to provide a substantial amount of power to connected devices, often eliminating the need for an AC power adapter. A USB powered Ethernet hub runs on power from the USB rather than power from an AC adapter connected to a wall outlet, making it possible to set up a small Ethernet network with only battery power available.
This means that laptop computers equipped with a USB port can power a small wired Ethernet network without the need for AC power.
Shoppers looking for a USB powered Ethernet hub should consider the options listed below as they begin their search.
While shopping, keep in mind the fact that these hubs draw their power from the computer's USB port, but do not interface with the computer through the USB. This means that users wishing to include the host computer in the network must bring an Ethernet cable to connect the computer's Ethernet jack to an Ethernet port on the hub.
Dualcomm USB Powered 5-Port 10/100 Ethernet Switch TAP
This USB powered Ethernet hub produced and sold by Dualcomm provides five 10/100 Ethernet ports for computers and peripherals,
drawing all of its power from its host USB port. Because it supports port mirroring, this device can be used as a network Test Access Point (TAP), meaning that it can by an important tool for network analysis.
The Dualcomm USB Powered 5-Port 10/100 Ethernet Switch TAP is available in two models, the DCSW-1005 which is the base model and the DCSW-1005PT which supports power over Ethernet (PoE) for use with IP telephony, meaning that users can set up a phone system complete with IP cameras and recording virtually anywhere.
The DCSW-1005 sells for $59.95 and the DCSW-1005PT sells for $89.95 from the Dualcomm Web site.
While shopping at Dualcomm, be sure to check out their other exciting products.
Datago Mini Area Network Hub (USB Powered)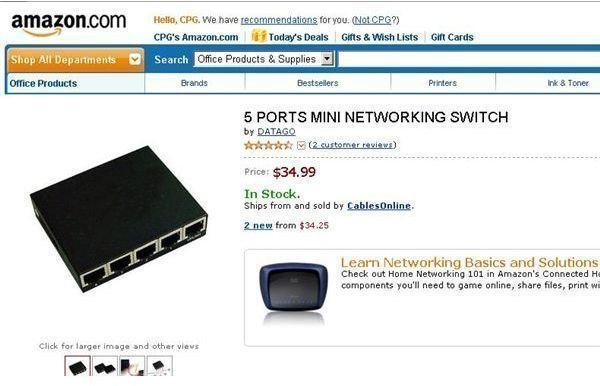 The Datago BT-555 USB powered Ethernet hub supplies five ports of Ethernet connectivity that are perfect for Internet connection sharing or connecting network-based storage devices, printers, and media players.
Because the BT-555 does not need an AC socket, it is perfect to bring along to remote LAN parties and work sites, or for any area where access to an additional power outlet is not convenient. Complete with LED indicators for power, collision, activity, and link, this hub may be just what many shoppers need. The Datago BT-555 USB powered hub is available at Amazon for $34.99.
5 Port USB Power Metal Ethernet Network Hub Switch BL-S805-U
Perhaps the least expensive USB powered Ethernet hub out there for sale is the BL-S805-U for sale by DinoDirect. This device sells for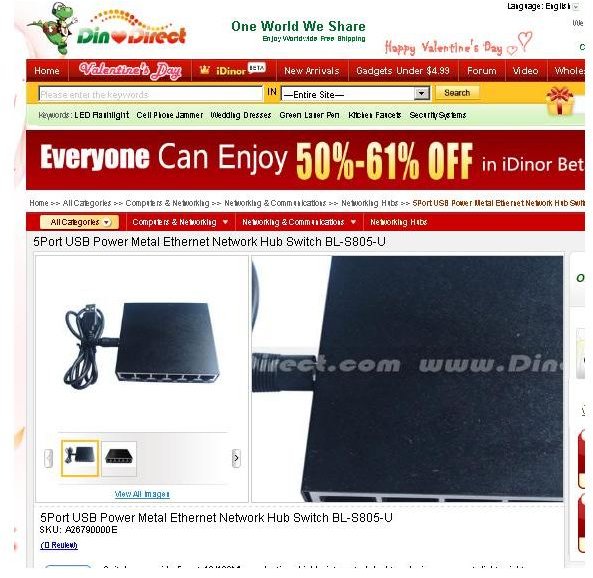 a remarkable $13.99. This is a 5-port, 10/100 switch that draws power from any computer's USB port.
The manufacturer of this hub is unknown and DinoDirect might look a little shady to some shoppers, but those who want to get a USB powered Ethernet hub on the cheap, DinoDirect is the place to go.
USB Powered Ethernet Hubs in Review
Shoppers looking for a USB powered Ethernet hub don't have a lot of options, primarily because this type of device is not in high demand. Technicians, hackers and geeks might prefer the impressive solution from Dualcomm because of its port mirroring and PoE capability.
The Datago solution seems like it would be a good fit for average computer users, while the DinoDirect is perfect for anyone who wants to have the thrill of taking a risk and saving some money at the same time.