Get the Asus Small White Laptop That's Right for You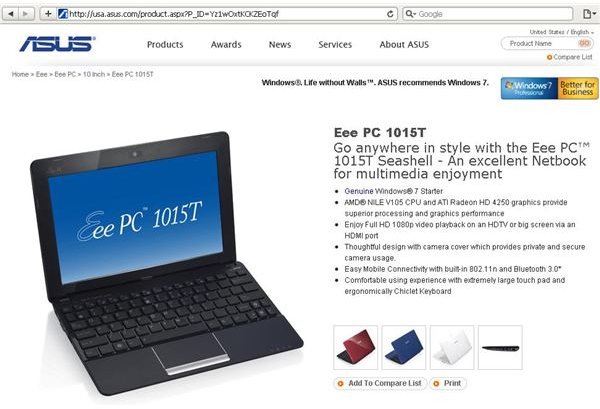 ASUS Eee PC 1015T
The ASUS Eee PC 1015T is an inexpensive solution for those needing a high mobility computing solution. Built-in mobile connectivity
featuring both WiFi and Bluetooth allows users to have high speed Internet access for surfing the Web, accessing email, and using basic productivity applications. Best of all, this highly portable device lets users work anywhere, including inside the classroom, at the office, and at home on the sofa.
The 1015 is available in several colors, including white and has USB ports available for use with external devices.
Loaded with Windows 7 Starter Edition, this ASUS small white laptop features a bright 10.1" screen, 1 GB of system memory, and is powered by an AMD Nile mobile processor. The PC1015T has options for 160 GB, 250 GB, and 320 GB hard drives . Graphics for the ASUS Eee PC 1015T are powered by an Nvidia GPU. A built-in Web cam and speakers make it easy for users to make video calls, use video chat, attend teleconferences, and create presentations.
Although some users may find the keyboard to be cramped, the light weight and long (7.5 hours) battery life, and mobile data connectivity make this laptop a perfect choice for those looking for an extremely portable device in white.
At the time of this writing, at least one version of the ASUS 1015T is available from Newegg for $299.99 (cost and availability may be subject to change without notice).
Eee PC 1001PX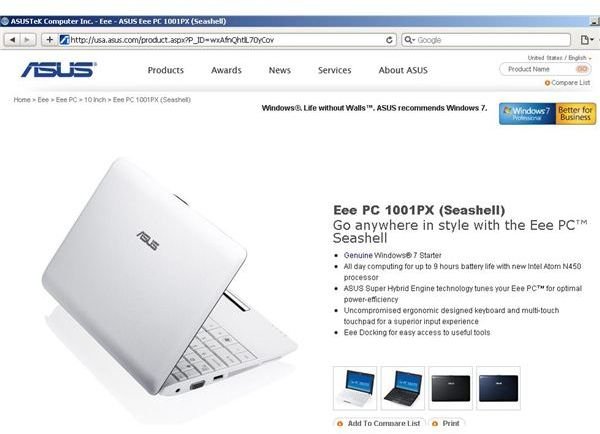 Another ASUS small white laptop is the Eee PC 1001PX. This computer, also available in black and blue, comes with many powerful features including its ability to operate for up to 9 hours on a single battery charge, making it perfect for students, workers, travelers, and others who spend prolonged periods away from a power outlet.
Built-in 802.11b/g gives users high speed data connections to WiFi and Bluetooth compatibility and USB ports provide for the connection of external devices. A brilliant 10.1" screen makes the 1001PX perfect for gaming, movies, and productivity. Storage is furnished by a 250 GB internal hard drive, augmented by a secure digital card reader slot.
Powered by an Intel Atom N450 CPU running Windows 7 Starter Edition or Windows XP Home, and either 1 GB or 2 GB of system memory, this lightweight and scratch resistant laptop is a perfect mobile computing solution. Its built-in speakers and high definition audio codec combine with its integrated Web cam to make it a complete multimedia system.
At the time of this writing, at least one model of the ASUS Eee PC 1001PX is available in white from Amazon for a price of $259.99. Keep in mind that pricing and availability can change without notice.
ASUSTek 1018P
The ASUS 1018P is an ASUS small white laptop that has a contrasting black screen bezel and a rugged but lightweight aluminum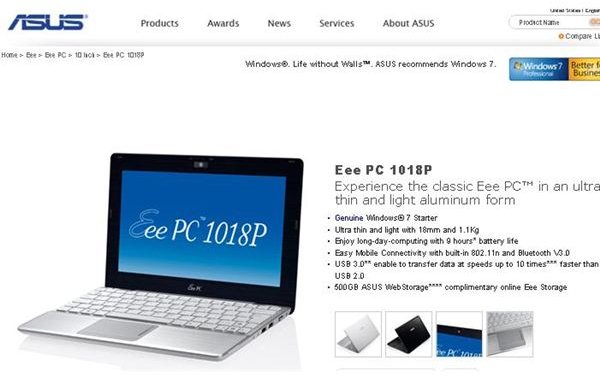 casing. This product is also available in black.
With cutting edge Web based storage (supplied by ASUS) complemented by a 250 GB hard drive, an Intel Atom N550 CPU running at 1.5 GHz, either 1 GB or 2 GB of system memory, high definition audio, external VGA, USB, LAN, and audio connectors, the 1018P also has a slot for reading secure digital media. The 1018P comes equipped with Windows 7 Starter Edition.
Wireless connectivity support includes 802.11b/g/n and Bluetooth. A built-in Web cam makes video calling and chatting easy.
The battery for the 1018P lasts up to 9 hours per charge and the ultra thin (18 mm, 1.1 kg) form factor makes it possible for users to easily stay connected and mobile all day.
The 10.1" 1024x600 WSVGA screen offers an impressive amount of real estate for watching movies and videos, checking email and the Internet, and performing other routine tasks.
At the time of this writing, Newegg has the ASUS 1018P available for a price of $429.99 (Pricing and availability may change).
Choosing an ASUS Small White Laptop
With several powerful and compelling products to choose from, shoppers will find that choosing an ASUS small white laptop is a tough choice. Regardless of which model is chosen, however, users are sure to enjoy the high quality and performance that is packed into every ASUS product.
Image Credits: Screen shots taken by Bruce Tyson