USB 3.0 PCI-E Adapter Cards Reviewed - Upgrade to USB 3.0 5G Speed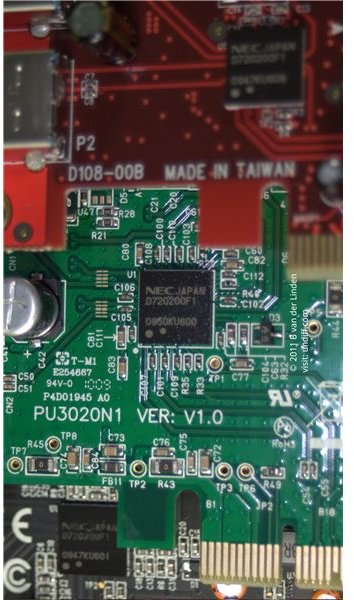 Introduction
Not too long ago USB speeds of 5 Gbit/s where just a dream. Now with the new USB 3.0 motherboards it is reality. But what about your older motherboards? If that motherboard has PCI-E then this is easy, as there are several PCI-E cards available. If that motherboard just has a PCI slot then it's time to buy a new motherboard.
Speeds, Chipsets and Generations
When I benchmarked these three options I found the same results as with the Blacx 5G review, the benchmarks are so close that it isn't even worth mentioning. The reason for this is all, or almost all, USB 3.0 products are based on the NEC µPD720200 chipset.
The only way you would not reach the full speeds of these cards are if you are using a Gen. 1 PCI-E port. On a PCI-express generation 1 card the throughput of the cards will only be 2.5 Gbit/s, on PCI-express 2.0 interfaces you will reach the full 5 Gbit/s.
Below is a description of each card (in no particular order), there are subtle differences mainly in price and accessories.
Please note that the prices mentioned in this article might not be the lowest price available.
Startech PEXUSB3S2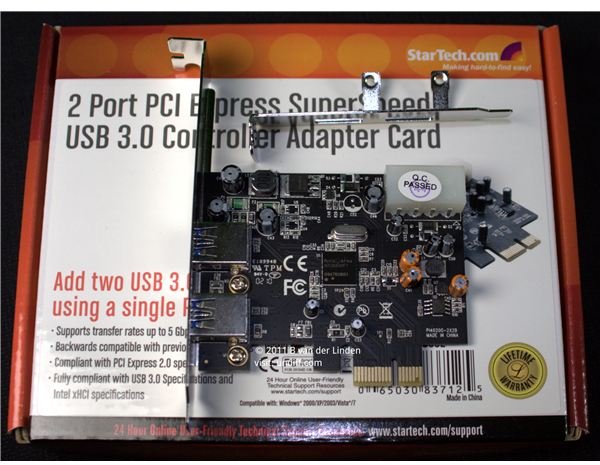 The manufacturer Startech is mostly known for having hardware solutions that are hard to find elsewhere. It is no surprise to find a USB 3.0 PCI-E card there. Startech delivers it's PEXUSB3S2 in a box it is a card that comes with a bracket for a low profile case as well (think mini ITX).
Specifications:
Humidity: 0~85% RH
Operating Temperature: -0°C to 50°C (32°F to 122°F)
Product Height: 0.75 in [19 mm]
Product Length: 4.76 in [121 mm]
Product Weight: 2.12 oz [60 g]
Product Width: 2.99 in [76 mm]
Chipset ID: NEC Electronics - µPD720200
Card Type: Low / Standard Profile
External Ports: 2 - USB A 3.0 Female
Type and Rate: USB 3.0 - 5 Gbit/s
Power: Molex
OS Compatibility: Windows XP(32/64bit)/ Server 2003(32/64bit)/ Vista(32/64bit)/ 7(32/64bit)/ Server 2008 R2
Price:
$29.99
Buy this card at Amazon.
For more info, visit the manufacturer's website.
Aluratek AUPC100F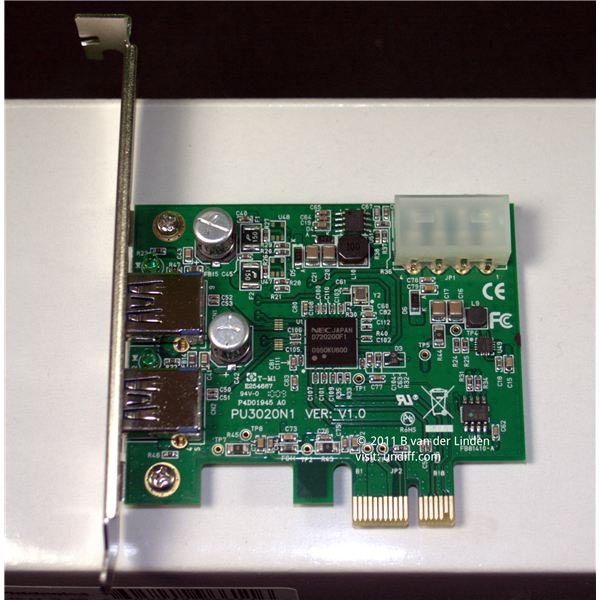 Aluratek known most for their Libre e-book readers, has the AUPC100F. They don't have very much specifications on the website however from just looking at the card it has a Molex connector for extra power. The chipset is the same NEC µPD720200. It supports a bus power of 500mA. Aluratek chose to package the card in blister packaging. There is no bracket to make this a low profile card.
Price:
$39.99
Buy this card at Newegg.
For more information see the Aluratek website.
Koutech PEU230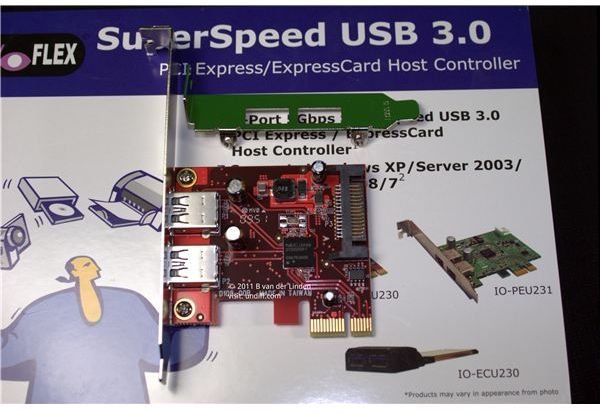 Koutech is a relatively unknown manufacturer for most people. They produce mostly PC accessories ranging from card readers to several I/O cards.
The PEU230 comes in a box and has a low profile bracket in the box. It is also the only card that has a SATA power connector. This might not seem significant but some new power supplies only have a limited number of Molex connectors available, most of which could be used for case fans.
Specifications:
Power Input: 15-pin SATA power connector
Output Voltage per Port: DC +5V
Output Current per Port: 900mA (max)
Operating Temperature: 0 ~ 40 C
System Requirements:

PC with 512MB of RAM and 1.0GHz or faster processor
One (1) available PCI Express slot
Windows® XP/Server 2003/Vista/Server 2008/Windows 7
Price:
$32.99
Buy this card at Newegg.
For more information visit the Koutech website.
Conclusion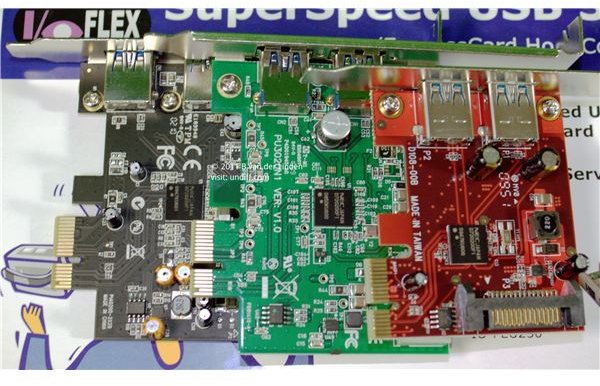 Which card should you buy? That is hard to say, there is almost no difference in speed. So the only criteria really is if you need a card that has a SATA power connector buy the Koutech. If you want the cheapest, buy the Startech. If you don't need a low profile bracket, buy the Aluratek.
All of these cards are excellent choices and the manufacturers featured in this article are all brands I have come to rely on when upgrading or expanding computers.
Make sure you shop around online for the best price. I am sure that these cards can be found cheaper as soon as I publish this article. Maybe you want to buy a different or cheaper card. If you have any suggestions on which cards to buy other than the ones featured here then please leave a comment below.
References
Newegg.com
Manufacturer's websites - Startech.com, Koutech.com, and Aluratek.com