Options for a Different Dell Keyboard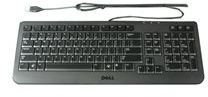 Basic Dell Keyboards (3 out of 5)
There are two keyboards offered for $20 on Dell's website. These two different Dell keyboards are both wired, and consist of 104 keys each. They connect via USB, which is a downside as this means another USB slot in the computer will be taken up simply to use the keyboard. They are both colored the universal black, and possess very little qualities besides data entry on a computer. These are the very basic options of Dell keyboards, and are great for tight budgets and general computing.
Dell Quiet Key Keyboards (4 out of 5)
There is a speciality keyboard offered by Dell that has special quiet keys, making typing much quieter. They have the standard 104 keys, and are simplistic in design, without unneeded keys and features. These Dell keyboards are also weighted so that they do not move when typing, and allow for great ease while using a computer. They are great for writing on the computer, and are much better then the basic Dell keyboards. Like the basic keyboards, this keyboard also connects with a USB. This Dell keyboard sells for $21.99, making it quite inexpensive.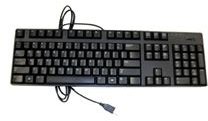 Dell Multimedia Keyboards (4 out of 5)
The Dell multimedia keyboards are flat, sleek looking keyboards with the standard 104 key layout, connecting via wired USB to the computer. It comes with a palm rest, and two built in USB ports that make up for the USB connection required to use this keyboard. It has built in hot keys that work with Vista and XP to call up email and webpages. This keyboard is great for personal use for editing, as it allows multiple USB drives to be plugged in to transfer media on and off the computer. This Dell keyboard sells for $38.99, making it a higher end model, but it possesses many desirable qualities for a keyboard.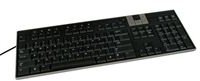 Dell Smartcard Keyboard (2 out of 5)
This Dell keyboard combines a smart card reader with a keyboard, saving space and USB slots. It is a wired USB keyboard, and weighs much more than the other keyboards offered by Dell. Because of its heavy weight, it is very easy to type on and does not slide when typing. It is very compact, and contains no volume controls. Because it has no other features besides a heavy weight and a smart card reader, it does not rate very highly. It is essentially a basic keyboard with a smart card reader that costs $47.99.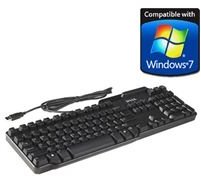 Dell Wireless Keyboard Bundle (5 out of 5)
This Dell keyboard is slim, sleek, and wireless, offering great freedom for a desktop computer. The keyboard comes with a wireless mouse, and a wireless USB receiver, and is equipped with the standard 104 key layout as well as volume control buttons. While this keyboard bundle from Dell is expensive, selling for $54.99, it is extremely convenient and comes with a mouse, making it well worth the price.