Top 3 iPad Word Processor Apps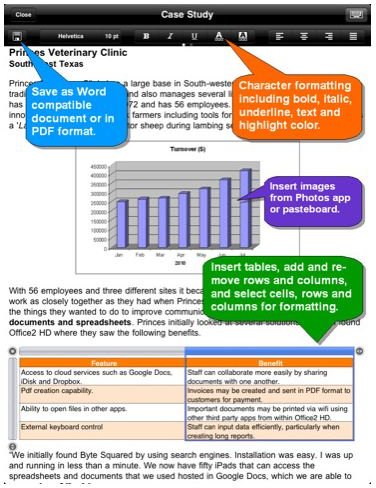 Doc2 HD
To say that this iPad word processor is rich in features would be an understatement because it definitely has many features that you wouldn't expect from an iPad app. It lets you create and edit Word 97-2010 format files using your iPad. That includes - .doc and .docx files. It also supports character and paragraph formatting such as tables, auto-correction, images, auto-completion, copy/paste and undo/redo. This app is also compatible with Microsoft Word, NeoOffice and other .doc compatible word processors. It also lets you search text within documents, copy and paste within the app aside from copy and paste of text and images from other applications including Safari.
Another nice feature of this iPad word processing app is its integration with Google Docs and MobileMe. The app lets you directly view and edit documents on your Google Docs account. If you have a MobileMe account, you can also read or edit documents that you stored on your iDisk. Finally, this iPad app supports Dropbox and other cloud document storage systems.
(Price: $5.99) (Download link)
Pages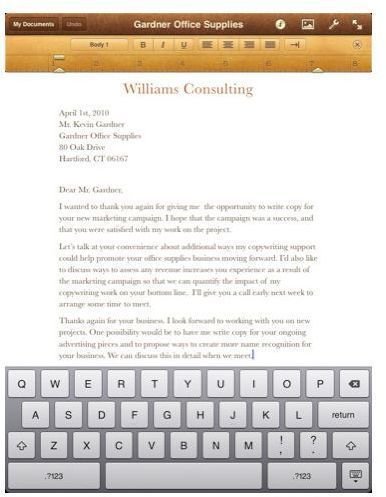 Apple's very own iPad word processor is also a very powerful word processor. If you're a Mac user, you're probably aware of its version for the Mac. This software was completely redesigned specifically for the iPad. One thing that you would surely appreciate the moment you fire up this app is its beautiful interface and the way it displays your documents on your iPad's screen. It's very bright and vivid. When using the app, you can use multi-touch gestures to lay out letters, flyers, brochures, reports and other documents. When creating word documents, you can opt to use the app's preloaded word template or get other templates from Pages, or Microsoft Word document via the iPad's email app.
The app also features easy-to-use formatting options as well as advanced layout options. It gives you various options for styles including fonts, textures, and more. You can add photos and videos from your iPad's photo app. And once you've inserted them to your document, you can still apply various editing options including reflections, picture frames and more. The app also lets you resize, rotate and move images. (Price: $9.99) (Download link)
iA Writer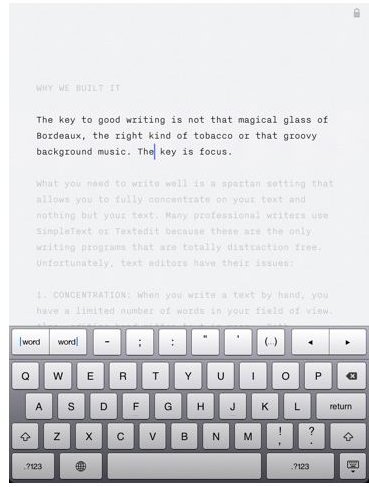 While this is not really an iPad word processor, we still included this iPad app because it is a beautiful writing app which you can use to draft paragraphs and articles easily and then import it later to a document format. The app features an innovative text focus mode, dropbox synchronization, arrow keys, direct punctuation, reading time indicator, iPad optimized writing topography, and do/undo two finger swipe feature. Given the low price, this oddly name app can be enticing. (Price: $4.99) (Download link)