How to Choose a USB LAN RJ45 Ethernet Adapter

USB 2.0 Ethernet 10/100 Network LAN RJ45 Adapter
Let's start with one of the cheapest USB LAN RH45 Ethernet adapters. This model is available on numerous websites with the cheapest solutions (such as DealExtreme), while it can be recognized easily since it does not have any brand assigned to its name. Simply called USB 2.0 Ethernet 10/100 Network LAN RJ45 Adapter, it starts at $3.22. In order to use it, it is only required to plug it into the USB port and it is ready for use. Everything sounds great – low price, easy installation. Is this really as great as it sounds? I had one – consider the "had" keyword. The main problem with this solution is its construction. After a while, the USB connector starts to detach from the plastic part of the device. Naturally, this results in failure and a device that should be replaced. In order to avoid this, an Ethernet cable should be placed horizontally away from the device, not pushing it towards the desk. Since this is hardly achievable, we cannot recommend this solution.
StarTech.com USB2106S USB Network Adapter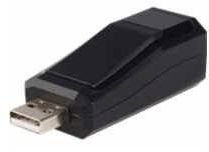 StarTech.com USB2106S USB Network Adapter is another similar solution. Therefore, it is likely that the USB connector will detach from the rest of the device after a while. Regardless, let's take a look at the specifications of this product. With pricing of $11.12, it is also one of the cheapest USB LAN RJ45 Ethernet adapter solutions available. Its data transfer rate is 100 Mbps, while it is compliant with IEEE 802.3 and IEEE 802.3u networking standards. As the name suggests, it supports the USB 2.0 protocol.
Linksys by Cisco USB 2.0 Ethernet Adapter USB300M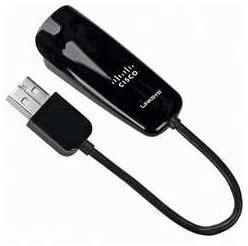 A much better approach in designing this type of a device can be seen on the Linksys USB300M USB LAN RJ45 Ethernet adapter, manufactured by the renowned Linksys Company. This product has a small USB cable attached to the main part of a device. Therefore, it is not possible that this device will break in the same way as it is possible with the previously described products. This product can be found for $26.12, and while talking about specifications, it supports USB 2.0 protocol, 10/100 Mbps network, and the installation is simple - plug and play.
Sabrent USB-G1000 USB 2.0 to Gigabit 10/100/1000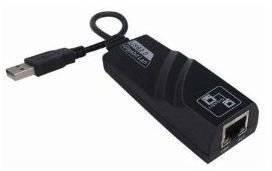 Another solution very similar to Linksys' product (in the terms of design and price), Sabrent USB-G1000 USB 2.0 to Gigabit 10/100/1000 supports IEEE 802.3, IEEE 802.3u and IEEE 802.3ab, while it also supports Gigabit (1000Mbps) Ethernet network. As is the case with the other reviewed products, it supports USB 2.0 (and older versions) of the USB protocol.
Apple USB Ethernet Adapter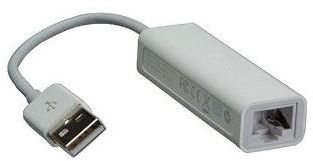 Not unexpectedly, one of most expensive solutions comes from Apple Inc. Their USB LAN RJ45 Ethernet adapter comes white colored, while the price of $80.99 is definitely in accordance with Apple's reputation. It provides 100 Megabits per second of network data transfer rate and is suitable for Mac computers.