Buying for a Kid: Computer Keyboard/Mouse Shopping for the Young User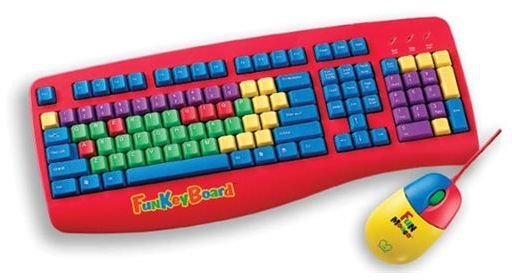 Kid's Computer Keyboard and Mouse
Kid's computer keyboard and mouse combos are specially designed to boost your kid's learning skills as well as to help them learn about
computer use. A keyboard and mouse can provide a great start in learning computer operating skills. This article will guide you in making smart choices about buying a keyboard and mouse for your child's computer. You will know where to buy these computer accessories online, and then get a scoop on some of the best ones you can get your child.
Kids Computer Keyboard and Mouse: Types
From educational toys to fully-functional ones, keyboards and mice are available for toddlers to teens. Examples designed for toddlers are meant for their learning. Such mice and keyboards are available in bright colors, and may have interactive features like music, audio, video and other learning aids. These keyboards and mice are widely available in many online toddler stores.
On the other hand, keyboards and mice designed for grown up kids usually contain all the features that are supported in original computer keyboards and mice. Here you can expect to have a QWERTY keyboard with funky color themes, and most probably without wires. The mouse can be a bit different with more buttons, but with funky themes and colors. These computer keyboards and mice are manufactured to be compatible with many types of desktop PCs. Though these keyboards and mice are not meant for learning, they can help kids who find the usual computer accessories boring.
Many kids' product manufacturers are coming up with new ideas for such accessories to make their computer operating experience better.
Kids Computer Keyboard and Mouse: Where to Buy Online
With the ever-increasing demands of parents looking for more interactive and useful keyboards and mice for their child's computer, companies are coming up with new designs and features in kids keyboards and mice. Below is a list of online stores that sell some of the best kids computer keyboards and mice.
Amazon
Amazon being the most popular and largest online store features products from many manufacturers. You will usually find an array of keyboards and mice here and the best thing is that you have plenty of choices available. If you are looking for a fully-functional keyboard and mouse for your child, you will find some funky keyboards with big keys and cool mice for small hands. And, if you're looking for a fun educational keyboard for your toddler, you will get some with music and a few attached to a laptop-like screen. Similarly little computer mice for little hands offer some variety for your little one.
eBay UK
eBay is the next place you should visit to find great offers on kids' computer keyboards and mice. Though you might not find accessories from popular manufacturer here, still you will find some good pieces. However, you will only get functional computer keyboards and mice for kids here. You will specifically love the ladybird computer mice.
eBay USA
Just like eBay UK, here you can shop for kids' computer keyboards and mice, but in dollars instead of pounds. More or less here are the same items you find on eBay UK, but more with more variety. The keyboards are available in funky, bright colors while the Cookie Monster and dinosaur-themed computer mice are highlights of the store.
Tiny Einsteins
This store stocks quality kids' computer keyboards and mice. In the kids' computer keyboards section you will find more keyboard-mouse sets rather than single keyboards. But these can save you money. However, the kids' computer mice section has some cute items to shop, particularly the animal faces computer mice.
Children's Software Online Store
Don't get confused by the name of the store since this online store sells children's keyboards and mice along with educational software for young minds. You will not find many items here but they feature some top-selling products from popular manufacturers.
Chester Creek
Though you will not find any keyboard or mouse for your little one here you can shop for color-coded educational computer keyboards and mice.
Interactive, colorful kids' computer keyboards and mice are full of fun and excitement for little ones as well as grown up children. Though it can be a tough job selecting for your child make sure you enjoy browsing through the items. You have to get your child the best keyboards and mice to boost their learning skills and provide them with a good start with their computer operating skills. Happy shopping for your young computer user!