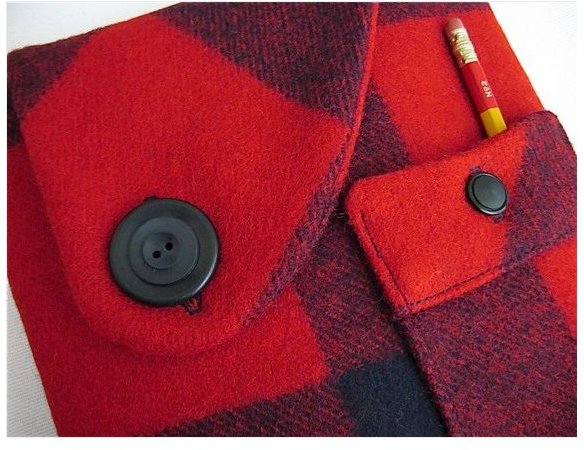 iPad Case Roosevelt Handmade Vintage Fabric iSockit
Blythe King has created a number of iPad cases. This one is made out of thick, heavy-weight black and red wool plaid. The vintage buttons add to its cuteness. The price is $95.00.
Source: Blythe King
Neiman Marcus iPad Flip Case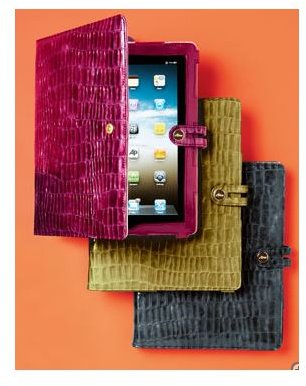 Neiman Marcus has created a stylish iPad case, made out of crocodile-embossed Italian leather. Its patented leather protective case provides a flip easel for angled typing. Your iPad will slip under the leather frame that is sewn onto the inside back cover. The iPad Flip Case is available in three colors: fuchsia, citron and steel gray. The price is $140.00.
Source: Neiman Marcus
Otterbox iPad Defender Case (Hot Pink Plastic/Black Silicone)
The Otterbox iPad Defender case will give your iPad three layers of protection, while allowing you to have complete access to all of the iPad functions and ports. The bottom silicon grip will keep you iPad in place so that you do not have to worry about it falling out in transit. It also comes with a stand and a clear screen protectors. This iPad case is great, if you have kids or are in an environment that is tough on gadgets. The price is $52.99.
Source: Amazon.com
NewerTech iFolio Cognac for Apple iPad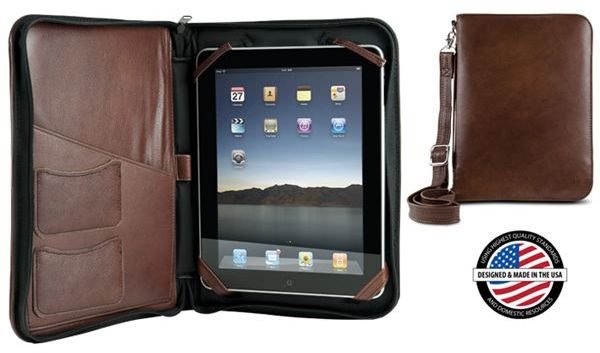 This iPad case is perfect for businesspeople because it keeps everything, including the iPad, in one place. The removable leather strap will give you the option of carrying the case over your shoulder or stuffing it into your briefcase.
The left inside cover has two slots for credit cards or business cards, a large slot to slip your notes and notepad, and a pen holder. The retaining straps on the right side of the case will hold your iPad in place, while giving you complete access to its ports and functions. The NewerTech iFolio is available in a wide variety of colors. The cost is $149.00.
Source: Other World Computing
SCOSCHE doubleDUTY Leather case for iPad with Multiple Viewing Angles

If you are looking for an iPad case that you can use to help you type better or give better presentations, check this out. The Scosche DoubleDUTY can position the iPad to sit fully upright, at a slight tilted angle or at full tilt so that you can type comfortably. The case is made so that you can have access to all of the iPad's ports and buttons. The price is 44.99, but you can buy it on sale for $29.99 as of this writing.
Source: Meritline.com
Kroo iPad DICE Carrying Case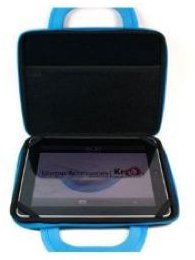 This brightly colored iPad case includes an inside compartment to hold your business accessories and personal essentials. The smooth interior will not scratch your iPad. The price is $19.95.
Source: Amazon.com
Fashion Reversible Neoprene Sleeve Case Cover for Apple iPad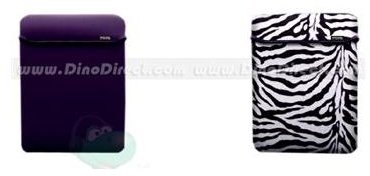 This iPad sleeve has a dual purpose: functionality and fun. You can use the plain color for work and the reversible zebra pattern for when you want to have fun. The interior lining protects your iPad from scratches and dust. The price is $37.99.
Source: DinoDirect.com
Case-Mate Gelli iPad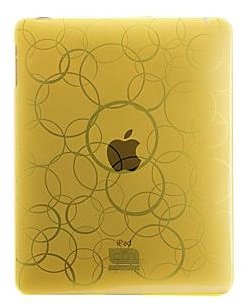 Lightweight and flexible, this iPad case will not add weight like the others. It is made out of strong, thermoplastic material that is scratch resistant. The Case-Mate is available in yellow, green, blue, and hot pink. The price is $31.99.
Source: eBags.com
Mivizu iPad Purple Stone Leather Folio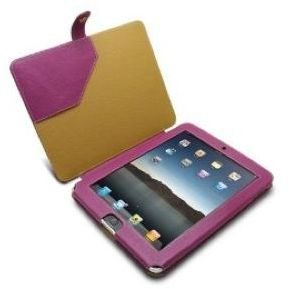 Slip your iPad into the leather frame of this durable folio. The Mivizu also has a built-in easel so that you can prop it up for presentations. It is also available in blue. The price is $89.00.
Source: Amazon.com
BoxWave CorsaModa Folio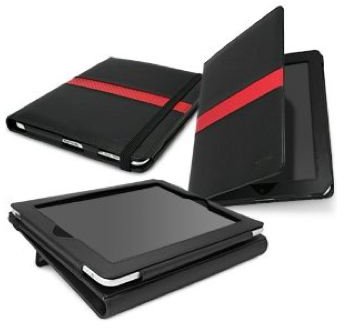 The red stripe running across the black leather of this iPad case makes for a sharp design. The iPad slips into a leather frame, giving you access to all of your ports and functions. The price is $44.95.
Source: Amazon.com
References
Etsy - Blythe King - https://www.etsy.com/shop/blytheking
Neiman Marcus - https://beta.neimanmarcus.com/store/product.jsp?itemId=prod117160004&010=H55UZ&srccode=cii_9324560&ecid=NMCINexTagFeed&cpncode=21-94095052-2&003=5839325
Amazon.com - Otterbox APL2-IPAD1-B6-C4OTR iPad Defender Case (Hot Pink Plastic/Black Silicone) - https://www.amazon.com/dp/B004DUMR8G/ref=asc_df_B004DUMR8G1388838?smid=ATVPDKIKX0DER&tag=nextagus0000216-20&linkCode=asn&creative=395093&creativeASIN=B004DUMR8G
Other World Computing - NewerTech iFolio Cognac for Apple iPad - https://eshop.macsales.com/item/Newer%20Technology/PADIFOLIOCO/?utm_source=nextag&utm_medium=shoppingengine&utm_campaign=productads
Meritline.com - SCOSCHE Carbon Fiber Strap case for iPad with Multiple Viewing Angles - https://www.meritline.com/scosche-carbon-fiber-strap-case-ipad-multiple-viewing-angles---p-51742.aspx
Amazon.com - Kroo iPad DICE Carrying Case - Blue - https://www.amazon.com/dp/B0040IY5MC/ref=asc_df_B0040IY5MC1382082?smid=AKI5DAI1ANTVU&tag=nextagusmp0350207-20&linkCode=asn&creative=395105&creativeASIN=B0040IY5MC
DinoDirect.com - Fashion Reversible Neoprene Sleeve Case Cover for Apple iPad - https://www.dinodirect.com/apple-ipad-case-cover-reversible-neoprene-sleeve/AFFID-19.html
eBags.com - Case-Mate Gelli iPad (TPU Case) - https://www.ebags.com/product/case-mate/gelli-ipad-tpu-case/203911?productid=10108255&sourceID=NXTAG00001&couponid=40959822
Amazon.com - Mivizu iPad Purple Stone Leather Folio - https://www.amazon.com/dp/B00422L8LC/ref=asc_df_B00422L8LC1333163?smid=ATVPDKIKX0DER&tag=nextagus0000221-20&linkCode=asn&creative=395093&creativeASIN=B00422L8LC
Amazon.com - BoxWave CorsaModa Folio-View iPad Case - https://www.amazon.com/dp/B000LG4XRY/ref=asc_df_B000LG4XRY1373897?smid=A30XRGG45X0IFD&tag=nextagusmp0350213-20&linkCode=asn&creative=395105&creativeASIN=B000LG4XRY