Finding the Best Satellite Internet Service Provider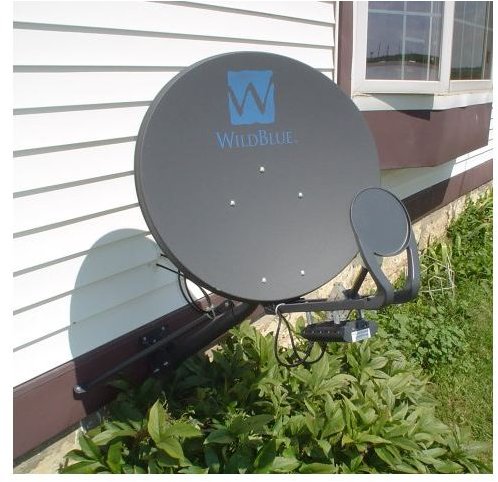 Reasons to Subscribe to a Satellite Internet Service Provider
With a growing number of companies marketing to underserved customers, finding the best satellite Internet service provider may
seem more difficult than it used to be. Although satellite Internet service is not as fast as cable or DSL based solutions, the quality of available services seems to be improving along with technological developments.
People might need to subscribe to satellite Internet service because they live in areas where DSL is not available from the telephone company and no cable Internet service is available. Rather than limp along with dialup Internet service, many users in these predicaments are ready to choose satellite service in an effort to get on the Information Superhighway.
Image Credit: Wikimedia Commons/Jesster79
WildBlue
WildBlue's high speed Internet service is now possible at almost every location in the United States (except for Hawaii and Alaska), allowing rural and remote users to break free of cumbersome dialup service.
Residential Service
The entry level package by WildBlue provides 512 Kbps download speeds and 128 Kbps upload speeds at a cost of $49.95 per month. This basic plan comes with a monthly download limit of 7.5 GB and a monthly upload limit of 2.3 GB. The mid-range plan, called Select, comes with a 1 Mbps download speed and 200 Kbps upload speed while the Pro plan provides the maximum of 1.5 Mbps download and 256 Kbps upload speeds. The Pro plan also comes with 17 gigabytes of download data and 5 gigabytes of upload data.
In addition to the monthly fees (which require a 24 month commitment), customers also must pay a fee for equipment leasing ($5.95 per month or $99.95 per year) and pay a one-time setup fee of $99.95. Additionally, a shipping and handling fee of $24.95 is charged. Installation is free.
Business Service
Business plans from WildBlue are available, but they are sold through value added resellers that may offer different plans and pricing depending on the business' requirements. Because of this, no published rate information is available for satellite services for business.
HughesNet
HughesNet offers residential, government and business Internet services that are accessible from virtually anywhere. With HughesNet, installation of the necessary hardware for Internet connection is handled so end users need not worry about unfamiliar equipment installation procedures. After the equipment is installed and configured there is no need to worry about communications being compromised because Internet access is served through a secure link between the computer and HughesNet.
HughesNet markets itself as a customer service oriented company, suggesting that callers can receive help with their accounts at any time day or night.
Residential
HughesNet has three tiers of service available for residential customers. The basic plan provides 1 Mbps access for a monthly charge of $39.99.
This satellite Internet plan includes 200 kbps upload speeds five email accounts and a download allowance of 200 MB per day. The Power 150 plan offers Internet download speeds of 1.5 Mbps for $59.99 and the Power 200 plan provides 2 Mbps service at a rate of $89.99 per month. Those who download a lot will probably want to go with the Power 200 plan because it allows up to 400 MB of data to be downloaded each day.
Equipment fees are $399.98 to purchase (a $199.99 mail in rebate is currently avaialble) or $9.99 to lease (an additional $99 startup fee is charged).
Business
Business plans from HughesNet range from $59.99 per month for the Connect 100 plan (1 Mbps service) and go up to $349.99 per month for the Express 500 plan (5 Mbps service). As with the residential plans, each service option has significantly lower upload speeds and comes with a daily limit for downloaded data.
Skyway
Skyway boasts of using simpler technology than traditional two-way satellite Internet service that provides faster, more reliable service, but when compared to HughesNet and WildBlue, the company's services seem neither fast nor cheap.
Residential
Skyway residential plans start at $39.95 for a 384 Kbps (download) connection. The company's 512 Kbps plan costs $49.95 while the 768 Kbps and 15 Mbps plans cost $59.95 and $89.95 respectively.
Business
Although Skyway says that businesses can subscribe to its services, the company does not offer a specific business plan.
The Best Satellite Internet Service Provider
Customers that compare satellite Internet service providers may be surprised at how different the available plans can be. From the perspective of best speed for the price, most users will probably be interested in HughesNet, especially for residential use (there is no way to compare HughesNet business plans with those offered by WildBlue and none are offered by SkyWay).
HughesNet not only has the fastest access speeds available, but the company offers free installation. Users should beware when ordering service, however, because the equipment lease and purchase options are cleverly hidden until the ordering process begins.