What is the Best iPad Password Manager?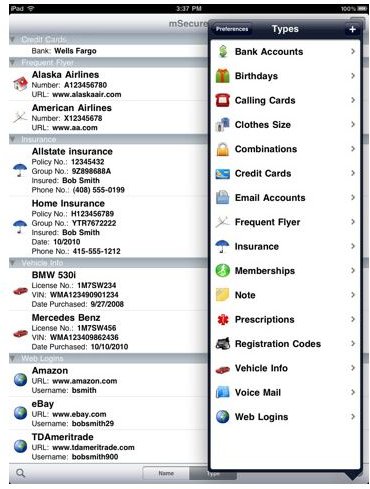 mSecure - Password Manager
This iPad password manager app lets you safely store sensitive and important information like web logins, passwords, credit card numbers, frequent flyer and social security numbers, and other important data that you can't remember anymore. Using data encryption method, the app safeguards your information keeping it safe even when you lose or misplace your iPad. The app comes with 17 pre-defined types of information - Web Logins, Email Accounts, Frequent Flyer, Credit Cards, and more. And you can also add your own information type not covered by those 17. As a bonus, if you purchase mSecure iPad password manager app, you'd also get mBackup which is a utility for use on your Macs. (Price: $4.99) (Download link)
SplashID - iPad Password Manager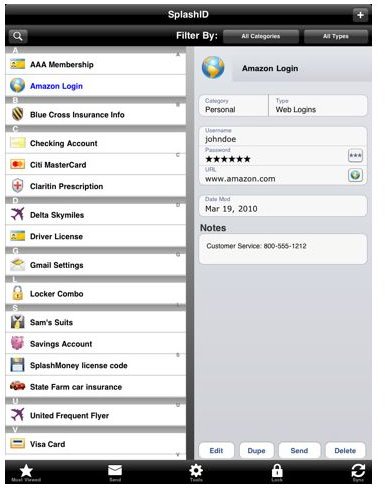 This iPad password manager app offers unlimited customizable record types and categories, strong 256-bit Blowfish encryption, backup and wireless sync to your Mac or PC, automatic password generator and anti-phising URL icons for delivering the correct address without typing. In addition, the app also has a nice iPad interface with split views and popovers. You also get to choose custom icon using a photo on your iPad photo library. There's also a tab that shows your most often-viewed records. As a password setting option, you can also use pattern unlock. Other features of the app include duplicate record button, search history, copy functionality, and soon landscape support. (Price: $9.99) (Download link)
DataVault Password Manager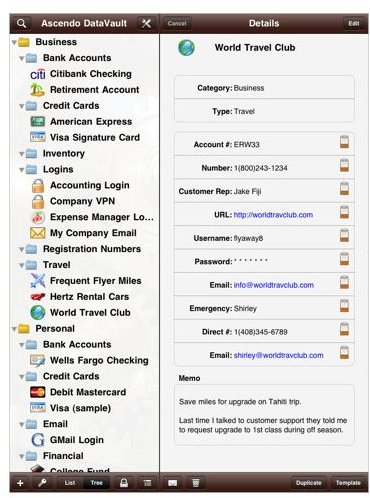 Alright, we'll go straight to the point and declare this app as possibly the best password manager for iPad. It's the most feature-rich, best designed, and possibly the most secured iPad password manager app that you would want to use. The Ascendo folks surely know their craft and understand how important it is for us - users to have our personal and vital data secured and safe even on a portable machine such as the iPad. DataVault Password Manager has the best data encryption feature that your information needs to be safe and secure. When it comes to features, this iPad password manager app has a lot. One feature that stands out is the fact that it supports robust synchronization via MobileMe, Webdav, or WiFi with DataVault for Mac and Windows. This coupled with an intuitive interface makes DataVault Password Manager a great iPad app.
Some of this iPad password manager's great features include - additional security options by encrypting data and storing it in the Apple Keychain, folder view for items or scrollable index, optimized split view for iPad, supports iOS 4 file sharing for backup and restore, supports iPad multitasking, sends security alert via email, DataVault for Mac or Windows sync, customize search, categories and types organization, custom password generator, master password hint, security timeout with login required and more. If you value your personal data and you want quick access to it anytime, anywhere - you'd have this password manager installed on your iPad. (Price: $9.99) (Download link)