A Look at Alternatives to Microsoft Word for iPad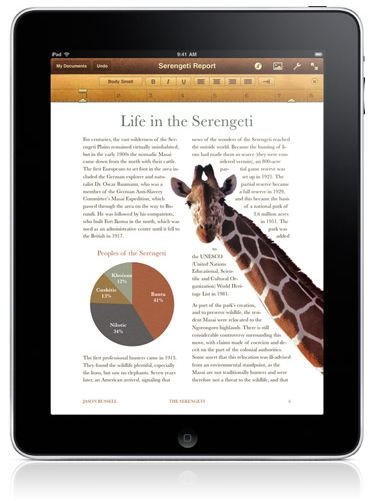 Pages From iWork
Pages comes with themes that lets you create newsletters, letters, resumes, proposals and more. While the layouts are not as complex as those offered by Word, users who just need to create basic documents won't have many problems. The application supports the use of a Bluetooth keyboard if users do not want to use the onscreen one and has built-in spell check and also suggests words to save time when typing.
The program's toolbar lets users change the font, line spacing and align text. If you want to add photos in your document, the program lets you add images from your your synced photo or from photos saved in Safari. Like all of the three alternatives to Microsoft Word, Pages supports both the older ".doc" files and the current ".docx" format. You can choose to send your documents to iTunes, email them or upload them to the MobileMe iDisk service.
Pages sells for $9.99 on the iTunes App Store.
Quickword From Quickoffice Connect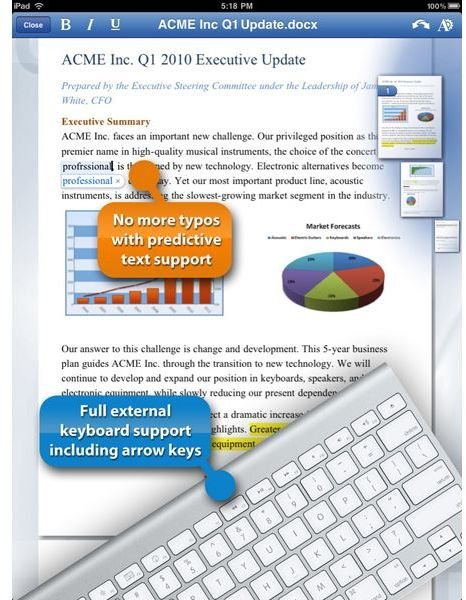 Quickword comes with advanced text formatting options that allow you to choose from various font styles and colors. It also lets you create charts and formatted lists within your documents and features a page-layout mode that lets you view documents in their full format.
If you create multi-page documents, you will like that Quickword shows preview thumbnails and lets you jump to the page needed. One of the major benefits of Quickword over Pages is that it supports various file uploading services such as Google Docs, Dropbox and Huddle.
One disadvantage of Quickword is the price, since the program isn't available by itself. The Quickoffice suite costs $24.99 and also includes a spreadsheet and slideshow editor. While the price may be steep, this alternative to Microsoft Word looks promising.
Documents to Go

Documents to Go is a suite for the iPad that supports Microsoft Word, Excel and PowerPoint documents. It works together with a desktop program that syncs files between your computer and iPad, which results in the easy transfer of your documents without having to rely on file uploading services. You can use the program to embed graphics, footnotes, text boxes and hyperlinks in your documents.
The program also keeps track of word count, has a find and replace tool, automatically formats lists and features predictive text. Another feature is that you can use Documents to Go to edit password protected documents. The Documents to Go suite comes in both a basic and premium version, with the premium version supporting the online syncing of documents. The basic version is $9.99, and the premium version that supports MobileMe, Google Docs and Dropbox among other uploading services costs $16.99.
A Roundup
If you are often in a place without a Wi-Fi connection or prefer easily syncing files between your iPad and computer, you may want to go with Pages or Quickword. In addition, your preference for online document syncing websites will have an effect on which alternative you would need.
If you don't have a MobileMe account, Pages would not be a good choice.
Users who don't want to dish out a lot of money would appreciate Pages and the basic version of Documents to Go.