Read This AVG Anti-Virus Business Edition Review Before You Buy
About AVG Business Software
AVG is a growing and respected vendor of anti-virus and security products for computers for individuals and businesses. The company offers two products that are targeted primarily to business users: AVG Anti-Virus Business Edition and AVG Security Business Edition. Here the AVG Anti-Virus Business product is reviewed so you can make a well-informed purchasing decision.
AVG Anti-Virus Business is available as a trial version, so you can try it out for 30 days before buying it, if you want to do it that way. Before downloading the product, read this product review to see if this product is a good option for you.
Installation (3 out of 5)
Downloading this AVG Anti-Virus Business software is like downloading any other software purchase. Just make sure you choose the version you need.
The files you have to choose from are AVG for Windows 32 bit, AVG for Windows 64 bit, AVG for Sharepoint 32 bit, AVG for Sharepoint 64 bit, AVG Admin for Windows 32 bit, and AVG Admin for Windows 32 bit. The product reviewed here is the version for Windows 32 bit.
Once the download is complete, double click the setup file and follow the on-screen prompts. You will have to do the standard stuff like agree to the license agreement.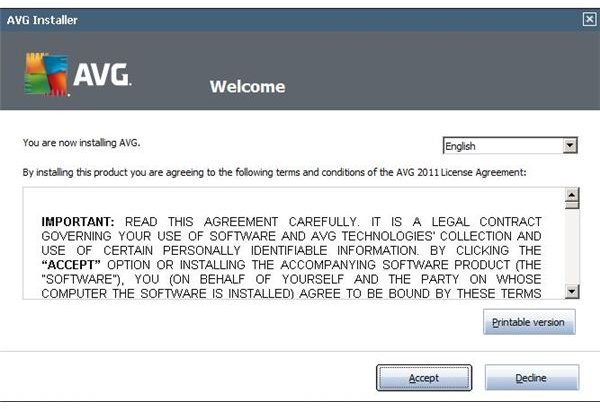 You also have to type in your license code. If you don't, you will only be able to use the program for 30 days.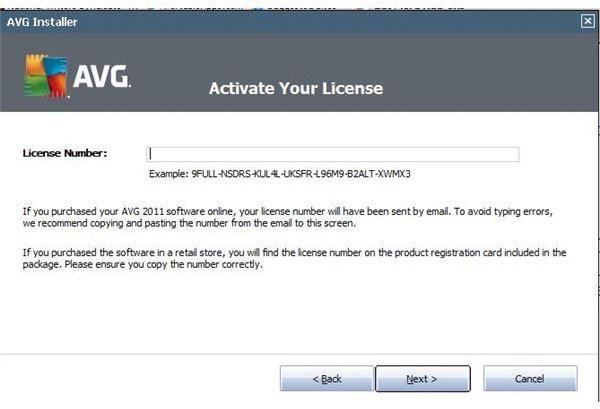 You also have to type in your license code. If you ordered the either the full version or the trial version, you should receive your license code in your email.
Choose the quick install and let it install the Windows gadget.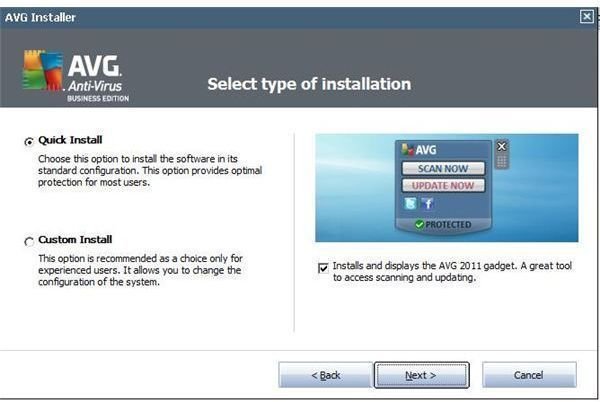 Beware of the option to change your default search service to AVG Secure Search. This might not be something you want to do. Also, the AVG toolbar is optional. Don't install either one of these unless you find them appealing.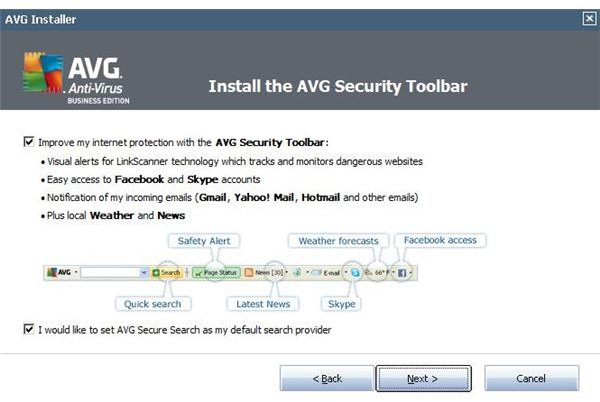 Once you get past this screen, the installation is smooth sailing. The installation only takes a few minutes from here, depending on the speed of your computer. After the process completes, you will be prompted to allow the program to update over the Web. You probably should do this to make sure everything is up to date.

Installation is smooth, but you may get hung up when trying to close Outlook. Also the toolbar and default search engine change can easily be installed by accident, so this Anti-Virus Business Edition review can only give installation 3 stars.
Features (5 out of 5)
In this section of the review we look at the features offered by the software. To access the features, all you have to do is click the "Components" option on the tool bar. From here you can verify the operation of your software's features and manually configure them and/or run scans.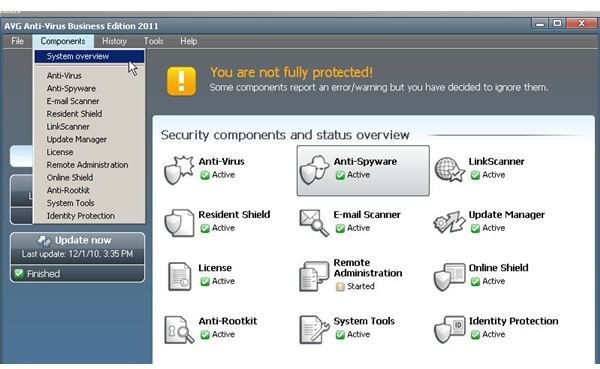 The anti-virus component is probably the centerpiece of this AVG product. It detects trojans, worms, malicious binary executions and periodically updates its database from AVG servers. After you run your initial anti-virus scan, you can set the system up with scheduled scans that run automatically. When you run manual virus scans, you can scan your entire computer or just a single file. You also have the option to run a manual rootkit scan.
The anti-spyware feature protects users from advertisements and software that collects private information from the computer. Anti-spyware operates as a separate module and updates its database independently from the anti-virus database.
An email scanner works with POP-based email accounts to scan for malicious attachments, works, and viruses. The module integrates with Outlook using an add-in, but will provide protection for other POP clients like Mozilla Thunderbird as well.
Resident Shield is a powerful feature that looks for threats as files are opened, saved, or copied, keeping users safe from unexpected surprises. Link Scanner works in a similar way except it helps intercept threats that might be encountered when users click on malicious links. The Online Shield component of this software protects users from infected files download via the Web or instant messaging.
A system tools component helps with system troubleshooting by managing system processes, network connections, programs that run at startup, browser extensions, and a Layered Service Provider viewer.
Remote administration helps IT personnel to run and track workstation scans and analyze logfiles from across the network.
Finally, an identity protection feature helps prevent activity on your computer that follows patterns that are consistent with identity theft.
This program includes powerful features that are easily configured to protect multiple computer assets within a business. You will be hard pressed to find a business anti-virus product that offers more than this one.
Price (5 out of 5)
The price for the business edition of AVG Anti-Virus starts at $89.99 for a one-year subscription for two computers. A subscription for five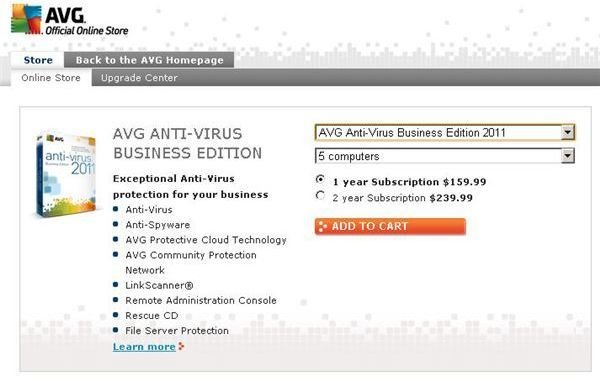 computers for $159.99. Pricing increments based on the number of computers in use up to 200 for a cost of $3,222.99.
As a comparison, Trend Micro Worry-Free Business Security Standard 7 sells for $188.75 for a five user subscription. McAfee's business anti-virus product sells for $283.05.
The AVG product clearly wins on price.
Conclusion
AVG Anti-Virus offers a robust, easy-to-use antivirus solution for business that will help keep business IT resources safe when used as part of a comprehensive network/data security plan. If your business is in the market for a powerful and proactive anti-virus solution, AVG Anti-Virus Business Edition should be a good fit.
References
Trend Micro. "Trend Micro Worry-Free Business Security Standard 7", https://buyonline.trendmicro.com/store/trendsb/en_US/pd/productID.220523000
McAfee. "Small and Medium Business Store", https://shop.mcafee.com/NewShoppingCart.aspx?SkuId=EPSCDE-AA,EPSYLM-AA&Quantity=5,5&SiteId=1001
Image Credits: Screen shots taken by Bruce Tyson