Trend Micro Worry-Free Business Security 7.0 Review: How Well Does It Protect Small Businesses?
Small Businesses and Security Threats
Although there is definitely no shortage of security software on today's market, most of these products have been developed to serve two broad audiences – typical home users or large-scale enterprise customers. This poses a bit of a problem to the small business owner, since most "home" security suites aren't full-featured enough to handle the additional threats that a business needs to worry about, and many enterprise level products are either too pricey or too complex for a company that doesn't have the budget to hire dedicated IT staff.
Unfortunately, the way that many small businesses have chosen to combat this issue is to use no security solution at all – or to use a product that is less than ideal. Hackers and identity thieves have picked up on this and started to specifically target small businesses, basically viewing these companies as easy marks. These external threats are coupled with internal risks, such as employee theft of data – whether "accidental" or intentional.
Trend Micro Worry-Free Business Security 7 is one product designed with the small business user in mind, offering a wide range of protection against both external and internal threats. But, how well does the software perform, and is it a good value for the money?
External Threats (5 out of 5)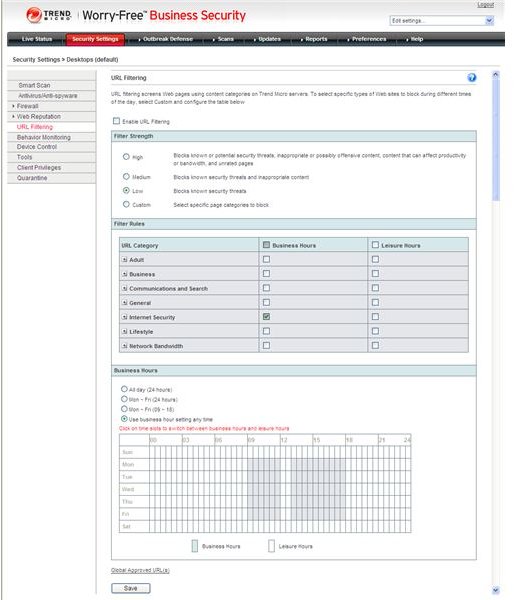 Worry-Free Business Security 7 comes in two flavors:
A Standard edition that includes all the fundamental features of the security suite, and
An Advanced edition that throws in some added capabilities, such as hosted email security that helps stop viruses from ever reaching your company mail servers and integrated anti-virus and anti-spam support for Microsoft Exchange Servers.
The anti-virus and anti-spyware tools utilize Trend Micro's Smart Protection Network; basically a cloud computing approach that provides real-time protection against even the most recent threats without requiring you to constantly download and install updates on local machines. Not only does this approach add extra protection, but it also cuts down on the amount of resources needed by local computers to store and run the software – definitely a win-win situation.
While all this sounds great in theory, the real question is how well this approach really works – after all, theory and practice don't always go hand in hand. In this case, however, testing supports the software's claim. In independent tests conducted by AV-test.org, Worry-Free Business Security performed extremely well with a 98% overall threat-blocking rate. To put this number into perspective, other leading products, such as Microsoft Forefront and Symantec Endpoint Protection, scored 81% and 70% on this same test, respectively.
Internal Threats (4 out of 5)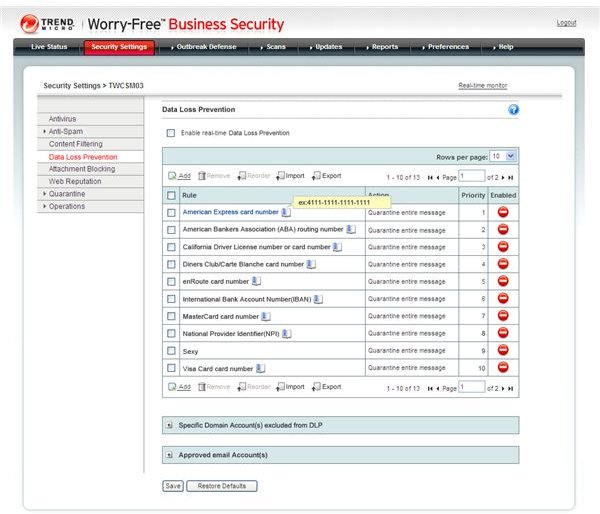 If external threats were all that small businesses needed to worry about, they could probably get away with using security software developed for personal home computers and save a little bit of money. But the unfortunate truth is that internal threats can be just as dangerous as external ones – sometimes, even more dangerous. After all, a hacker doesn't need to do any work to gain access to your company's confidential data if someone on the inside is sending it out for free.
To be fair, not all of these internal risks are caused by malicious acts of insiders deliberately attempting to steal data. Sometimes, it's just a careless slip-up or the transfer of a wrong file that creates a data link. However, the potential for deliberate acts shouldn't be ignored, no matter how much you trust your employees.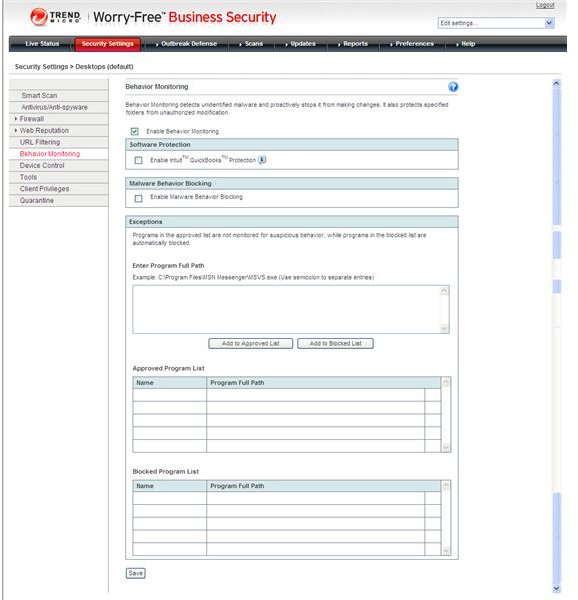 In fact, there are instances every day when employees make copies of sensitive data files and other records for their own personal use – whether or not that use is actually benefiting the business. This can be a big problem, particularly for new startups with staff who haven't a particular sense of loyalty to the venture. While such employees may never steal financial information or physical objects, a lot of people have different morals when it comes to client lists and more intangible assets, including intellectual property.
Worry-Free Business Security includes tools that will greatly help with the mitigation of these internal risks. Both the Standard and Advanced editions include a device control that can be configured to control access to USB and other attached devices to prevent files from being transferred to these portable storage mediums. In addition, the Advanced version provides extra protection with utilities that prevent confidential data from being emailed to sources outside the company.
Support for Windows and Mac (5 out of 5)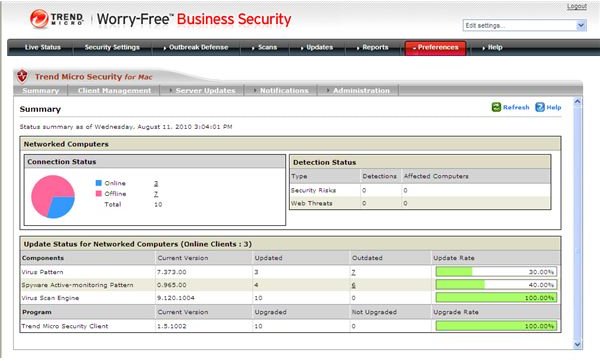 One of the most unique features of Worry-Free Business Security 7 is its integrated support for Mac computers. It's not uncommon today for many small businesses, especially those that handle any type of graphic design work, to use both Windows and Mac operating systems. There are other security solutions that offer both Windows and Mac versions of their product, but generally these versions require separate maintenance and management. With Worry-Free Business Security, this isn't the case – both Windows and Mac machines can be configured, protected, and monitored with a single solution.
Ease of Use (5 out of 5)
One thing that makes many small businesses leery about implementing a full security and data protection suite is the complexity of the installation and maintenance process. Even if assistance is provided for the initial installation, most small businesses just don't have the funds to allocate to a dedicated IT resource.
As a result, more security vendors are focusing on making their products more user friendly. Trend Micro has gone even further with Worry-Free by focusing on making the product as simple as possible without sacrificing advanced configuration options. The security suite sports an intuitive dashboard that allows you to detect any problems with a glance, and installation is handled via an automated wizard – much the same as any other modern-day Windows or Mac software application.
Price to Value (5 out of 5)
As mentioned earlier, one of the other factors that holds small businesses back from implementing a full security and data protection suite is the cost. Although some enterprise products offer a very attractive price for bulk licenses, these discounts only make a real difference for companies with dozens (or even hundreds) of machines.
With Worry-Free Business Security, there are significant discounts available when purchasing a large number of licenses, but even the base packages are attractively priced. For the Standard edition, pricing for 2-25 machines is only $37.75 per user. The Advanced edition, with additional features, runs $62.02 at the 2-25 seat level. Considering the level of protection and number of features offered by the product, this is a very nice deal – and affordable enough for even a startup's budget.
Overall Rating (5 out of 5)
All in all, Worry-Free Business Security 7 is a very sound product and well worth its price – which, incidentally, is cheaper than many home security suites while still offering a great many more features. Considering what you get for the money, it's one of the best deals on the market today.
Worry-Free is also user friendly enough that you don't need an IT guru to install and maintain the software – a factor important to many small businesses. If you want to test drive the software yourself, a free trial is available at Trend Micro's website.