Review: GhostSurf 2007 Platinum - Make Yourself Invisible
Introduction
GhostSurf 2007 Platinum is a security application used to make yourself invisible on the Internet. To the uninitiated, anonymous Internet surfing may seem like a no-brainer. In truth, it is quite difficult. GhostSurf 2007 Platinum can be used to both surf anonymously and to also remove nearly every trace of your online activity.
The need for products such as GhostSurf becomes obvious in light of a recent reports detailing that based on the weather reports and restaurant listings you check out online, search engines such as Yahoo have a good idea where you live. And based on searches you've done, the web portal might also know where you want to go. Users, then, should not be surprised to suddenly see an advertisement for flight deals between those two places. It's what United Airlines did with an ad on Yahoo earlier this year as people browsed for something completely unrelated to travel. Elsewhere, online hangout Facebook is mining friends' buying habits, and major Internet portals have bought companies to expand their reach and capabilities for "behavioral targeting"–all so advertisers can try to hit you with what they believe you're most likely to buy, even as doing so means amassing more data on you.
With that, you may find you really need GhostSurf 2007 Platinum, which is a proxy. Rather than you surfing directly to a website, it reroutes your requests via its anonymous proxy. You get the same Internet experience, but remote sites have no way to trace activities back to you. Overall, the functionality of GhostSurf 2007 is similar to that of the Anonymizer Anonymous Surfing Platinum.
For those who are serious about security and privacy, and don't want to be bothered by spammers, phishers, and myriad other scams and threats, GhostSurf 2007 Platinum gets the job done.
Price to Value (5 out of 5)
GhostSurf 2007 Platinum is reasonably priced at $29.99. The price is little to spend to prevent yourself from becoming a victim of spammers, phishers, Nigerian fraudsters, etc. In essence, GhostSurf 2007 Platinum is an insurance policy. One incident of identity theft or data misappropriation can have devastating effects. The product is a cheap defense against an expensive threat.
Installation & Setup (5 out of 5)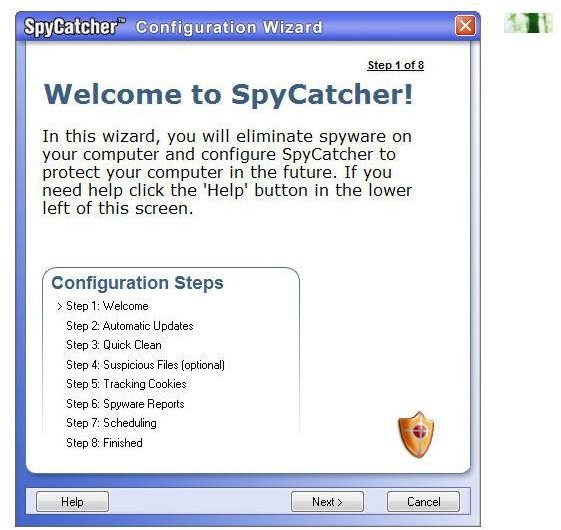 The initial install is a standard Windows install. After entering the serial number, the program then takes you through an eight-step configuration process.
The process is what you would expect for such a program and does not present any challenges to using the program. Most users can accept the default options and make changes later if needed. For more specific configuration comments, see the "User Interface" section.
User Interface (3 out of 5)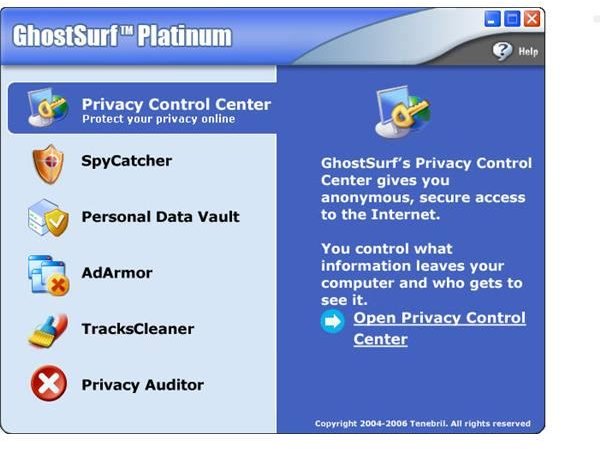 Everything is in one place via the Privacy Control Center. However, the GhostSurf 2007 Platinum user interface, like that of many products, could use a thorough overhaul from a user interface specialist. The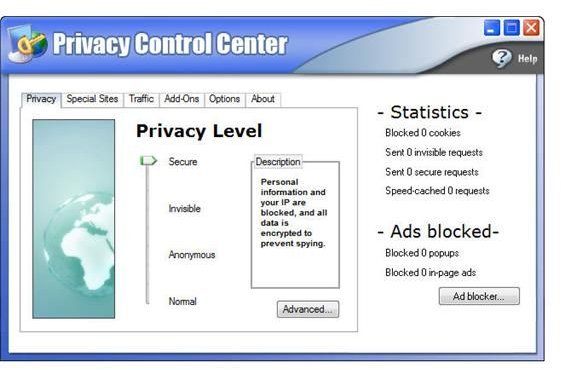 underlying issue is that GhostSurf performs a lot of different tasks. Providing access to Internet link encryption, web surfing trace removal, spyware protection, banner ad blocking, and more creates an interface that is unintuitive and confusing.
The interface has six separate configuration panes. The functionality of the product is there, but an uninitiated user can easily make configuration mistakes. Also, six separate panes can be a lot to deal with. What the product needs is a main dashboard so you can quickly see what functionality is active and working and what is not.
Performance (4 out of 5)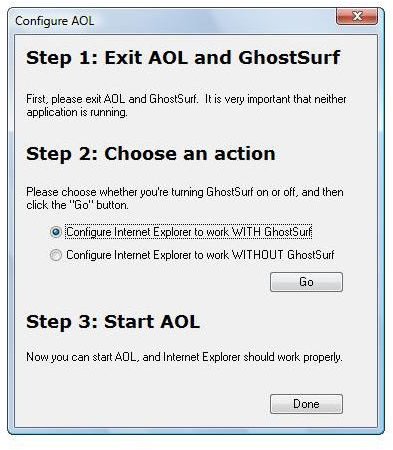 Similar to other proxy-based security products, when GhostSurf 2007 Platinum is in use, performance will suffer. But that is an inherent trade-off when using a proxy. This proxy adds a layer of protection, but that layer of protection adds an additional step since you have to go through the GhostSurf proxy. I did notice a sight performance hit when using the product, which is an expected consequence. This performance hit was manifest with web pages loading a bit slower.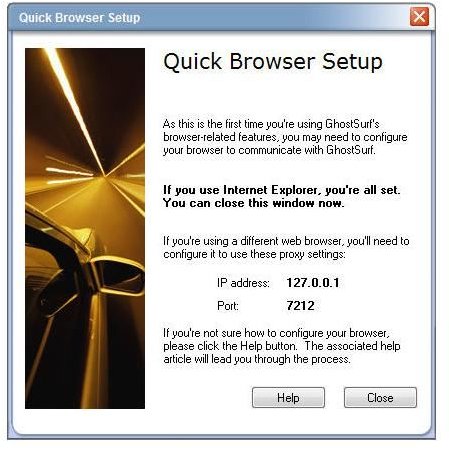 Some websites can be unresponsive when dealing with proxies, and you may have to do some configuration tweaking. The program has some help available for dealing with such sites.
Not using the proxy is, in effect, turning off the program. The user that does this will notice an increase in speed, but at the cost of security and privacy. There are cases where one could safely turn off the proxy, such as when on a trusted network with no Internet connection.
Security & Privacy (5 out of 5)
Security and privacy are what GhostSurf is all about. The program enables safe Internet surfing and protects your identity in the process. While many other programs talk about security and privacy, GhostSurf does it. However, Tenebril does not detail what encryption and security is used for the Personal Data Vault functionality. Paranoid users may think twice about trusting this utility.
Help & Support (5 out of 5)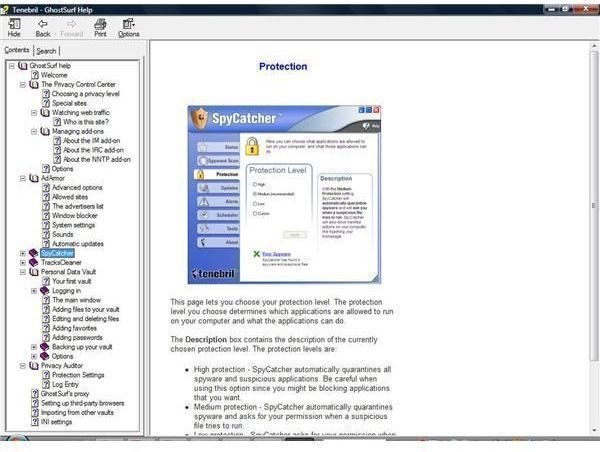 The product has help available via the main menu. You have to click Help, as the product oddly does not support the F1 key. The help screen has basically the same information as an available 58-page downloadable help document. It gives you just about all of the basic information you need to use the program. Oddly, it contains nothing about Privacy Auditor.
I had a technical support issue and posted it via the support website on a Saturday night at 11:58 p.m. A few minutes later, I received an email reply that the issue was received and is in the support queue. I received a reply less than two hours later that solved the problem. Overall, the support website has a lot of good and easily accessible information. Telephone support is also available, for a very reasonable charge of $9.95 per year. The only problem I had with the help and support was that the F1 key did not bring up help.
Product Features (5 out of 5)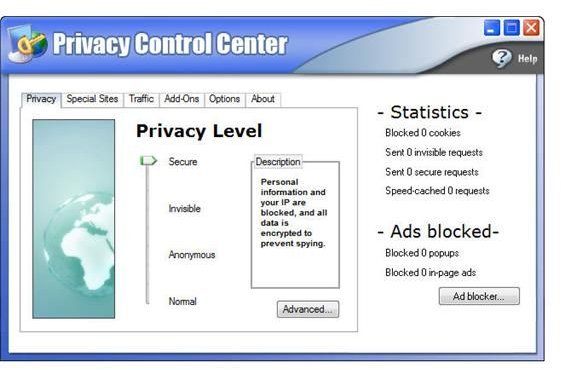 The GhostSurf 2007 Platinum feature set is significant and is a privacy Swiss Army knife. It gives you just about all of the protection you need to go on the Internet without the constant worry of being scammed. All of the functionality of the six main features is controlled via the main interface.
The Privacy Control Center interface controls your ability to be invisible on the Internet. This is where you can set your privacy level, of which there are four levels.
---
![SpyCatcher](https://img.bhs4.com/c3/e/c3e493d2cff79293d53eeec637887520d223170f_large.jpg)

Secure**: For maximum security and anonymity, all outgoing data is modified to remove information that could be used to identify you or reveal information about the computer you're using, and the data is routed through Tenebril's anonymous hubs.

Invisible: This level does everything the previous level does ery ambitious ISP, or an agency could listen to your connection to see where you're surfing.

Anonymous: At this level, GhostSurf 2007 Platinum removes all personally identifying data it is able to identify. Your Internet requests are sent directly to the websites you're visiting and not via the GhostSurf network. Speed is increased, but at the cost of privacy.

Normal: GhostSurf 2007 Platinum does nothing. Ironically, this is the default setting, but in truth, this

may be appropriate. The user first needs to get the program working, and then choose their security level.
The second pane is for Spycatcher, which is used to detect and disable thousands of types of spyware, adware, Trojans, and other malicious software. The program can be (and should be) configured to auto-update and auto-scan. In a comparison document Tenebril has on their website, they state that GhostSurf 2007 Platinum "removes spyware to military-level standards." The company, though, does not state what those military-level standards are. In reality, "military-level" and "military-grade" are often used as meaningless advertising terms, but have little benefit to users in the real world for a variety of reasons; most importantly, that the military has radically different requirements, and most military standards are classified.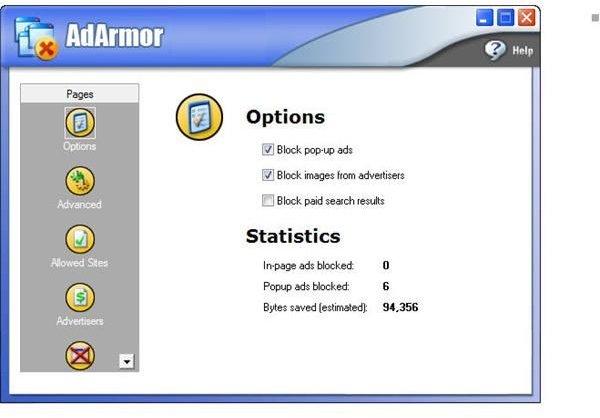 The third item on the menu pane is the Personal Data Vault. This can be used as a secure storage area on insecure platforms (Windows, USB drives, etc.).
The next item is AdArmor, which lets you control pop-ups, ads, etc. An added benefit of stopping these is that speeds up your web browsing, since you have to download less data per page. AdArmor is handy, but IE and Mozilla Firefox have the same functionality in current versions.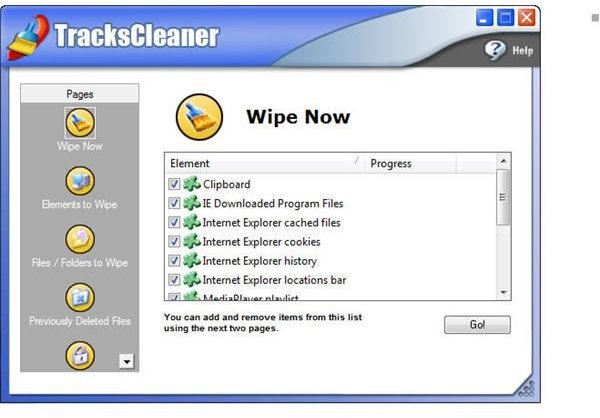 TracksCleaner does what its name implies, and does a really good job of deleting any trace of evidence of your surfing.
The last feature is Privacy Auditor, which allows you to see and control the personal data that is sent from your PC. It can monitor all outgoing communications, searching for textual matches to filters that you configure. You can ensure that data such as credit card numbers, social security numbers, etc., are not transmitted.
Conclusion
GhostSurf 2007 Platinum is an excellent tool for most users in their battle to stay secure and anonymous on the Internet. The anonymous surfing and security made available with GhostSurf 2007 Platinum is about as close to complete Internet anonymity as is practically possible. Reasonably priced and well-supported, the package gives most users all they need to ensure their Internet experience is anonymous.