AirSet - Cloud Computing for Everyone
Overview
AirSet allows for the collaboration with co-workers or allows you to have your own personal web computer. With AirSet, you can define users and groups to use the web computer or web computers that you define. This amazing web application allows you to personalize a 'web computer' that has a common set of files or applications. This allows you to have a computer at your finger tips regardless of your location. With mobile capability, AirSet is ready for any computing challenge.
Airset offers a web calendar, intranet, forum, blog or website that can be public or private. These services are truly Web 2.0 at its finest.
AirSet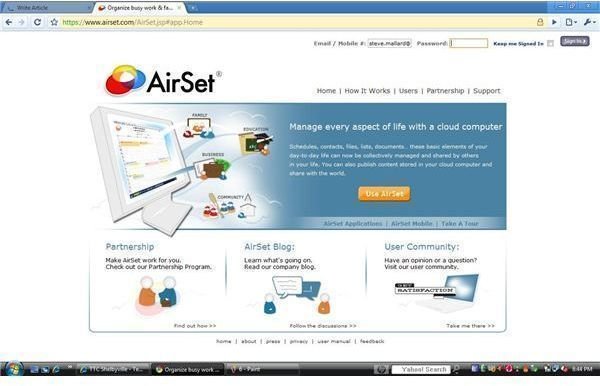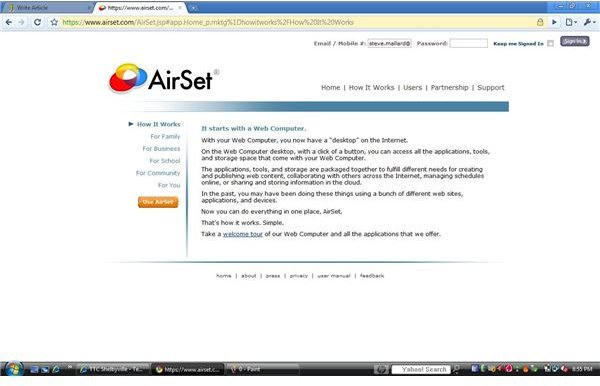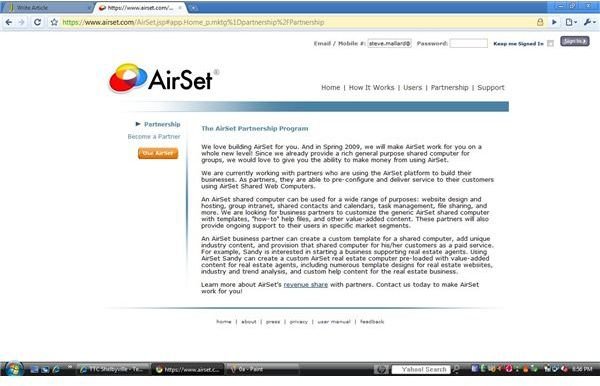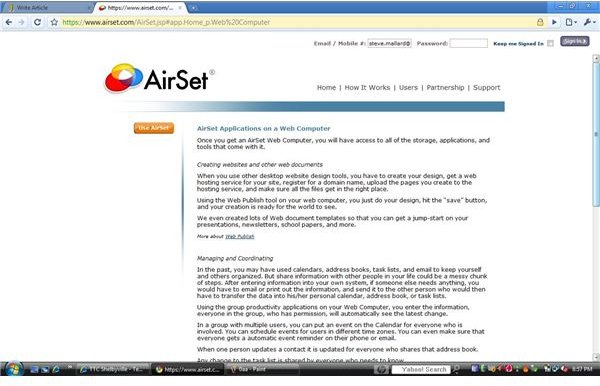 Registration and Enrollment (5 out of 5)
Registartion and Enrollment deserve a five star rating. With one of the easiest registrations available online that does not require DNA, AirSet is to be commended for their registration process. With only ten items to fill out, this information is secured by SSL (secure registration). AirSet completes your registration once you reply to an automated email. This registration process is commendable.
Enrollment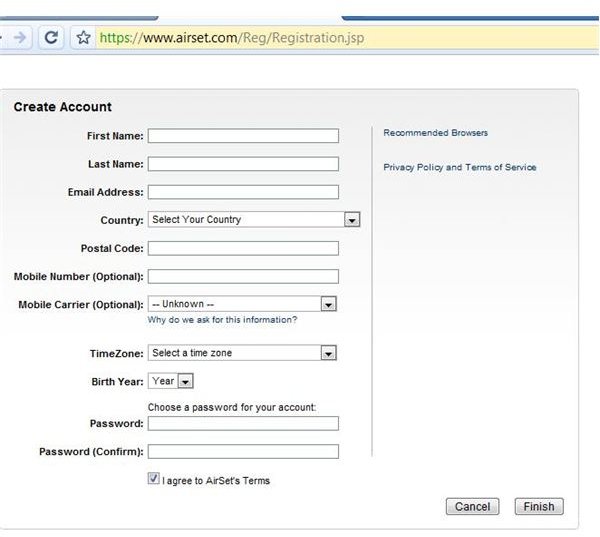 Features (5 out of 5)
AirSet is loaded with features. With dozens of features for the end user, AirSet has a well rounded, highly effective online program that allows end users to collaborate online. AirSet features include:
Picture and File Albums
Playlist
Calendars
Intranet Applications and Intranet Webpages
Webpages
Full Desktop
Messaging
Contacts
Links
Searching directories and public information
5 GB of space
Many Many more
AirSet's well thought out process gives the end user dozens of items to use. This program's features are beneficial to anyone who is on the go.
Web Features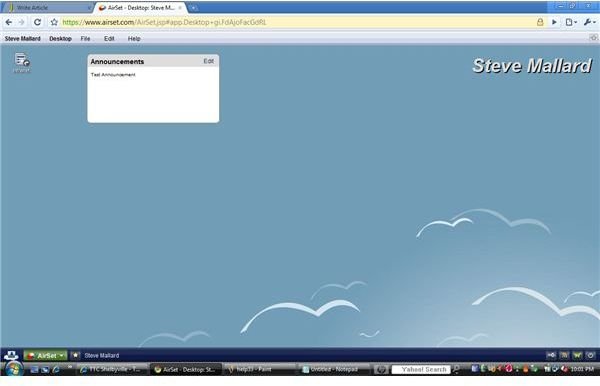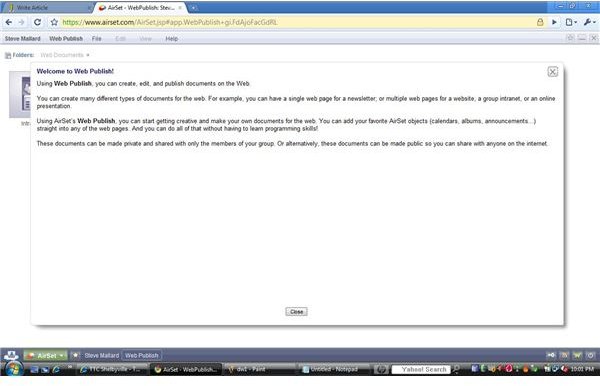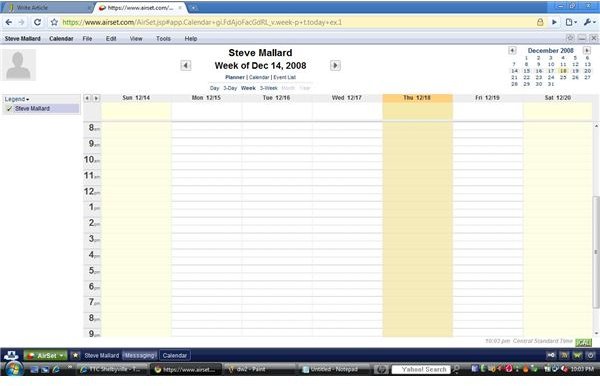 Help and Support (5 out of 5)
Airset offers a step by step online guide and walk through to help users get acquainted with the AirSet layout. Covering all of the bases, Airset also gives menu driven help guides that assist users in using this web application. AirSet's help includes information about the overview of the program. This overview gives a concise description of the features and services available. With the help features covering the familiarization of the online computing, this section helps you discover the online application. Airset gives step by step instruction on how to launch applications, personalize your web computer, how to create a new web computer and how to create shortcuts. Airset gives detailed videos and video tutorials on the 'how tos' when learning how to use this excellent website.
AirSet gives information under the AirSet 'start' button that helps the enduser understand the applications, synchronizations, files (pictures and data), user preferences, AirSet Mobile, tools, AirSet Desktop and system troubleshooting.
Help and Support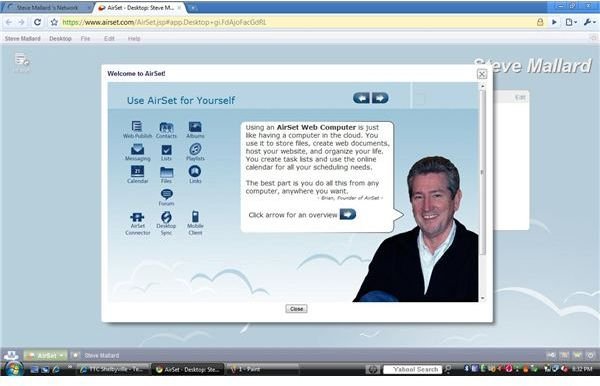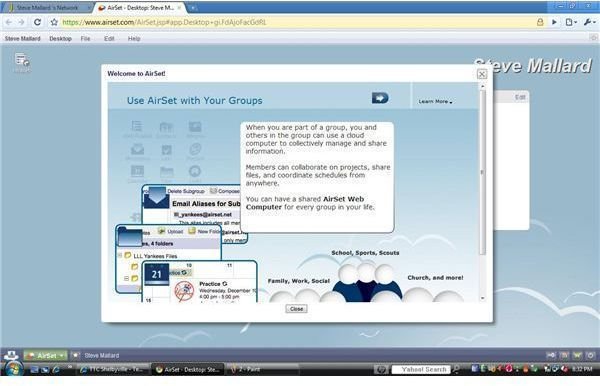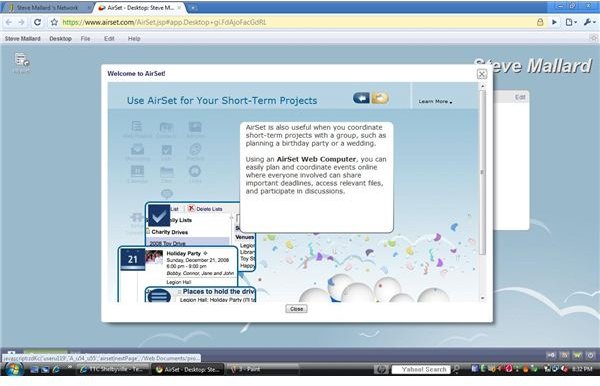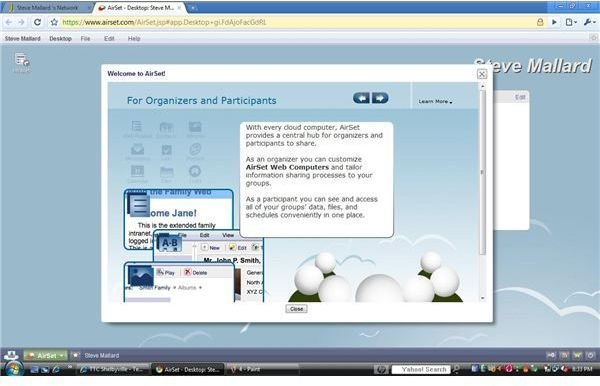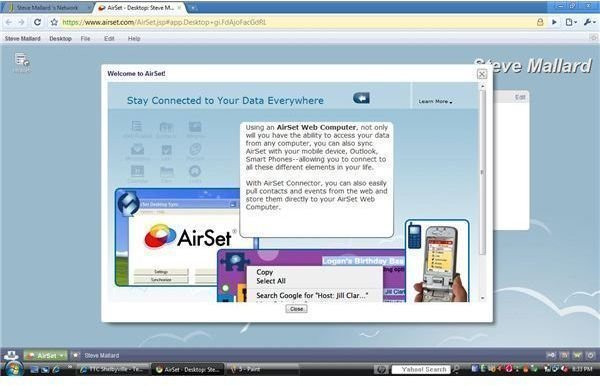 Online Help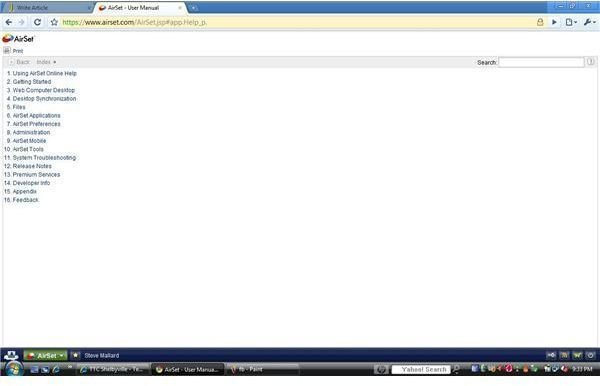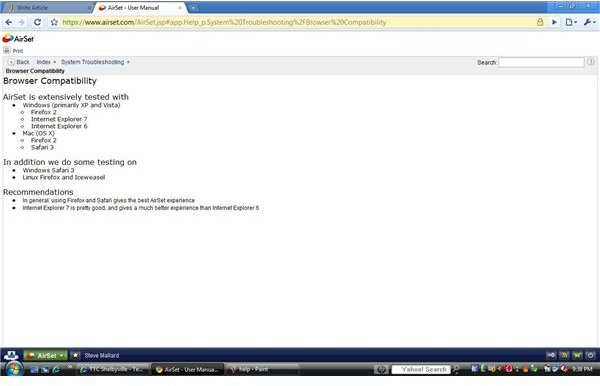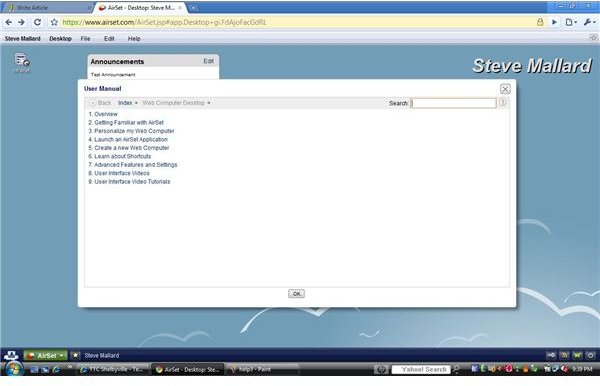 Conclusion
AirSet is a free web computer that offers dozens of features that can be used by end users anywhere in the world. AirSet's premium services are $2.00 monthly for an additional 5 GB of space, $4.00 to $7.00 for mobile services. AirSet can be an asset to your company by allowing users to have information available 24/7 from anywhere they travel.