Trend Micro OfficeScan Review Version 10.5 - Discover Enterprise Endpoint Security
Overview: Trend Micro OfficeScan
Trend Micro OfficeScan V 10.5 is an endpoint security solution that leverages cloud-based resources to secure almost every kind of endpoint,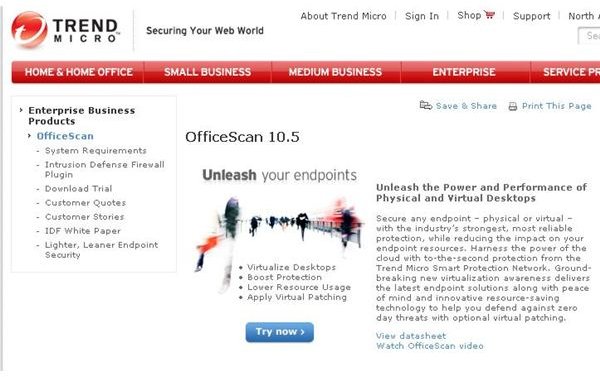 including virtualized machines. As a legitimate cloud application that features low resource utilization, easy updates and patching,and an intrusion detection firewall plugin, the lightweight, unintrusive client operation of Trend Micro OfficeScan makes it an appealing solution that brings world class security to business networks of all sizes without hampering productivity.
Server Requirements (3 out of 5)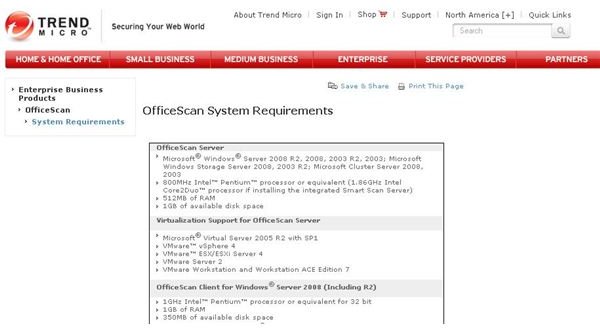 The Trend Micro OfficeScan Server product must be installed on Microsoft Windows Server, Microsoft Cluster Server, or Microsoft Storage Server. This is an important consideration because not all companies will be able to use this product. Those running Linux, Unix, Solaris, or desktop versions of the Windows operating system will have to either use a different end point protection product or install a Windows Server product on their network.
Client Coverage (5 out of 5)
Client coverage with the Trend Micro OfficeScan business solution is very comprehensive. Virtualization support for virtualized environments includes VMware's Vsphere, ESX and ESXi Server, VMware Workstation, Citrix XenApp Server and XenDesktop, and Microsoft Virtual Server. Other OfficeScan clients operate on Microsoft Windows Server, Windows, 7, Windows Vista, XP, and Windows Embedded. Through optional plugins, OfficeScan can scale to cover smartphones and Linux-based computers.
Installation and Operation (4 out of 5)
Installation of OfficeScan V 10.5 is flexible and well suited for large scale deployment in the enterprise. Customized configurations can even be assigned URLs which users on clients can click for an easy, automatic remote installation from any network endpoint. The OfficeScan client can even be installed on mobile devices via an optional plugin, making nearly universal coverage possible.
Once installed, users have the option to rely on automatic, scheduled coverage, but they can also access a software console for manual operation if desired. Trend Micro pushes updates and patches to OfficeScan every quarter hour, making it a reliable, virtually impenetrable weapon against real time developing threats.
The Trend Micro Smart protection Network is the framework that permits OfficeScan to run with minimal local resources and with updates in near real time.
Protection (5 out of 5)
Standard client protection as well as protection against outbreaks is possible as OfficeScan guards against worms, Trojans, rootkits and their variants. Real time POP3 and Outlook folder scans are also standard in this package. The software scans for viruses and malware in compressed and uncompressed files. Custom rules enable administrators to define actions to be taken immediately upon the discovery of an outbreak of an infection.
Status updates and threat information is sent directly to the OfficeScan server, informing administrators of any attacks or machines with disabled coverage within the enterprise.
Version 10.5 of OfficeScan includes role-based administration capabilities, active directory integration, and smart scan technology which minimizes the overhead required to access pattern definitions.
Overall Rating (5 out of 5)
This Trend Micro OfficeScan review concludes that cloud-based coverage, rapid updates, outbreak protection, modularized expandability via plugins, and universal endpoint coverage, all combined with easy installation and administration options, makes OfficeScan a preferable solution for corporate enterprises with a variety of endpoints. Find out more about this program from Trend Micro's Website.
Screenshots by Bruce Tyson courtesy of Trend Micro.