Symantec's Endpoint Protection for Small Business: A Review
Inroducing Symantec Endpoint Protection Small Business
This Symantec Endpoint Protection Small Business Review looks at how this security product offers companies enhanced protection against modern threats by acknowledging the importance of the various endpoint nodes on the network. By blocking more viruses, malware, and spyware activity without impairing the user experience, Symantec Endpoint Protection Small Business helps companies with little or no IT expertise stay safe in an increasingly hostile online world.
By bringing Symantec's customer support together with intrusion protection, application control, anti-spyware, and antivirus functions together in one management console, users can get unprecedented protection. This review highlights some of the important aspects of the Symantec product and rates them to help guide users who need a security package for their small business.
Acquisition and Installation (3 out of 5)
This review found that acquiring the software package is an easily performed task regardless of which of the two purchasing options are used. First, users can buy the Internet protection software outright on the Symantec Website with just a few simple steps through the Symantec shopping cart program. Users can quickly download the software and prepare for installation.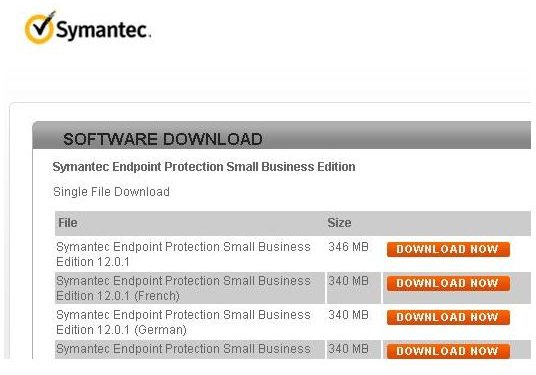 Potential customers who are unsure whether Symantec Endpoint Protection Small Business will serve their purpose can download the program as "trialware" and use it for one month. After evaluating the program, users can return to the Symantec Website via a link within the program to purchase a full license. It's hard to imagine how the acquisition process could get any easier.
When running the installation, users can choose whether to install the central management console which monitors all equipped network computers or a managed client. Users can also select the option to perform a standalone installation which is not monitored by a management console.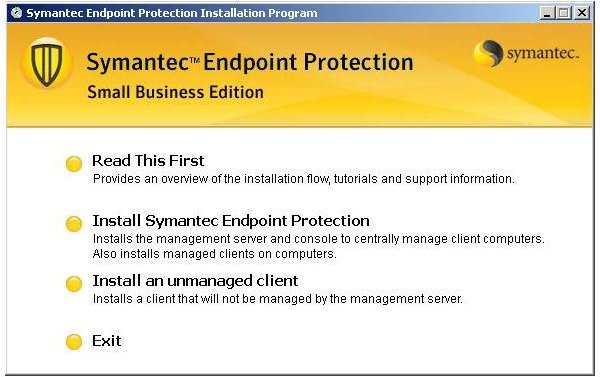 Unfortunately, the latest version of Symantec Endpoint Protection Small Business Edition (12.0.1) includes the required Symantec Protection Center which does not run on Windows 7.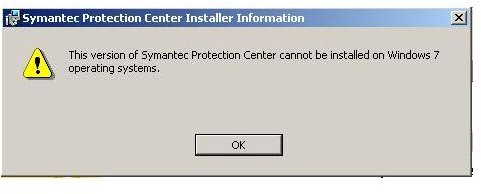 The standalone installation will not work with the trial version, so users can only try out this software in advance if they are running Windows XP, Windows 2000, or Windows Server.
Configuration (4 out of 5)
As part of this review, the configuration of the software was also considered. A simple pathway for beginners is available that automatically sets up typical default settings for speedy, brainless operation. Advanced users have very robust options that allow Symantec Endpoint Protection to be customized at a number of levels.
The nice thing about Symantec Endpoint Protection is that it has centralized management that can help companies with a limited staff make sure that endpoint protection is in place. What threats have been encountered are reported through the console, so companies can be aware of the threats that are coming against it.
Overall (3 out of 5)
This Symantec Endpoint Protection Small Business review concludes that the software is an exceptional value, with pricing that starts at just $35 per workstation. The integration of intrusion protection and a software-based firewall with traditional virus and spyware protection presents an economical and effective way for small businesses to increase the security of their networks without blowing their budget.
Perhaps the only weakness of Endpoint Protection Small Business Edition is its omission of spam and phishing protection. It's a shame that - in spite all of the good things this product has to offer - small business users still must make an additional purchase to get protected against two of the most common forms of attacks.
The inability of the windows Protection Center software to run on Windows 7 could limit its usefulness in many small business environments. Businesses should carefully review what operating systems are in use on their networks prior to purchasing this product.
References
Symantec. "Symantec Endpoint Protection", https://www.symantec.com/business/endpoint-protection
Image credits: Screenshots taken by Bruce Tyson