Understanding Network Security for Small Business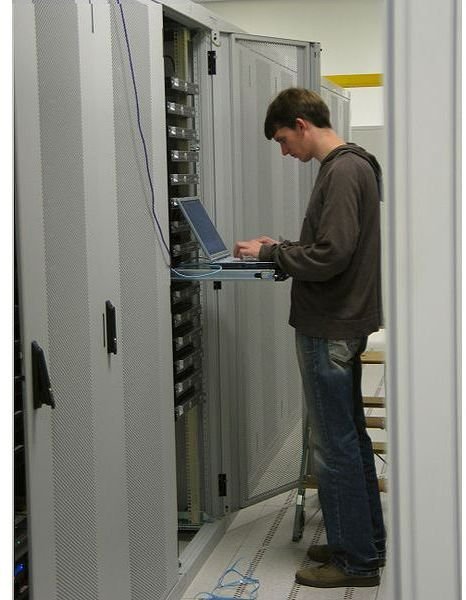 A Dangerous Online World
As technology continues to develop in ways that make doing business easier and less costly, it also opens the door to new kinds of
threats. Network security is a large line item in most corporate budgets, but small businesses often lack the awareness of threats. Also, small businesses often lack the technical expertise to deal with network security effectively and do not have the financial resources to purchase security services from third party providers. Here we take a look at the basics of network security for small businesses that can help you protect your business and yourself from attacks.
Image Credit: Wikimedia Commons/Mark Bergsma
How Network Security Helps a Small Business
Network security is required in order to operate a stable business and to comply with government and customer requirements. It is also important so mobile workers such as traveling sales representatives can stay connected with company resources without introducing additional vulnerabilities. Home-based workers such as customer service agents can also be utilized by a small business if a secure computer network is in place.
A secure network helps customers and vendors interact with a small business with confidence, knowing that the data they access or deliver is safe from prying eyes. Small businesses with multiple locations have extra security concerns that must be addressed to prevent communications between branches from being disrupted or compromised. The following are just a few of the basic threats that network security for small business should address.
Network Security for Small Business
Automated attacks that come in the form of spyware, malware, denial of service attacks, or computer viruses are among the primary concerns of a small business. These types of threats become particularly acute as more employees join the company. Predicting what different individuals might do with their computers is difficult. Who knows what kinds of email attachments they will try to open or what websites they might visit. Securing a network against these threats is imperative.
Hackers. As larger companies make progress in achieving hardened computer networks, hackers often seem to gravitate to more vulnerable targets. Whether motivated by sport, hostility, competitive advantage, or by a ripe harvest of profitable information, hackers present a growing danger to small businesses that depend on their IT resources for survival, especially when wireless networks are in place.
Internal threats. The internal threat to a small business is as real as any other. Angry employees can delete and destroy data and infrastructure on their way out the door and they can take company data with them. Those who don't believe that internal threats to network security exist–just think about the secret U.S. Government data leaked by a rogue soldier to the Wikileaks website!
What to Do About Network Security
The best place to start when working with network security for small business is to develop a comprehensive plan that will identify and address all possible threats. After that, steps can be taken to monitor and secure the network.
Implementing an acceptable use policy for company computer resources is another elementary but important step in the securing a small business network. Clearly stated guidelines help employees know what is expected of them and help employers terminate them with cause if the policy is violated.
Finally, countermeasures such as Internet security suites, firewalls, physical access control, and others are able to limit the exposure of a small business network. VPN routers can be implemented to securely integrate remote workers into the daily operations of the company.
Network security for small business is a vital matter that should be addressed as a high priority requirement. Take action today to make sure your business has adequate protection in place.