Some Free Email Solutions that Work with a Proxy Server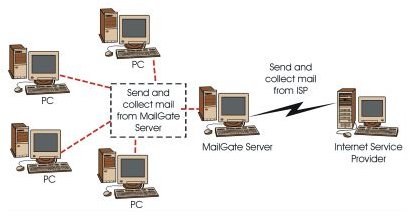 Mailgate
Mailgate is a network mail and proxy server. It runs on a single PC. It can control either dial-up operations or broadband Internet connections. All the other workstations on a network can collect mail and continue to connect to the Internet by way of the MailGate program.
Some of the other features that it has are that it can control and monitor Web and mail access for each user. It also can preserve downloads by forcing local mail to stay local and also by using MailGate's Web cache.
There are security options available to protect a network from hackers and viruses. That occurs if the Mailgate program is set up as a proxy gateway.
Image: Mailgate.com
See Also: Understanding Proxy Servers: Top New Proxies
CCProxy
CCProxy can act as a Web proxy software. This provides management functions, among them several different ways to control Internet access to the LAN. They include IP address, IP range, MAC address, and User Name/Password. It can also merge with Active Directory. Users can send and receive email via web browsers.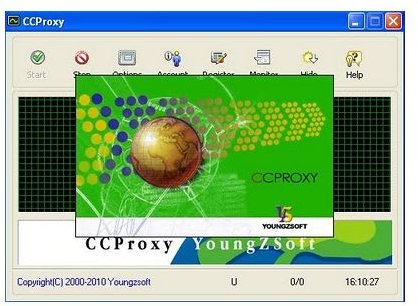 It can also provide web filtering and content filtering. This can restrict users' access to a particular Web site. It will ensure that users cannot access unsuitable sites. There is also a time schedule function to control the users' online time.
Administrators can allocate different proxy services to different users. For example, some of them may be restricted to sending and receiving email and others to browsing Web pages.
Image: 3bpBlogspot.com
ProxyPlus
There is a full SMTP (simple mail transport protocol) mail server for one or more domains. It is possible to define restrictions for POP3 download, such as a limit of the message size, plus notification of big messages. There are rule sets that can be used to sort incoming messages.
It is also possible to define a list of external email addresses. Furthermore, it is possible to schedule the sending of a message at special time intervals; for example, large messages or low-priority messages. There is plugin support, which allows an administrator to check messages for viruses, malware, and other dangerous attachments. Finally, is is possible to forward downloaded messages to other locations or remote recipients from POP3 servers or received by SMTP server..

image: wareseeker.com
Summary
It is possible to have free email that works with a proxy server. There are several free email solutions that work well. These network devices protect networks by acting as intermediaries between sending devices and the receiving device. However, a good proxy server can host a variety of programs, which make it valuable to the network administrator. One such service is email because it can be managed. This allows the network administrator to control email access. It can also prevent spam as well as virus or malware attacks. If they are prevented at the proxy level, then the network is safe.
See Also:Understanding Proxy Servers: Business Proxy Servers