Benefits of Intranet to Business: Save Time, Money and Resources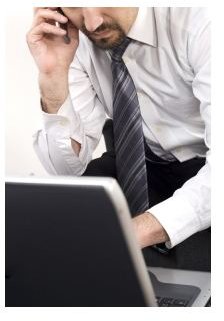 Departmental Benefits of an Intranet in Business
An intranet is similar to any external website, except an intranet services employees internally. The payroll and human resource departments see the most benefits of an intranet, because most payroll, paychecks, time management, contact information, and employee documentation can be hosted on the intranet web host.
Image credit: sxc.hu, Businessman, by Celal Teber https://www.sxc.hu/profile/CELALTEBER.
Save Money with Paperless Document Storage
The documents and contracts distributed to employees cost money in ink, paper, and human resources. These documents and any other employee information can be uploaded to the business intranet. Employees and new hires are sent the intranet link in an email, which gives the employee and the human resource person an easier way to read and distribute important company information. Payroll documents can be viewed, and employees can sign up for benefits and insurance coverage more quickly on an intranet.
Better Company Reports and Data Management
Reports and data management are important benefits of intranets for businesses. Reporting can save a business money and identify the best products. It helps managers identify common customer issues to improve customer relations and service. Better customer service translates to more potential sales from word-of-mouth customers who are satisfied with the business's quality of service. Reports can be accessed from the intranet, and network administrators can apply user permissions, so only authorized personnel can see proprietary reports and sensitive data. Reporting automation sends updated daily, weekly, or monthly reports for analysis.
Supports Heterogeneous Computing Environments
Some large enterprise networks have several operating systems running on the network including Windows, Linux, Unix, and Apple. An intranet is just like any other website environment. The benefit of an intranet for businesses with this type of network architecture is that the reader's operating system does not matter. The reader views the intranet web pages using a browser window, so businesses can distribute and implement corporate applications without worrying about different computer platforms.
Department Collaboration
Intranet benefits for business also include the ability for departments to set up collaboration and file sharing. Some large businesses prefer to create proprietary applications that run off the intranet server. The intranet server houses project management, customer service, change control, and file sharing services. For businesses that host a VPN service, employees who travel can view the intranet web pages from the road or at home while on personal time off. Intranet applications available through VPN services also allow employees to work from home and telecommute.
Business Intranet Services Save Time
Because of better information availability, document management, and offsite connectivity, benefits of an intranet for a business also include saving time. Employees can function more efficiently, and using a web browser to navigate an application is more intuitive, even for new employees. Better time management means employees can perform their job functions more efficiently and get more work completed during the day. This translates to more money and cost efficiency for the business overall.