How to Configure a Backup Domain Controller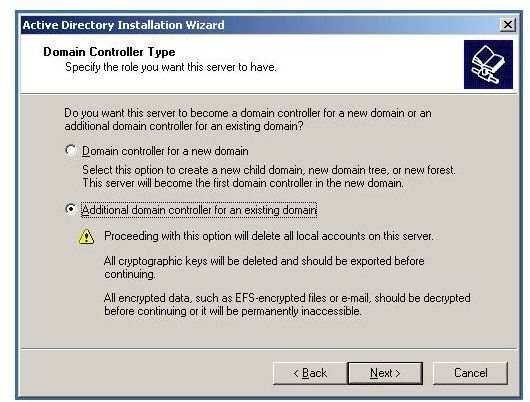 Overview
Windows domains are one of the most popular user directories out there due to their ease of use, integration with other Microsoft products and stability. If you've recently set up a domain, but only have a single domain controller, this article is for you! You need to have a backup domain controller for several reasons:
If your only domain controller becomes unavailable, your users will not be able to log into the domain.
Restoring an Active Directory domain from backup media is extremely difficult and prone to error.
Domain controllers are utilized when users are logging into their computers. If you have a large organization or users in different geographical locations, performance may suffer if you are limited to a single domain controller.
You can set up a backup domain easily and inexpensively – there's no reason not to do it!
Before we get started, you'll need to make sure you've got a few things in place.
A functioning domain – if you aren't sure where to get started, take a look at my article on "How to Set Up an XP Domain Using Windows Server".
Windows Server media – you may or may not need this depending on how your server is configured.
A Windows 2003 Server – the server doesn't have to have any special configuration.
As I mentioned above, you can do this pretty inexpensively. If you need to save some money, consider setting up a workstation with VMWare ESXi (the free version of VMWare server) and creating a virtual machine that will act as your backup domain controller. In this scenario, assuming you have an old workstation lying around, you'd just need a copy of Windows Server.
Configuring a Backup Domain Controller
Log into the server you will be setting up as your backup domain controller (BDC).

Go to Start, Run and type "dcpromo" and hit OK.

The Active Directory installation wizard will start. Click Next.
Click Next on the Operating System Compatibility page.

On the Domain Controller Type page, select "Additional domain controller for an existing domain" (Figure 1). Click Next.

Provide network credentials for your machine to join the domain. This will need to be someone with domain administrator privileges. Enter the username, password and domain and click Next (Figure 2).

On the Additional Domain Controller page, enter the name of the domain you are joining. Click Next.

Use the default settings for the database and log locations. Click Next.
Keep the default settings for the SysVol (Shared System Volume) and click Next.

Enter the same password used when setting up the domain for the restore mode administrator password. This password is used when restoring a domain from backup media. Click Next.

On the Summary page, click Next to start configuring the BDC.
After a few minutes, you should receive noticed that the operation was successful. Reboot the computer after the operation completes and you should be able to log into your new backup domain controller.