The Value of Information Technology Certifications

What are Certifications?
CompTIA, Microsoft, Cisco, CWNP and ECCouncil are just a few of the vendor and vendor neutral organizations that have professional certifications. Certifications are valuable to employers. With certifications, an employer can see that the employee has put time and effort into the studying of the material.
Certifications help to measure the base and foundation of a particular topic area. Because certifications vary between organizations, it is often recommended to obtain both certifications from vendors along with vendor neutral organizations.
CompTIA
CompTIA
CompTIA (The Computer Information Technology Industry Association) is primarily recognized for the A+ certification. This certification recognizes a candidates ability to work on hardware and software. More advanced certifications from CompTIA include Network+, Linux+, Security+ and Server+. Although CompTIA offers more certifications, the aforesaid certifications are some of the industry leading certifications.
CompTIA certifications are credentials obtained through testing. These test help to validate the knowledge in a particular area. This validation of knowledge is recognized in the information technology industry as a basic foundation needed to start in the information technology field.
CompTIA reports that certified professionals have more confidence on the job and see a higher quality of work. CompTIA also reports that 74% of information technology leaders consider certifications when evaluating and promoting employees.
Microsoft
Microsoft certifies IT professionals as Microsoft Certified Professionals or Microsoft Certified Technical Specialist after the candidate passes any Microsoft exam. They (Microsoft) offers tiered certifications and articulate with CompTIA on the MCSA and MCSE exam suite.
Microsoft's certifications include all areas of information technology to include desktop support, database, topic focus, systems administration, internet, security, development and engineer level. With dozens of certifications available, Microsoft's certifications are one of the most respected in the industry.
Wireless Certifications

CWNP
CWNP (Certified Wireless Network Professional) based in Atlanta, Georgia is new to the certification arena. CWNP like many other certifying entities is multi-tiered. Focused on all aspects of wireless, CWNP has become the premier leader as a vendor neutral organization.
CISCO
Cisco, the global leader in networking technology offers certifications on all Cisco products. With CISCO certifications, associate, professional and expert levels are available. These certifications cover the installation, security and troubleshooting of products.
ECCouncil
One of the fastest growing certifying organizations in security is ECCouncil. ECCouncil offers certifications that focus on security and hacking. ECCouncil is one of the most concise and challenging certifications on the market. ECCouncil gives global seminars annually for security administrators. Hacker Halted (global learning seminar) continues to grow and earn the respect of information technology professionals. ECCouncil uses information security professionals to teach and educate candidates.
ECCouncil has expiration dates on certifications unlike other vendors making the certification more valuable than many others. Expiration dates creates a need to learn and grow as the industry changes insuring the IT professional will continue to learn and certify throughout their career.
ECCouncil Matrix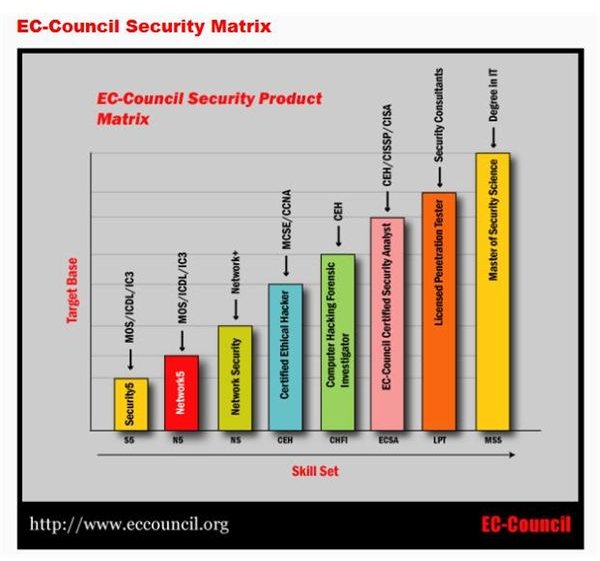 Cheating the System
Many candidates and individuals wanting to jump into the information technology industry feel that certifications are all they need to succeed. Certifications are only as good as the individual who obtained them. Using third party software that has the 'actual' questions (stolen) is cheating the individual, the company and the industry.
Individuals seeking information technology as a career should have adequate 'hands on' from a professional training institution. Simply memorizing an exam does not make anyone a professional.
Conclusion
Certifications are a valuable tool that should be used in the hiring of IT professionals. Human Resource departments and IT departments should consider these credentials but should challenge the individual to a set of 'hands on' challenges.
So which certifications are the best? This depends on the area of expertise and the job role in information technology. Anyone starting an information technology career should have a well rounded knowledge and certifications from several certifying authorities.
Certifications should be also be used as a tool in promotion consideration. Training and career growth is the responsibility of both the company and the individual IT professional.