How to Erase Hard Drives Completely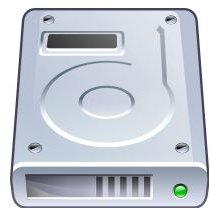 Erasing a Hard Drive
When a business or home user no longer needs or wants to replace a hard drive, it's important to remember that it contains data. The data is usually erased by using delete and format commands. However, this method does not permanently remove some information that could be viewed or used by other people who will have access to the hard drive.
Erasing or formatting a hard drive is not enough because the data is still recoverable using sophisticated software. Most data that remains on a formatted hard drive can be used or accessed, and this can lead to theft of business and customer information. Improper disposal of PC and drives is one of the causes of security breaches.
Security Incidents: Improper Disposal of Hard Drives
The Open Security Foundation that established DataLoss Database have recorded some incidents where improper disposal of computers and failure to erase hard drives completely have resulted in identity theft and revealing of sensitive information about the business. Below are some of these reports:
Sensitive business information found on used hard drives can cause big trouble, so start using a secure method to completely erase hard drives.
How to Securely Erase a Hard Drive–Completely!
There are many other incidents similar to above reports and all of these occur when a company staff that handles disposing or replacement of hard drives has failed to securely erase the hard drive. You don't want to put your business and customers' information at risk so whenever you plan to use a new hard drive and dispose of the old drive, make sure that you've permanently removed all data that can include sensitive information.
There are a number of software products that can help to erase hard drives, completely remove the data on it and become unrecoverable data. Below are some of these applications to consider using:
Darik's Boot and Nuke (DBAN) – This is an open-source application that securely wipes a hard-drive for Windows.
Active KillDisk – This program is offered as both free and paid programs: Free for personal use and business license. A small business will only pay $54.95 per license to completely remove hard drive data.
Acronis Drive Cleanser – Confidential data is permanently removed from hard disks using this program. It only cost $61 for a single license and runs on Windows operating systems. The program is included in Acronis True Image application.
Final Words
If your company decides to donate old computers to some organization or if you plan to return leased computers, make sure that you've cleaned the hard drive by securely erasing it using any of the above software. It will only take a short time to permanently erase hard drive completely, protecting your business and customer data from being recovered by unauthorized people.
Hard drives that you used to enter business or customer data should be protected not only from data loss but also from being retrieved when it's time to use another computer or new hard drive. Even the backup data on external hard drives should be removed completely using a secure wipe process before disposing or giving it away.
References