How Cryptography Resolves E-Commerce Concerns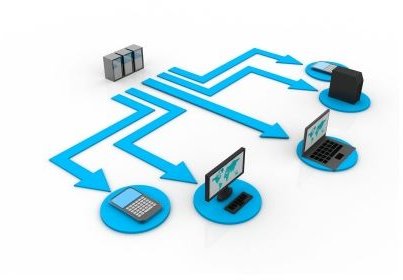 What Is E-Commerce?
The purpose of e-commerce is to perform Business-to-Business (B2B) as well as Business-to-Consumer (B2C) online transactions, and to exchange goods and services from a distance by any electronic and networked device (see image) that can use the Internet.
E-commerce entails the exchange of information by Electronic Data Interchange (EDI). The success of e-Commerce will continue to be an important part of business growth if it can overcome the concerns businesses and consumers have with stolen identity, secure banking, payments, and transactions. One way to overcome these concerns (and secure e-Commerce) is to use cryptography.
Why Use Cryptography in E-Commerce?
The Internet is not known for its secure environment. In fact, the Internet is not safe for e-Commerce unless it involves using cryptography and making users aware of the concerns with e-Commerce. PC users need to know how to improve e-Commerce security. Both PGP and SSL encryption provide cryptography; they can form the basis of a secure e-Commerce infrastructure.
It is fair to say that when performing an e-Commerce transaction, people still tend to provide their credit information to just about anyone asking without first knowing for sure that the person or the Web site can be trusted. Trust in e-Commerce is indeed a real concern.
Tip: Whenever possible, do business only with trusted sites.
Advice: Businesses must build an infrastructure for trusted e-Commerce. Online customers must be assured they are not exposed to spoofing and that they are dealing with a legitimate site.
Doing e-Commerce involves risks (such as spoofing and eavesdropping) and possible threats (such as privacy). The use of cryptography in e-Commerce is the only way to ensure secure e-Commerce transactions and Web applications that contain a customer's personal information. If e-Commerce is handled by SSL, server security and digital certificates, for example, this will provide the authentication, privacy and data integrity through encryption needed to overcome threats associated with Internet-based transactions.
The importance of cryptography is that it can protect e-Commerce and reassure businesses and consumers that they are safe and secure from prying eyes (hackers who utilize the Web to steal information). The use of cryptography allows the integrity of e-Commerce transactions and can safeguard information.
Thinking realistically, providing cryptography is the only way to secure an e-Commerce environment for banking; and SSL encryption is necessary to handle payments–to establish a secure channel that can guarantee a customer's financial data remains secure.
The Future of E-Commerce
Simply said, e-Commerce is the way of the future. It changes how people will conduct business, buy and sell things, and provide goods and services right from a PC. Knowing this, e-Commerce must have a secure environment so people and businesses alike needn't worry about outsiders (like hackers) stealing their identity and data to gain access to their credit cards or banking information.
If e-Commerce is going to continue to be a significant part of doing business online, then, it will require: security and trust. And, the use of cryptography and encryption is a must to protect the customers who give out their personal information online.
Image credit: Computer Network (Image creditor: jscreationzs)
References Section
E-commerceDigest.com (ECD) - E-Commerce: North America: https://www.ecommerce-digest.com/ecommerce-prospects-north-america.html
Cryptography, Protecting E-Commerce: https://www.exampleessays.com/viewpaper/85427.html