What is the Punishment for Hacking Into E-mail?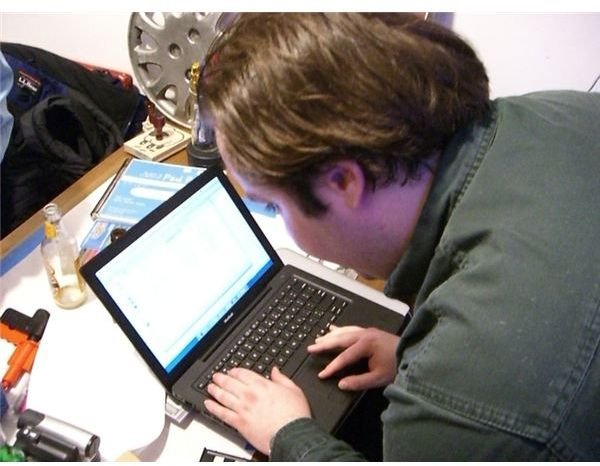 Overview
The legal system has adapted to the reality of online crimes from identity theft to denial of service attacks. One crime, the criminal
invasion of e-mail accounts, has attracted more attention in recent years as authorities are able to gather more evidence and prosecute people who snoop into the business of others.
Several high profile e-mail hacking cases have been in the news recently, affecting the political landscape and changing the course of individual lives.
When the crime is prosecuted, however, punishment for hacking Into e-mail can vary depending on the nature and scope of the crime. Here we take a look at some laws that are in place and how they are applied to real-life cases.
Image Credit: Wikimedia Commons/Magnus Manske
Punishment for Hacking E-mail for Political Reasons
One of the most recent and notorious crimes of politically motivated e-mail hacking occurred during the American 2008 presidential campaign, when a Democrat supporter of Barack Obama hacked into the private e-mail account of Sarah Palin, then a candidate for Vice President. The perpetrator, a student at the University of Tennessee and son of a prominent state politician, was apprehended and prosecuted. A jury found the man, David Kernell, guilty of a misdemeanor crime of unauthorized access of a computer and of felony obstruction of justice.
Other related charges in the case including wire fraud and identity theft failed, however, and the judge in the case issued a rather lenient sentence of one year plus one day in a rehabilitation center plus three years of probation.
Spousal E-mail Hacking
Leon Walker, a husband who suspected that his wife was having an affair, was busted after he hacked into her Gmail e-mail account. Sadly for Mr. Walker, his wife was indeed having an affair, but his outlook rapidly worsened.
It turned out that Walker's wife was carrying on behind the scenes with her former second husband, a man who was charged previously with beating her in view of her son who was the product of her first marriage. Walker, trying to act in the interest of the boy, shared his evidence with the boy's father who went to authorities seeking custody of the child. During that court proceeding, the illicitly obtained e-mails were disclosed, prompting Walker's wife to press charges.
Walker was charged under state laws criminalizing identity theft and unauthorized computer access. At the time of this writing, his case does not appear to have been resolved, but reports indicate that he faces up to five years in jail for his deed.
Incidentally, a report about Walker in the UK Telegraph says that almost one-half of U.S. divorce cases stem from electronic privacy issues.
E-mail Hacking of Global Significance
E-mails apparently obtained by hackers from England's University of East Anglia Climatic Research Unit spawned no small controversy when they were published, revealing serious credibility issues among scientists promoting a sociopolitical "man-made climate change" agenda that promoted global action to contain purported climate threats to the planet.
The realization that much of the climate data was fraudulent and upon which many United Nations, American and European efforts to control carbon emissions were based unleashed a public fury that to this day seems to have crippled the work of environmental activists.
In the aftermath of the so-called "Climategate" hacking scandal, politicians that embrace the climate-change political agenda spoke out, calling for criminal prosecution of the hackers.
Although the perpetrators do not seem to have been apprehended yet, the punishment for hacking into e-mail could be severe, coming from national and international courts.
References
"Student found guilty of hacking into Sarah Palin's e-mail", https://www.dailymail.co.uk/news/worldnews/article-1270227/Student-guilty-hacking-Sarah-Palins-e-mail.html
"Husband facing five years in jail after hacking wife's email", https://www.telegraph.co.uk/technology/news/8227235/Husband-facing-five-years-in-jail-after-hacking-wifes-email.html
Booker, Christopher. "Climate change: this is the worst scientific scandal of our generation", https://www.telegraph.co.uk/comment/columnists/christopherbooker/6679082/Climate-change-this-is-the-worst-scientific-scandal-of-our-generation.html
Krebs, Michael. "Boxer: Climategate hackers should face criminal prosecution", https://www.digitaljournal.com/article/283102